When a problem comes along, you must whip it. Similarly, when summer in Springfield, Missouri comes along, you must Pineapple Whip it. For decades, Pineapple Whip's cheery yellow trucks have signaled the official start of the Springfieldian summer. Now, from early April to mid-September, loyal fans form lines spanning entire parking lots, enjoying the truck's namesake frozen treat and the gyrations of Pineapple Whip's hip-shaking hula girl mascot, Lulu.
It all started more than 40 years ago when founder Dan Fortner developed the original Pineapple Whip recipe at the Ozark Empire Fair. The treat itself is a citrusy soft-serve made from natural fruit juices; think of it as a softer, creamier version of sherbet with zero dairy and zero fat. It's as delicious as it sounds, which is why the treat has lived on as a Springfield cult favorite. Despite its success, Pineapple Whip has remained true to its humble roots, popping up in Springfield parking lots in late spring with one or two green-shirted employees dishing out the treat to eager patrons.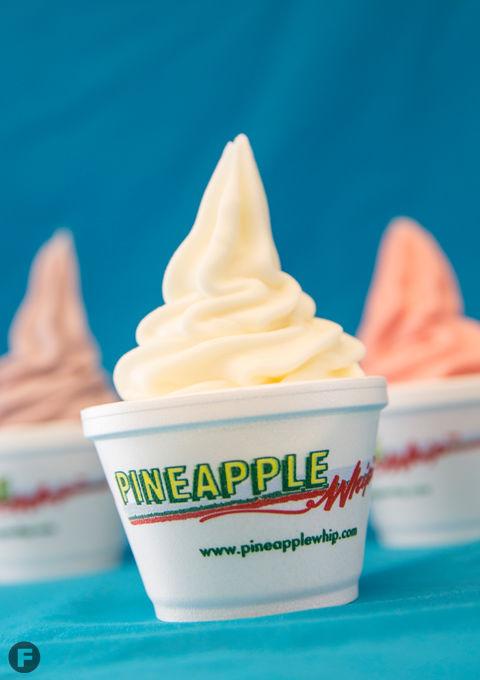 Now, two generations later, Fortner's grandson, Zach Fortner, oversees the operation. "My dad and my uncle ran it together for 30-something years, so I can remember being on the truck at a really young age," he says. He wasn't always sure about entering the family business, though. "I studied finance, which is about as far out of the realm of ice cream as you can go," he says, laughing. "I thought I had found a stable career path, but when I graduated and got my first job, the late-2000s financial crisis happened." Not long after, Fortner sat down to dinner with his father, who inherited the business and ran it with his brother for decades. "Out of the blue, he asked if I'd be interested in coming back to the family business," Fortner says.
Now, about a decade later, Fortner has managed to leave his mark on the family business while maintaining the integrity of Springfield's favorite dairy-free frozen treat. "It's just nice to be a part of something that people enjoy," Fortner says. "To be present on everyone's summer must-have lists, to provide a fun atmosphere for people – that's a privilege." During his time leading the operation, Fortner has overseen a few innovations including the addition of new flavors like mango-peach and the annual Whip Solstice event that takes place each winter. Overall, he's committed to maintaining Pineapple Whip's small-town appeal, which is good news for folks who, like Fortner himself, appreciate the classics. "This probably makes me an old stick in the mud, but I still think classic pineapple is our best product," he says. "On the cone, of course. I feel like an old man lecturing people when it comes to cones. These young kids just don't understand the beauty of the cone."
What's your perfect day of eating in Springfield? I'd probably go to Anton's for breakfast – it's a Springfield classic. Then, I'd have to do Neighbor's Mill for lunch. Their entire menu is fantastic, and they have a really good reuben. My wife and I find it hard not to take a loaf of bread home with us every time we visit. Then, gosh, there are so many options for dinner. We've been big fans of Skully's ramen lately. We live in Rountree, so it's awesome to cruise over there for ramen or a rice bowl.
How has the local food scene evolved over the past year? Springfield's always had a good variety. Lately, there have been a few more niche items on offer – like Skully's, for example. We've also always been really lucky to have good Thai places – Thai Peppers, which is now Thai Basil, Rama Thai and Thai Express. It's great to see people really leaning into those smaller locally-owned spots.
What concepts or styles of cooking do you hope to see added or expanded in Springfield? I still have not found a good cronut in Springfield. I'm obsessed with them. I first discovered them in L.A., and getting them locally would be amazing.
What's your favorite comfort food? If I just really need to enjoy a great meal, it's gonna be Bruno's. Anything from Bruno's. They have this carbonara that is just incredible – they use Italian sausage, red pepper, everything really fresh. If we're in a pinch and don't have the time to sit down, we'll do Ott's Pasta. It's quick and in our neighborhood.
What is your first food memory? Honestly, it was always grunt work with my grandfather at the fair back when Pineapple Whip first got started. They'd have me doing the busywork to keep me out of my dad's hair until my early teens. The fair concessions can get hectic, but I don't remember it being intimidating. With everybody showing up already in a good mood, it makes it really fun – and it's still that way today.
What inspires your flavors? How do you approach R&D at your restaurant, and what inspires that process? I think it's just time, honestly. Sam Walton has a good quote: "Like most overnight successes, [Wal-Mart] was 20 years in the making." We've always had our go-to product that we make sure gets done right. From there, we really credit our customers to help us hone our process. Sometimes, we'll get a wild hair and play around with different concoctions. When we decide it's time for a new flavor, we'll try something like 10 different recipes. From there, only two of them will taste good when they're frozen.
What are your future plans? I've been really cautious not to try and reinvent the wheel. Things are going well for us because our customers like what we provide, so I'm very cautious to guard that and make sure we don't mix things up too much. Let's put it this way: I don't want to reinvent the wheel – maybe just put a little WD-40 on it so it spins a bit more smoothly. At the end of the day, as long as the customers are happy, I'm happy.
Pineapple Whip, multiple locations, Springfield, Missouri, 417.207.3975, pineapplewhip.com