With Hebrews Coffee closing this past September and Free Solo Coffee Co. closing in January, Springfield's south side has been a coffee desert this year. But all that has changed thanks to Architect Coffee Co., now open for business on Republic Road.
Although the new shop occupies Hebrews' old space, the atmosphere is hardly recognizable. The once dark walls are now white, subway tile lines the front of the shop, and pops of green plants decorate the space.
The menu includes classic espresso drinks as well as one signature drink, The Architect. This latte features housemade vanilla and caramel syrup, but the real twist is the Himalayan pink sea salt. Tea-lovers and individuals with dairy intolerances will find solace at Architect Coffee, thanks to the shop's loose-leaf tea selection and macadamia, oat and soy milk options.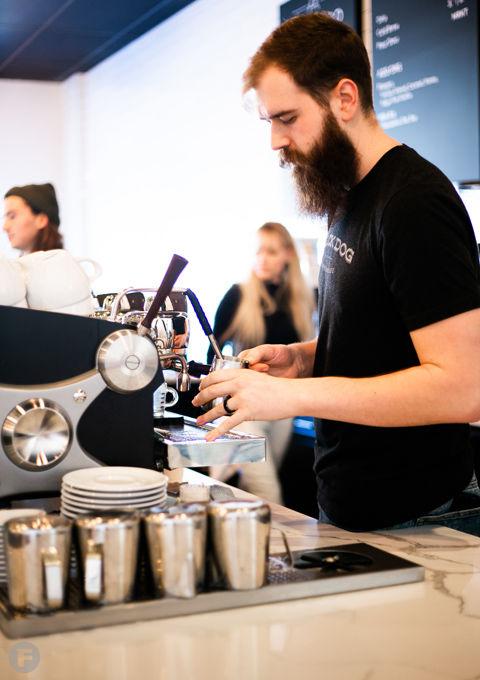 Architect Coffee also serves breakfast burritos and sandwiches with local pasture-raised eggs and thick-cut pecan wood smoked bacon, pastries like housemade pop tarts, muffins, scones and cookies, as well as cake slices by Jenna Cakes. "Let me tell you what, you haven't had cake until you've tried one of her cakes," says Architect co-owner Nick Bearden.
Bearden owns the shop alongside Alycia Horn. When drafting up plans for the shop, the two decided to use unique coffee that locals would otherwise have to travel to try.
They settled on serving coffee from Verve Coffee Roasters in Santa Cruz, California. "Over the years I've tasted many coffees from many different roasters across the U.S., and Verve continually wowed me and stayed at the top of my list," Bearden says. "Their coffee is outstanding and they take very good care of their farmers, which is very important to us."
Architect Coffee Co., 1604 E. Republic Road, Springfield, Missouri 417.771.5030, facebook.com/architectcoffeeco