In 2010, Jake Duensing's life changed when he landed a job working at Upslope Brewing Co. in Boulder, Colorado. He says the creativity and flavor profile of craft brews redefined the entire beer experience for him.
"After drinking mass-produced beer, the light lagers, the creativity of craft beer is like opening a new door," he says. "The industry as a whole is supportive; everyone is so tight-knit." 
It wasn't long before this Springfield native and his wife, Jen – who grew up in Seattle and St. Louis – dreamed of opening their own brewery. Both beer-lovers and outdoors enthusiasts, the couple moved to Colorado soon after getting married to strike out on their own. After their first child was born, they moved to Seattle to be closer to her family for a few years; in 2017, they relocated to Springfield to start planning their business.
"The cost of living in Seattle is skyrocketing," Duensing says. "For us to start a small brewery would be very difficult. Also, we wanted to move to where we felt our quality of life would be better as far as raising a family and school districts and having plenty to do in the outdoors."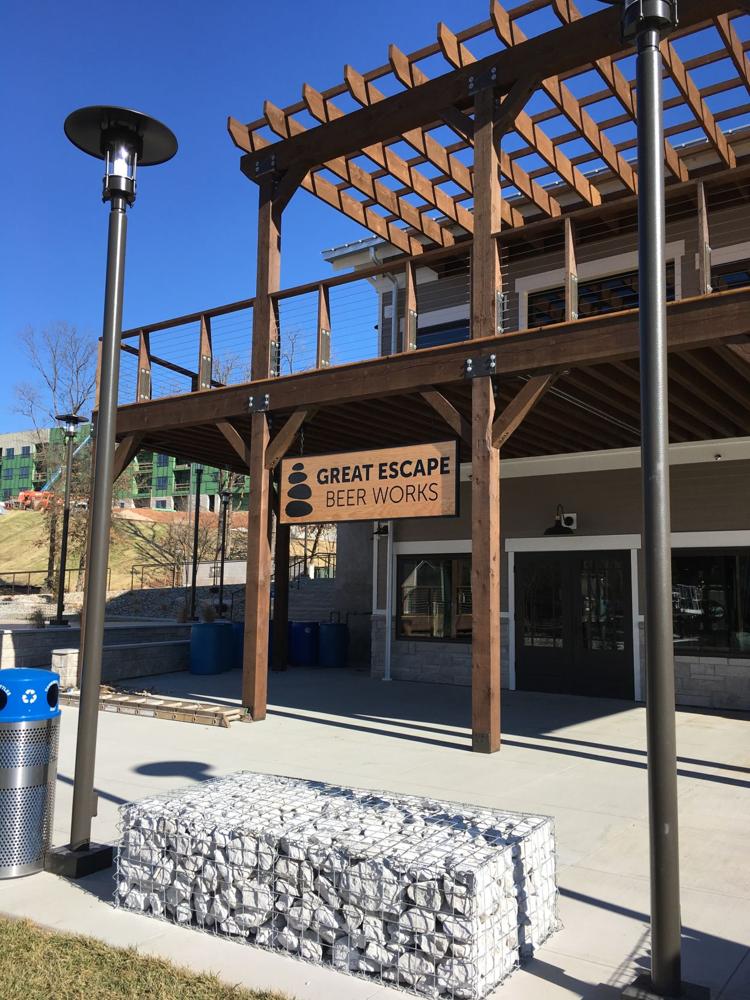 The couple's longtime dream came to fruition on Dec. 15, when they opened Great Escape Beer Works, located in Galloway Village neighborhood in the new Quarry Town development. The brewery occupies a two-story building, with a deck that overlooks the Galloway trail. 
The pair scoured locations in Springfield and settled on Galloway Village because they liked the proximity to nature, the neighborhood and the nearby trail located just outside their door. Jake also grew up going to Sequiota Park.
Currently, Great Escape offers five beers on tap: a German Kölsch, German Altbier, Irish Stout, Session IPA and IPA. In the next two weeks, Duensing plans to add a Scotch Ale, English Special Bitter and German Hefeweizen. When he's up to full production, he will have 14 brews on tap.
Certainly, his experience in Colorado influenced his approach to brewing beer, which Duensing says is more experimental and blends a variety of styles. And in a tribute to their love of the outdoors, the couple plans to host a running club every other weekend where people can run the trail and then come over for a beer.
"We love biking, hiking, running and doing all sorts of trail activities," he says.
And beer, of course.
Great Escape Beer Works, 4022 S. Lone Pine Ave., Suite 200, Springfield, Missouri, 417.824.4043, greatescapebeerworks.com