This past January, after a year in business, Springfield Charcuterie rebranded as 417 Charcuterie, and in April, the brick-and-mortar shop will relocate to Brentwood Center North on South Glenstone Avenue in Springfield, Missouri.
Co-owner Jessica Blodgett says that the new location will have more foot traffic and more space for in-person classes, which teach participants how to build a board and enjoy the fare.
"First, we teach people how to roll meats in different ways: rosettes, roses, different folds," she says. "And how to cut cheeses in different ways – there's an art to it. Then we discuss how to try different bites with different dips to create various flavor combinations. It's not just about picking up a piece of meat and putting it in your mouth. It's about choosing a piece of meat, pairing it with cheese and a bit of crunch for added texture and then dipping it in something – it's about giving every bite a unique flavor."
When asked about her favorite combination, Blodgett excitedly describes a piece of salami smeared with Terrell Creek Farm goat cheese, topped with a slice of cucumber and dill Havarti and dipped in either dill mustard or sweet and spicy jam such as the strawberry-jalapeño.
Despite launching in January 2020, right before the COVID-19 pandemic hit Missouri, Blodgett says business has been good. "We kicked things off as COVID-19 was [ramping up]. We learned that if we wanted to make it, we had to pivot. So, we started making "cupcuterie" – individual boxes and cones of charcuterie. They're basically a heavy appetizer, but they're individual, and businesses loved them!"
417 Charcuterie also offers takeaway lunch boxes, date-night boxes, party platters, catering and charcuterie for special occasions such as the Super Bowl. Serving 10 to 12 people, the Game Day Platter is packed with everything from meats and cheeses to fruits and veggies to crackers and bread.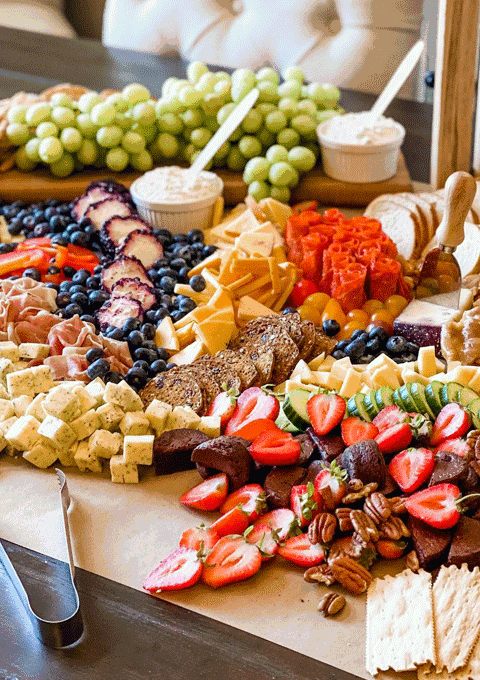 The tablescapes from 417 Charcuterie are downright gorgeous as well. Founder and co-owner Courtney Williams arrives at each event, puts down a piece of butcher block paper and creates an elegant board on the spot. No two are the same, but they're all equally delicious.
Williams, who formerly co-owned Lavish Grazing before she left to start her own business, studied art in college, and she says one of her greatest passions is creating beautiful, edible centerpieces around which people can congregate, nibble and visit.
Blodgett and Williams met while Blodgett was working in sales at a local magazine. Williams came in and shared her vision for Springfield Charcuterie with Blodgett before signing an advertising contract at the magazine. Apart from her day job, Blodgett began helping Williams with the marketing side of her business, taking care of all of its social media marketing. But things escalated quickly, and by summer 2020, Blodgett told Williams, "We need to scale back, or I need to come on as a partner." And so, she became a partner.
Blodgett and Williams have a lot in common outside of the business. They're similar ages, they're both moms of two kids and they're incredibly driven.
"From the start, we felt a total connection," says Blodgett. "We feed off each other really well. I do the business-minded things, and she does all the creative."
417 Charcuterie, 1323 W. Sunshine St., Springfield, Missouri, 417.379.1555, 417charcuterie.com