On half an acre in Neosho, Missouri, Molly McCleary's flower garden brims with bright zinnias, delicate cosmos and fluffy celosia. At first glance, it's like many Midwest flower farms complete with fluttering butterflies, hummingbirds and a friendly farm dog.
But what sets Maypop Flower Farm apart are the edible flowers sprinkled throughout. McCleary's marigolds, globe amaranths, nasturtiums, maypops, tulsi, yarrow and purple hyacinth beans aren't just for show in farmers' market bouquets. McCleary also packages these blooms for chefs in Neosho, Joplin and Springfield.
The flowers she tends to often appear on desserts by Prairie Pie, Cake SGF, The Flour Box Bakery and Lilac and Lord Baking. But several chefs are also using her flowers to add flavor, texture and beauty to savory dishes, like on the pan-seared salmon at The Order or on Private Chef Anna's fresh ricotta and tomato tart.
Schmidly worked on perfecting her cake recipe to pass time during Springfield's COVID-19 shutdown. Now, her hobby has turned into a blossoming business venture.
Here, McCleary shares how she got her start in the farming industry and what motivates her to grow edible flowers that both nourish and garnish.
What inspired you to start Maypop Flower Farm? My background is in herbal medicine and landscaping. I have worked seasonal agriculture jobs all over the country for the last 10 years, so I wanted to continue working seasonally with plants, but to specialize in more specific skills. So when my grandpa needed a caregiver, it just made sense to be down here with him in the Ozarks and start my own business. This is my grandparents' land that they have farmed since the '60s as cattle farmers. My grandma was an avid flower gardener as well. I am proud to continue her legacy by growing flowers on the land that she also put so much love into.
And what drew you to herbalism and edible flowers? I just think there is a lot of value in knowing how to do things for ourselves with what is in our surrounding areas. The plants right around us have so much to offer, and it is always surprising what flowers or what herbs are able to do. And from a business perspective, growing edible flowers has allowed me to diversify my market beyond cut flowers for florists. I like the idea of interacting with all different parts of our community, and I love food and getting creative with my cooking. Adding edible flowers can make any dish pop and make it unique.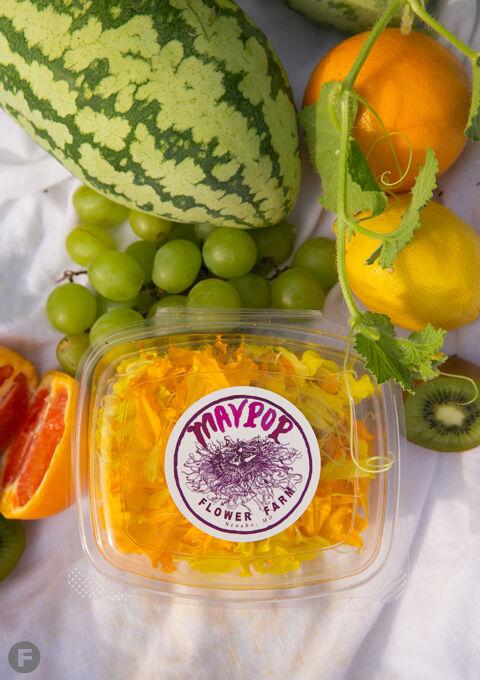 How do you or local chefs use your flowers in creative ways? Well, because I just started selling edible flowers this year, I think chefs, bakers and myself are all in this learning curve, so I am really excited to see what people make in the future. But one thing I have made recently that I have been pleased with is a carrot cake garnished with basil flowers. Something about the savoriness of the carrot cake and the sweetness of the flowers really was a great pull, so they came together really nicely. I am going to be very interested to see how people pair the flavors of edible flowers with the dishes and not just use them as a beautiful garnish.
Do any of your edible flowers have a distinct flavor? One of my favorites is nasturtiums. They are those beautiful flowers that almost look like a horn and they have a very peppery flavor that is great in salads and more savory dishes. They have a lot of flavor; they really pack a punch. I also love using the leaves because they look like these little lily pads. They can lay flat down against food, and they just provide a different sort of shape than flowers that generally pop out.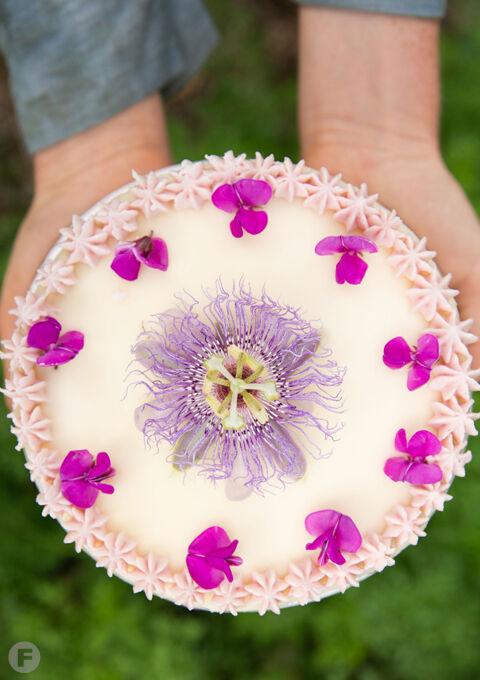 What are some of your favorite places to get treats near the Neosho or Carthage area? I love Juniper Coffee Roastery at the Webb City Farmers Market. They just started a year ago, but they make this amazing cardamom syrup that they put into their cold brews that I get every week. We're new business buddies, so to speak. Another business I just became familiar with is the Flour Box Bakery in Neosho. They have the cutest shop with beautiful baked goods, and it is right off the square. I love that they named their business The Flour Box, because Neosho is known as The Flower Box City.
How can people purchase your edible flowers and when does the growing season end? Chefs and bakers can email me at molly@maypopflowerfarm.com. I send a weekly availability update and they can order based on that. I deliver to the Neosho, Joplin and Springfield areas weekly. I am going to start selling edible flowers at the market as well, but people just kind of have to keep their ears open because I can't do it quite yet. I can keep selling until mid-October, which is when the first frost usually comes, and I'll start again early next spring.
Maypop Flower Farm, Neosho, Missouri, 417.501.5076, maypopflowerfarm.com