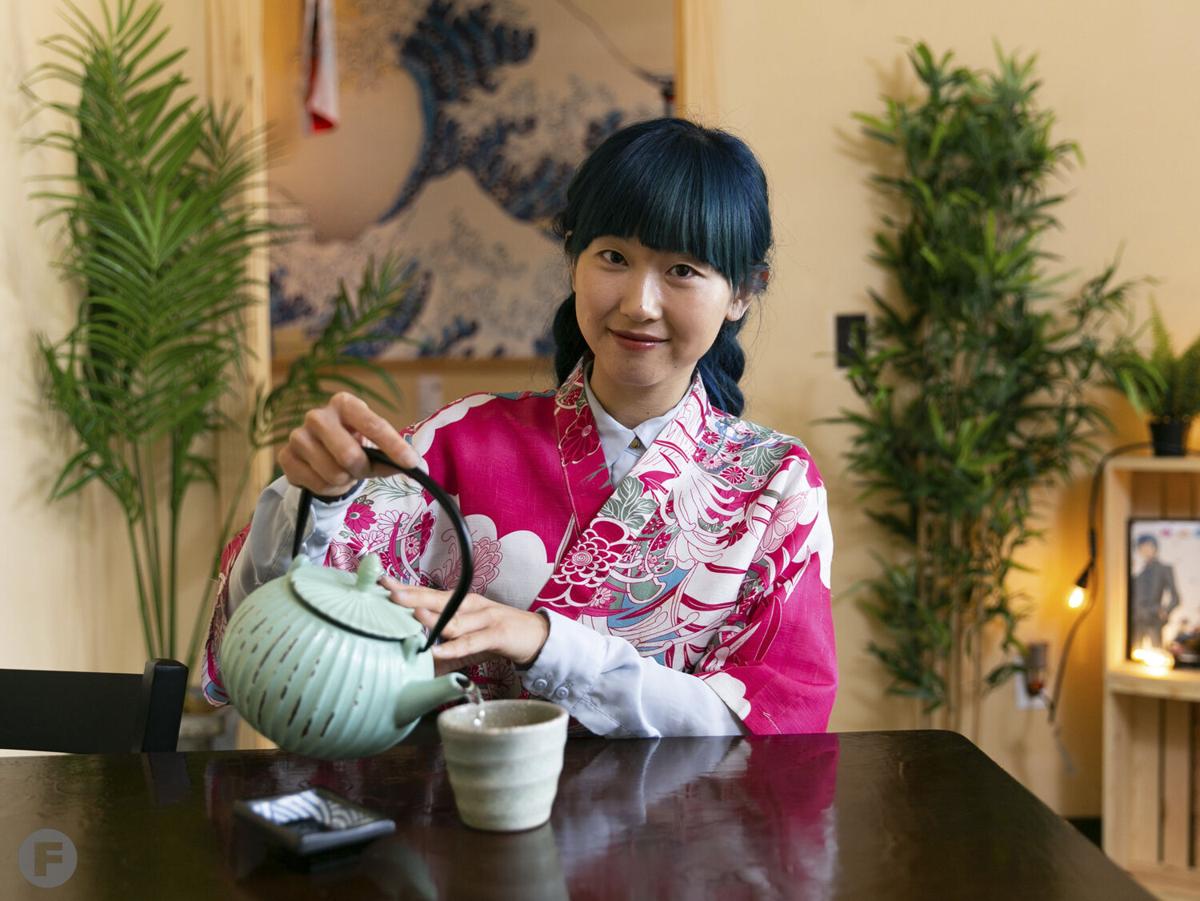 Stephanie Liu is a powerhouse. She lives for the adrenaline rush that a rapid-fire lunch or dinner service can provide, but she's quick to admit that she wouldn't want to go it alone.
"I like the pace," Liu says. "I like the rush, and I like the 'let's go, let's move, let's do it.' Our business culture is working as a team and as a family. Everyone's been with us for a very long time, and we really appreciate how they contribute. Especially [during] rush time, everyone works together, and every time we serve that food through the window, it makes us feel fulfilled."
Liu co-owns OMO Japanese Soul Food and Kung Fu Taco with her partner in business and in life, Jay Jung. While Kung Fu Taco is more of Jung's passion project, Liu focuses on keeping things moving at the soul food restaurant.
With a business degree from Missouri State University and innate food knowledge, Liu has what it takes to manage the front-of-house operations and help head chef Finnet Falig in the kitchen.
OMO Japanese Soul Food specializes in curry and ramen while also offering OMO boxes, the restaurant's riff on bento boxes. The boxes come with your choice of protein – think teriyaki salmon or Mount Fuji chicken – edamame, salad and rice, plus your choice of a California or veggie roll, a crab Rangoon or egg roll and a fried dumpling or spring roll.
We got to chat with Liu over a cup of matcha about where she finds culinary inspiration and what Japanese soul food means to her.
What inspired you to open a Japanese soul food restaurant? When I was young, I lived in Japan for a while. I ate a lot, for sure, and it was a really memorable time period. Before we opened [OMO Japanese Soul Food], there were only hibachi and sushi restaurants in Springfield. I don't think anyone specialized in [the food that Japanese] people eat every day. Curry and especially ramen are a very big part of the food culture there. [It's] the soul of what people actually eat.
Do you have a favorite ingredient? Personally, I really like garlic. There are several different ways of cooking with garlic. Right now, I like to salt it and bake it so that it's a little burnt, but it's not strong; it becomes very sweet. Also, for Asian-style cooking, we sweat garlic, ginger and sometimes green onion together.
Where do you find culinary inspiration? Traveling and eating out is very important to improve a chef's own taste buds. When I eat at famous or popular restaurants, I learn a lot. I usually write down the dishes that I enjoy the most, and then I think about what to improve on our menu. Sometimes I'm so excited to make something new that I can't sleep.
In your opinion, what separates good ramen broth from bad ramen broth? I think a good broth will have a first flavor, and then it will have a deep end flavor that will stay in your mouth and your throat. For our spicy broths, I use about 10 ingredients, like spices and a special chile oil, which dramatically changes the broths. Whenever you make ramen broth, the temperature and the amount of stuff you put in it is very important.
What are some of your first memories of experimenting in the kitchen? The first time I cooked, it was for a school project. They asked us to go home and cook a meal for our family. I grew up with my grandparents, and I remember the first thing my grandpa taught [me to make] was a vegetarian dish. I did it so bad! I was trying to match the memory of the flavor, but there was so much of a certain spice, it wasn't even close. But I remember he was very encouraging.
OMO Japanese Soul Food, 2101 W. Chesterfield St., Springfield, Missouri, 417.755.7214, facebook.com/OMO-Japanese-Soul-Food-1907678472838615