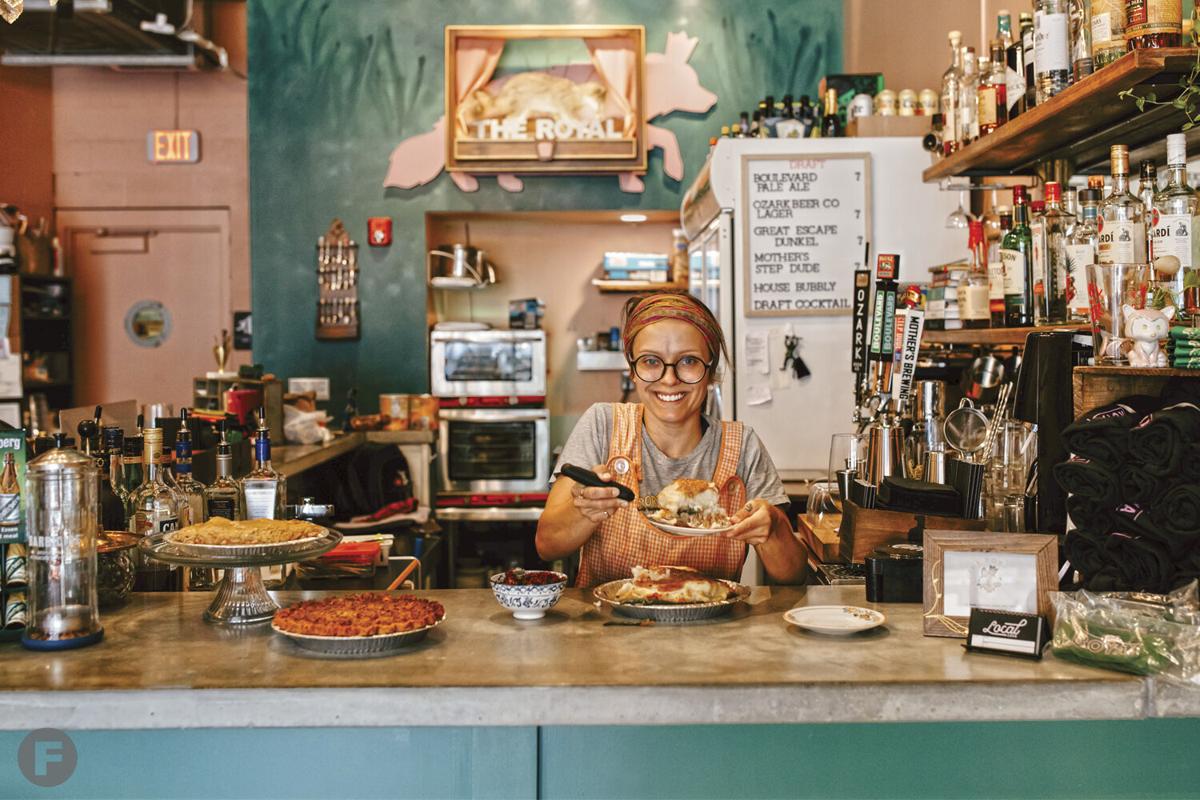 After slinging pies from her cheery yellow Pie Wagon for a year and a half, Dani Hunnell, pastry chef and owner of Dani's Flour Pot Bakery, recently moved her operation into The Royal on Cherry Street in Springfield, Missouri.
Hunnell sells pies by the slice, hand pies, pot pies and pop tartlets by day, while B.J. Lowrance, owner of The Royal, mixes creative cocktails designed by Rogan Howitt, beverage director of Good Spirits & Co., by night.
Hunnell's expanded menu features flavors you won't want to miss – especially during the holidays. Here, she dishes on her favorite sweet and savory treats and discusses the upsides of sharing one brick-and-mortar location between two businesses.
What are the benefits of sharing space with The Royal? For both of us, I'd say it will help bring more business to the area – not to mention the money we'll save on rent, and who doesn't want that? I think that we both really like how the space is utilized to its full potential now. Personally, I can bake and offer so much more, too, including my ready-to-eat savory pies.
What are some standout items on the menu right now? My pop tartlets have been getting a lot of attention, and I'm excited to offer savory breakfast pop tartlets, as well. I think they remind people of when they were kids, but they taste so much better than the packaged ones from the store. As far as seasonal pies, I usually serve maple-pecan, pumpkin-buttermilk, pumpkin spice latte, caramel apple, apple-buttermilk and orange-cinnamon-buttermilk. You'll be able to get the basic Thanksgiving favorites and a few other fun flavors.
A number of your pies, such as the vinegar pie and those with buttermilk bases, are inspired by recipes that were common during the Great Depression. What sparked this direction in your baking? Some of the people closest to me are the ones who got me into baking. When they found out that I was making pies, they really wanted flavors that their parents would have made for them when they were kids, often during the Great Depression. I learned all about those recipes, the ingredients in them and why those ingredients were used. Overall, I like the old-fashioned buttermilk flavors, and vinegar pie is just the best. The name is daunting, but I promise it's delicious. A lot of people don't know what [desperation pies] are, so I feel like it's my job to show them.
What does Dani's Flour Pot Bakery bring to the Springfield food scene? Besides tasty pies? I'd say just a lot of unique foods that you can't get anywhere else as well as old recipes that will take your taste buds back in time.
Dani's Flour Pot Bakery, 1427 E. Cherry St., Suite B (inside The Royal), Springfield, Missouri, danisflourpotbakery.com