Bass Pro Shops, the World's Largest Fork, Brad Pitt: Good things come from Springfield, Missouri. Of course, the best things in life are smothered in green onions and oyster sauce – which is where Springfield-style cashew chicken comes in. The saucy, nutty dish is one of Springfield's biggest claims to fame, tantalizing taste buds around the world for decades. It's all thanks to David Leong, who celebrates his 99th birthday on August 18.
A Cantonese immigrant working in Springfield, Missouri, gave the world cashew chicken.
Leong immigrated to the United States in 1940 from Guangdong, China. Fast forward to 1963, when Leong opened Leong's Tea House, a 350-seat white-tablecloth restaurant on Springfield's southern suburban fringe. There, Leong launched the first iteration of cashew chicken, featuring tender pieces of fried chicken smothered in Chinese oyster sauce, cashews and chopped green onions. The dish soon spread far beyond Springfield's borders, gathering a following that spanned from coast to coast.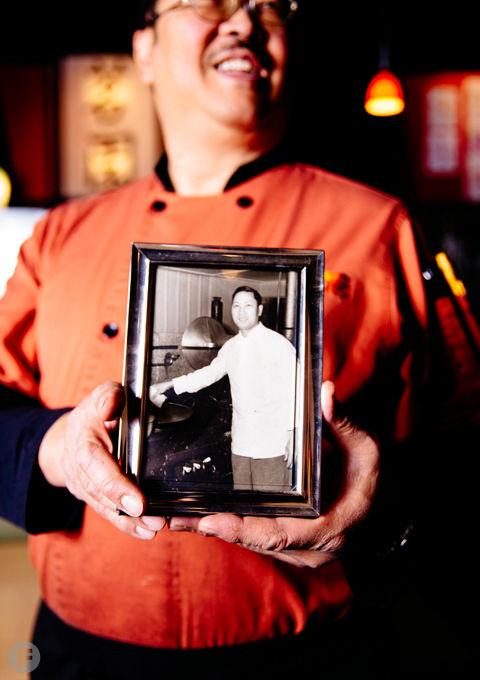 Leong has received major acclaim for his creation. In 2013, he was recognized in the U.S. House of Representatives – both for his military service and his creation of cashew chicken. He also received the Springfield Convention & Visitors Bureau Pinnacle Award in 2008, thanks largely to cashew chicken's influence on Springfield's travel and tourism industry. The family closed Leong's Tea House in 1997, but later went on to open Leong's Asian Diner in 2010.
Although Leong has since passed on restaurant operations to his family – his son, Wing Yee Leong, has taken over as chef – the patriarch can still be found at the family restaurant most days. Patrons are encouraged to swing by to try the dish and celebrate Leong's birthday next month; however, the restaurant will close at 5pm on Aug. 18 for a massive family birthday celebration. Gotta have cashew chicken that evening? The dish is easy to find at other local restaurants including Chinese Chef, Canton Inn or Hong Kong Inn.
Leong's Asian Diner, 1540 W. Republic Road, Springfield, Missouri, 417.887.7500, leongsasiandiner.com