Yolanda Holmes expresses herself through food, saying that she was a foodie long before she knew what the term meant.
Content as a home cook, Holmes never imagined she would start her own business, but in 2019, Yo Seasonings was born. Today, her product line – ranging from curry seasoning to mango-jerk rub and brown sugar rub to Sriracha-lemon-pepper seasoning – has something for every palate and plate.
"Creating the flavors came naturally to me," Holmes says. "Different textures and spices have always intrigued me."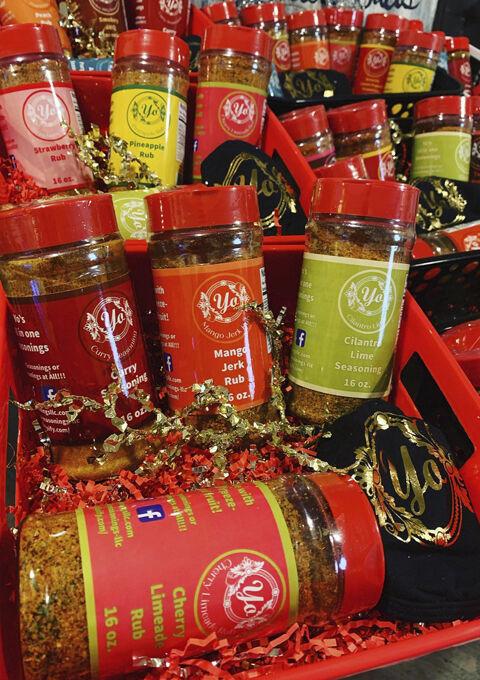 As a grandmother, Holmes is always looking for ways to make healthy food more appetizing to young taste buds, and she says her grandkids are especially fond of the taco and cilantro-lime seasonings, which she uses to whip up tasty tostadas and cheesy quesadillas.
Holmes uses Yo Seasonings on everything that she cooks, but her favorite recipe is Southern crispy fried chicken – with a unique flavor twist. "I use a mixture of cilantro-lime and smoky barbecue seasonings to fry up a few batches," she says. "When it's done, I choose one of the rubs to add; it totally changes the way we eat it."
With myriad flavors from which to choose, it can be difficult to make a decision. Holmes says you can't go wrong with the all-purpose seasoning, thought. "[It's] Yo's way of saying bye-bye to a thousand and one different seasonings for one meal. It's a true all-in-one seasoning that's good on just about anything."
Looking to add a little kick to a dish? Try the Cajun blend; it's spicy and earthy and perfect for beef, shrimp or your favorite veggies.
Yo Seasonings' most popular products are available at Harter House and Countryside BBQ Pro Shop in Springfield, Missouri, Main Street Boutique in Republic, Missouri, and DownHome Mama's Boutique in Mount Vernon, Missouri. You can also order all the flavors you crave online.