Grind, dial in, steam, pour, repeat: Making cappuccinos with flawless execution is second nature to Sam Elliott.
Since entering the coffee industry in 2013, Elliott has gained experience in Springfield, Missouri, as a barista at Eurasia Coffee & Tea and Kingdom Coffee and even started a roasting program at Victory Mission + Ministry. Now, he's putting his talents to use as the lead barista of The Coffee Ethic.
In his current role, Elliott oversees barista training and education at the coffee shop and other local cafés and restaurants that use The Coffee Ethic's beans. Owner Michelle Billionis recently tasked him with creating a spring drinks menu, as well, which boasts a honey-lavender latte, a matcha-vanilla latte and a chocolate-coconut espresso tonic.
We talked to Elliott about the R&D process and the direction he wants to see the industry go from here.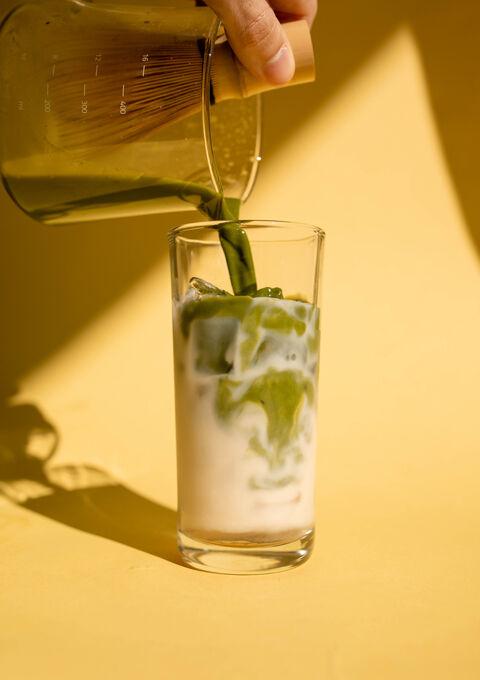 As you created The Coffee Ethic's spring drinks menu, what inspired the honey-lavender latte and the matcha-vanilla latte in particular? For the longest time, people have been asking us, "Do you serve any drinks with lavender?" and "Do you serve matcha?" With those two drinks, specifically the lavender and the matcha, we just thought, "People obviously want this, so let's try and make something super cool with these flavors." In terms of lavender, I think people either love it or hate it. If you love lavender, you love the cool, herbal notes of it. If you don't like it at all, you might think it tastes like soap. I wanted to make a lavender drink that's accessible to anyone who wants to try it. Lavender is such a breath of fresh air, which people probably need after the year we've had, [and] the honey rounds out [the flavor] and makes everything taste nice and springy and earthy and fresh. As for the matcha, I am not the first person to do this, but I added vanilla to ours. I love vanilla as a flavor – I think it rounds out a lot of things, and I think it broadens the audience of matcha. I wanted someone who has never heard of matcha to drink [the latte] and love it, and I think the addition of vanilla enables that.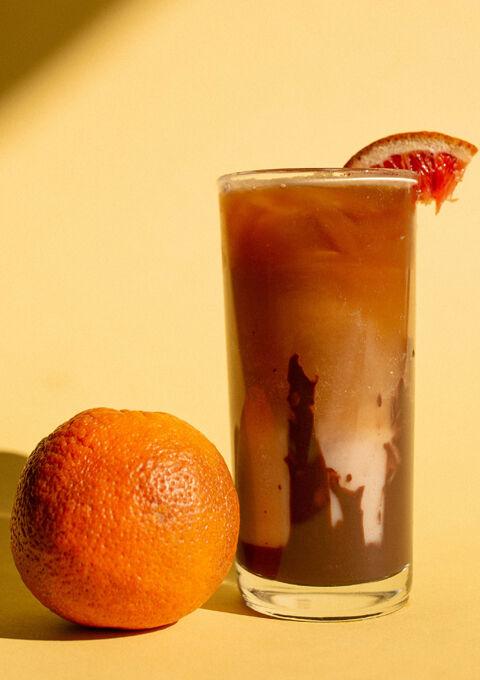 What about the chocolate-coconut espresso tonic? How did you manage to pull off a silky yet carbonated beverage with a citrus kick? Texture was a huge consideration. We had the orange mocha last summer, and people really liked it. I wanted to make a fruity drink, but one that was lighter and airier. So, in the Harmonic Tonic, there's coconut milk, Askinosie chocolate, blood orange juice and tonic water. The tonic water, I think, is the most unique part of it; it gives the drink an airy texture, which I think is really interesting, while the coconut milk combines an effervescence and creamy texture into one. I didn't want to just do another version of an espresso tonic – although I love espresso tonics. Honestly, there was a lot of experimentation before we figured out the ratio of coconut milk to tonic water to blood orange. But we found it, and I love how fresh it feels on the palate.
You also have a penchant for making creamy cappuccinos. What's your secret to nailing the notoriously finicky drink? There are a couple aspects that make a cappuccino really good. One is good espresso that's been dialed really well – texture is important here. But if the temperature of the milk is wrong, that will take a cappuccino from great to OK or OK to bad. With [the right] temperature, you get this really sweet milk – it should taste like the warm, sweet milk that you might drink before bed. If it's too hot, you end up tasting any flaws in the espresso. I also want to be able to drink a cappuccino immediately and not burn my tongue doing it. The size is important as well: The ratio of 2 ounces espresso to 4 ounces milk creates the perfect balance of strength and extraction of the espresso and sweetness of the milk. Balance makes a cappuccino one of the most beautiful drinks, in my opinion.
Is there anything you wish you could change about the current state of the coffee industry? I would love for specialty coffee culture to become more inclusive – and I mean that in a lot of different ways. At The Coffee Ethic, we want to be as inclusive as we can be in terms of racial and LGBTQ+ issues, and in general, I would love to remove the air of pretension in order to explore and create and keep doing things better without alienating people who just want a nostalgic diner coffee or a white mocha or even – dare I say – a frappé? There is a time and a place for those drinks, and sometimes I really enjoy them too.
We can't wait for The Coffee Ethic to reveal its new interior, and we love that you've been able to serve coffee in the front section amid renovations. In terms of what's to come for The Coffee Ethic, what are you most looking forward to? Catering-wise, we now have our mobile catering cart completely set up, and it works great. We're currently booking the rest of 2021 for weddings, office events and parties, and we would love to cater your event. Also, keep an eye out for Coffee Ethic pop ups around town. Our new interior is close – it's been a long time coming – and we're super excited to get back into the swing of things and have people in our shop again. It will have the same feel as before, maintaining all that is The Coffee Ethic, with some new twists that we are stoked to share. We'll party – safely – when we're open again.
The Coffee Ethic, 124 Park Central Square, Springfield, Missouri, 417.866.6645, thecoffeeethic.com