Deliciously Healthy is sponsored by Kenrick's Meats & Catering in St. Louis, Missouri.
Just about everyone has their own signature chili recipe, one that the family looks forward to each fall as leaves begin to turn. It's this time of year that we crave a warm bowl of something comforting – but most chili recipes aren't all that great for you. In fact, my red chili recipe begins with a bunch of rendered bacon fat, includes lots of ground beef and usually ends with the addition of a bottle of beer. But this series is focused on healthy cooking, so I am sharing my twist on chile verde, subbing turkey for the traditional pork. This dish is easy, relatively quick to make and full of vibrant flavor.
I have a couple of tricks to share with you to ensure you achieve the best flavor and texture in the roughly 45 minutes it will take to make this chili.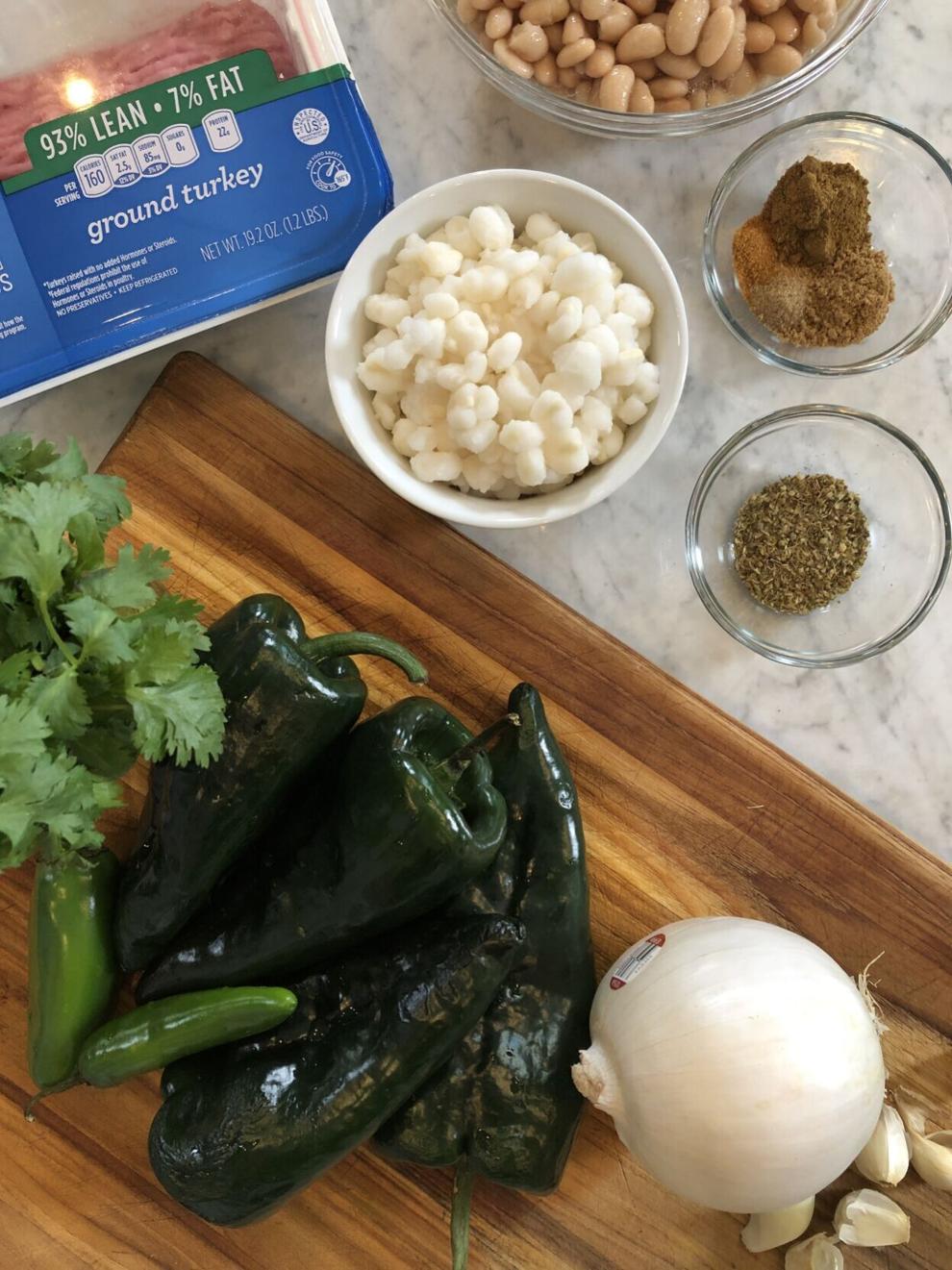 First, rather than adding the spices with the broth and just letting them simmer, here you'll add the spices to the sauteed onion and garlic, stirring and toasting them to release deep flavor and aroma. I promise, there's a marked difference when you add spices at this stage of cooking.
My other tip is to take about ¼ cup of the beans and mash them up into a paste and then stir the paste into the chili to thicken its texture. This is the best way to thicken chili – a lot of recipes call for simmering until chili is reduced, but doing that would over cook the peppers. Other recipes suggest adding cornstarch, which is just not necessary when you can mash up some of the beans you're already using.
By using three types of pepper and adding hominy to this stew along with the standard beans, a wonderful complexity is achieved. Served with a squeeze of lime, some chopped cilantro and a bit of tangy Greek-style yogurt, you never know – this healthy green chili recipe may just become your new go-to each time fall comes around.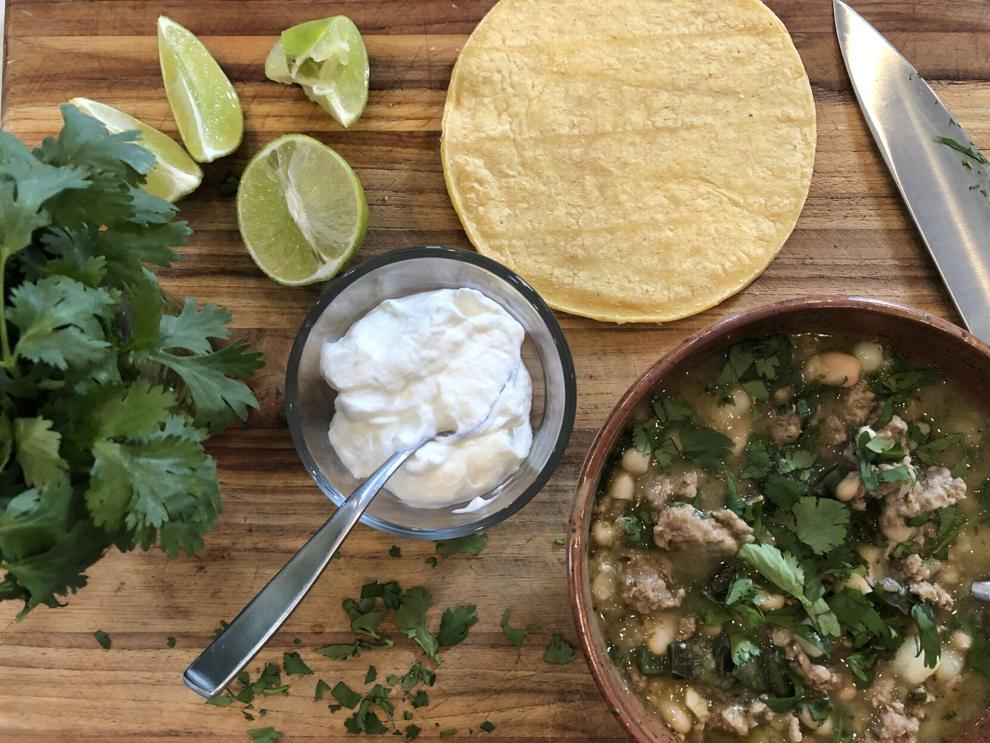 Emmy-winning host Cat Neville is the publisher of Feast Magazine and the producer of tasteMAKERS, which airs nationally on PBS. She has been in food media for about 20 years and when she's not on the road, she can usually be found playing around with new flavors in her St. Louis kitchen.
Green Turkey Chili with Hominy
Recipe by Catherine Neville
Yield: 8 to 10 servings
olive oil
1/2 white onion, diced
4 to 6 cloves garlic, minced
1 Tbsp cumin
1 tsp coriander
1 tsp cardamom
1 tsp cayenne (or more to taste)
1 jalapeño, diced
1 serrano pepper, diced
3 or 4 poblano peppers, diced
1 ½ lbs ground turkey
salt and pepper to taste
4 cups chicken or vegetable stock (or more as needed)
1 tsp dried oregano
2 cans cannellini or white kidney beans, drained
1 can hominy, drained
chopped cilantro, to serve
fresh lime wedges, to serve
Greek-style plain yogurt, to serve
tortillas, to serve
| Preparation | Heat Dutch oven over medium and then swirl in olive oil to coat the bottom of the pot. Add in onion and sauté until translucent, then add garlic, stirring until fragrant, a few seconds.
Add in cumin, coriander, cardamom and cayenne, stirring the spices and allowing the heat and oil to release their aroma. Add jalapeño, serrano and poblano peppers and sauté until just beginning to become crisp-tender, then add ground turkey to the pot and cook until no longer pink, adding salt and pepper to taste.
Pour in stock and add oregano, stirring to combine. Allow to simmer for 15 minutes. Taste and adjust seasoning, adding more stock if necessary. In a small bowl, mash about ¼ cup of the beans into a paste and add to the pot, stirring, to help thicken the chili and make it more like a stew and less like a soup. Add beans and hominy and simmer another 15 minutes, until beans and hominy are heated through. Taste again and adjust seasoning.
Serve with lime wedges, topped with chopped cilantro and Greek-style yogurt, with warm tortillas.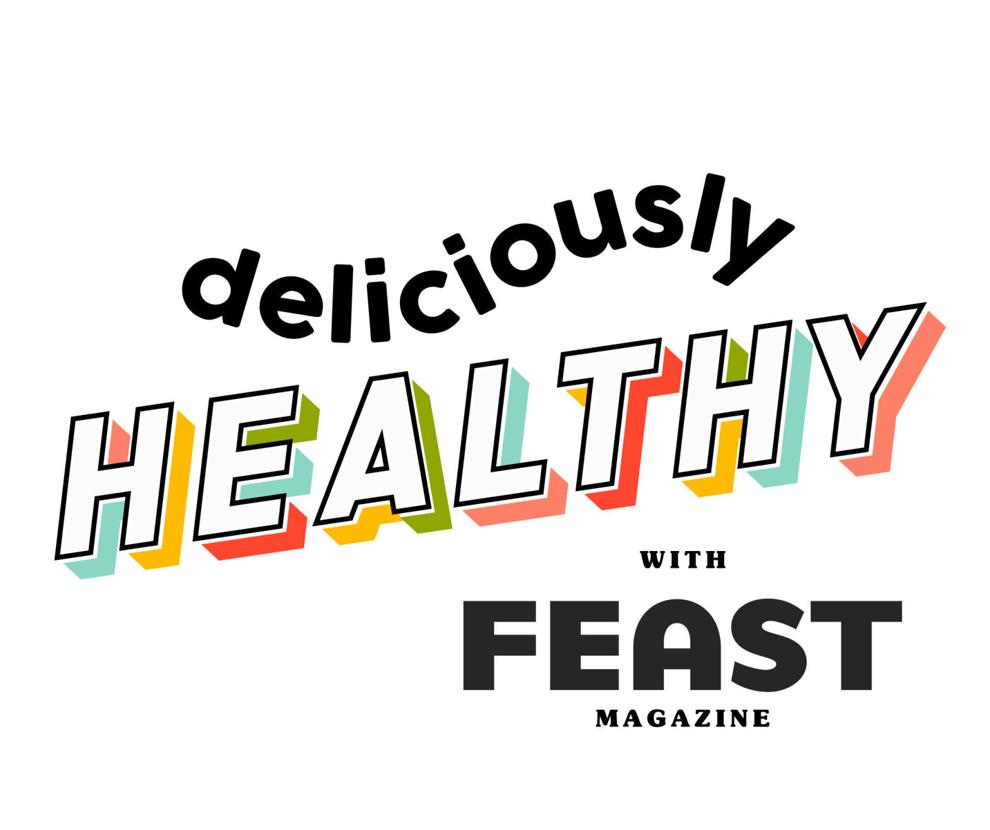 This content was produced by Brand Ave. Studios in collaboration with the sponsor. The news and editorial departments had no role in its creation or display. For more information about Brand Ave. Studios, contact 

tgriffin@brandavestudios.com

.