"Grass fed is as much a process as it is a product." This ideal encapsulates much of the spirit and drive behind Rain Crow Ranch, a family farm in the southern Ozarks near Doniphan, Missouri, run by the Whisnant family for more than 30 years.
The product itself, grass-fed beef and 100-percent free-range heritage pork, have a bounty of health benefits for the consumer – higher essential fatty acids such as conjugated linoleic acid (CLA) and omega-3, which lend to helping the body combat a host of ailments including asthma, high cholesterol and osteoporosis; higher levels of vitamin E and beta carotene; and lower calories than factory-farm products.
This level of quality gives the meat a distinct flavor and mouthfeel. "It has a purer, much cleaner taste," explains owner Jack Whisnant, son of Rain Crow Ranch founders veterinarian Dr. Patricia Whisnant and her husband, Mark. "I'm sure you've eaten a steak in a restaurant before – you know that filmy taste after you take a bite? Ours doesn't have that. It's a much purer form of flavor – a lot of older people say, 'This is what beef tasted like when I was a kid.'"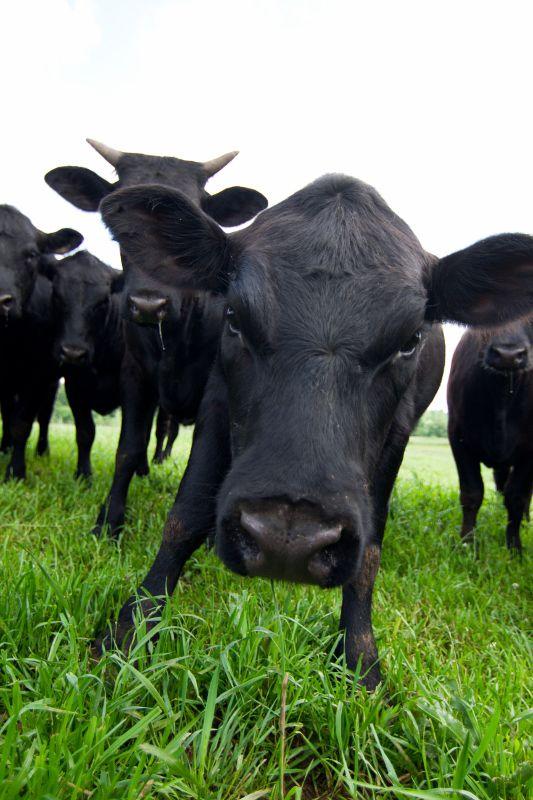 The ranch employs holistic methods of farming – animals are raised in open pastures with no antibiotics or growth hormones, which is safer for the consumer, animal and environment alike.
"We're a solar-based system," Jack says. "All of our cattle are 100-percent grass-fed and grass-finished." Grass-finishing, he explains, is what makes their beef the healthiest and best available – many grass-fed products finish their animals on grain, while Rain Crow Ranch puts their cattle on a grazing grass-only diet. Pigs are raised outdoors in conjunction with the cattle.
"It's the way animals were biologically designed; they're not made to be confined in a small lot and force-fed," Jack says. "Here, they're able to roam around, have access to streams, lakes and open pasture." The final result, he describes, is the finest pork in the world. "This kind of meat is as healthy for you as eating wild fish," Jack explains.
The farm itself, while in the Whisnant family for 30 years, has actually been in the business of producing beef since 1882. The Whisnant family brought seven generations of agricultural experience to the farm, naming it Rain Crow Ranch after an old hunting camp in the Florida Everglades where Mark grew up and developed his lifelong passion for the outdoors. The business is, at its roots, a stalwart in a disappearing family-farm culture – all six of Mark and Patricia's children are involved in the raising, production, processing and marketing of the Rain Crow Ranch products.
Rain Crow Ranch's complete line of products includes steaks, beef, lamb, pork, poultry, snacks, pet food and more. Products are processed at the ranch's facility in Jackson, Missouri, and are available for purchase at the storefront in Jackson, online at americangrassfedbeef.com and at various grocers, including St. Louis-area Whole Foods.
Rain Crow Ranch; HC4 Box 253, Doniphan, Missouri, 573.996.3716; 3006 State Highway FF, Jackson, Missouri, 573.243.3107; raincrowranch.com