Down-home Southern eats meet tapas-style shared plates at Skinker-DeBaliviere newcomer Pig & Pickle, a concept from chef-owner Ryan Lewis and general manager Carina Flesch, who previously held the same positions at Driftwood Cocktail & Eatery in Springfield, Illinois.
Pig & Pickle, which opened this past September, is a reimagining of the pair's former Springfield restaurant, which, over its three-year run, was one of the first to introduce the small-plates concept to mid-state Illinois. "I'm actually from Bethalto and had spent seven years or so in the Springfield area," Lewis says. "Our lease at Driftwood was up, so we took the opportunity to make the move to St. Louis."
Lewis' culinary journey has elements of raw talent and sheer grit, as he describes it, stemming "out of necessity and innovation as much as anything else." He entered the culinary world in Springfield, working the line at various area restaurants and picking up a culinary degree from Lincoln Land Community College along the way, until his epicurean scope outgrew the restaurants he had grown in, and he began to develop his own restaurant concept. Driftwood was Lewis' brainchild: a "grazing menu" with a strong focus on local products and purveyors.
Lewis and Flesch moved the Driftwood concept down to St. Louis' larger culinary marketplace last year, finding the ideal location for Pig & Pickle on Pershing Avenue, in the 2,000-square-foot space that formerly housed Atlas Restaurant. The menu is broken down by main ingredient – carbs, poultry, veggie, ocean dwellers, and swine & the like – the latter including several iterations of pork in addition to lamb, short ribs, rabbit and a house burger.
Plates range anywhere from $6 for simpler fare – deviled eggs, assortment of housemade breads – to $18 for heartier dishes such as braised lamb shoulder with a cumin-orange yogurt sauce, roasted radish and pickled onions. A few favorite Driftwood dishes got new life at Pig & Pickle, including pretzel-crusted cheese curds and fried chicken with a black-pepper biscuit.
All-new offerings include chipotle-jerk pulled chicken served with red beans and rice and Lewis' personal favorite, a blackened shrimp 'n' grits dish of creamy Gouda grits with burly blackened shrimp and pork chunks, topped with a chipotle-tomato cream sauce. The weekend brunch features a wide assortment of sweet and savory shared plates and sandwiches, including eponymous and aptly named The Pig & Pickle with two eggs, pork belly, Gouda grits and pickled vegetables.
The Pig & Pickle team has been able to retain several of its Driftwood relationships with local farms to assure fresh, quality ingredients that highlight the seasonally rotating menu.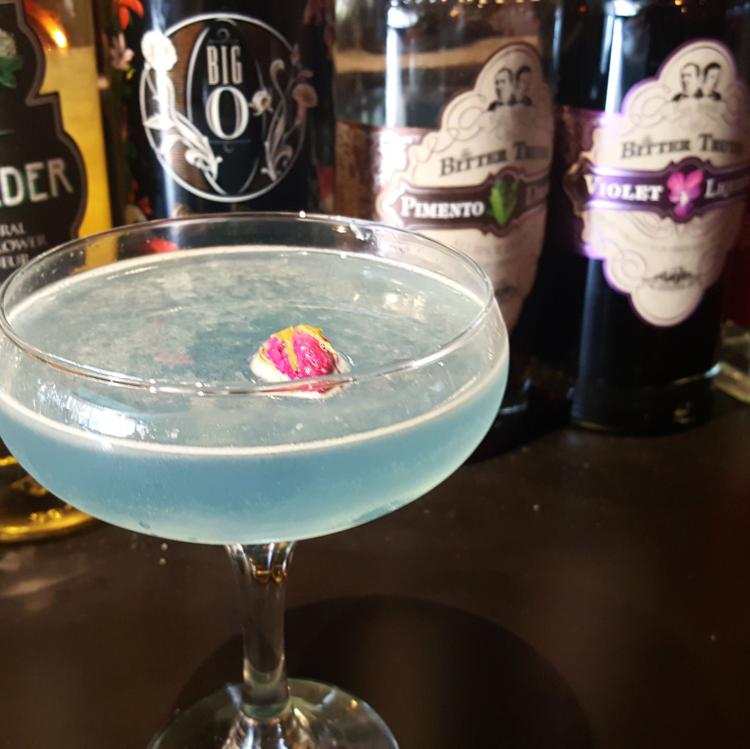 A robust drink menu features specialty cocktails such as the Bella Luna, with gin, elderflower liqueur, crème de violette and lemon and the More Carotene, Please with mezcal, Big O ginger liqueur, carrot-coriander shrub, Fernet and lemon juice. Thanks to a difficult road securing a liquor license, the team also developed a booze-free craft cocktail menu, including Alt Bubbles made with white-grape juice, pineapple juice and ginger ale and The NOLA with chicory cold-brew coffee, agave syrup and an egg white.
Even in a new city, a new space and with a new name, Pig & Pickle retains the heart of Driftwood's original vision as described on its website. Through farm-to-table Southern dishes, drinks and hospitality, Pig & Pickle embodies "a uniquely communal dining experience where the only thing more stimulating than the culinary collision of flavors in our signature dishes in the company of those around you."
Pig & Pickle, 5513 Pershing Ave., Skinker-DeBaliviere, St. Louis, Missouri, 314.349.1697, pigandpickleeatery.com