Martin Brothers Winery joined the Missouri winery scene in 2014 and quickly made its mark in the industry, earning around 20 national and international awards. The wine, however, is not made from the ordinary grape, but from honey, which is historically referred to as mead.
The principles behind traditional mead are the same as grape wine. Just as a vintner starts with grapes in the vineyard, it all starts with the honey when making mead. Martin Brothers Winery, which his located in Hermann, Missouri, uses honey in the raw from local and migratory beekeepers as the primary source of flavor, along with yeast and oak, to create a naturally gluten-free fine wine with no added ingredients. The natural sweetness of honey is also not as intense as one might expect in mead, and it makes great meal pairings, similar to grape wine.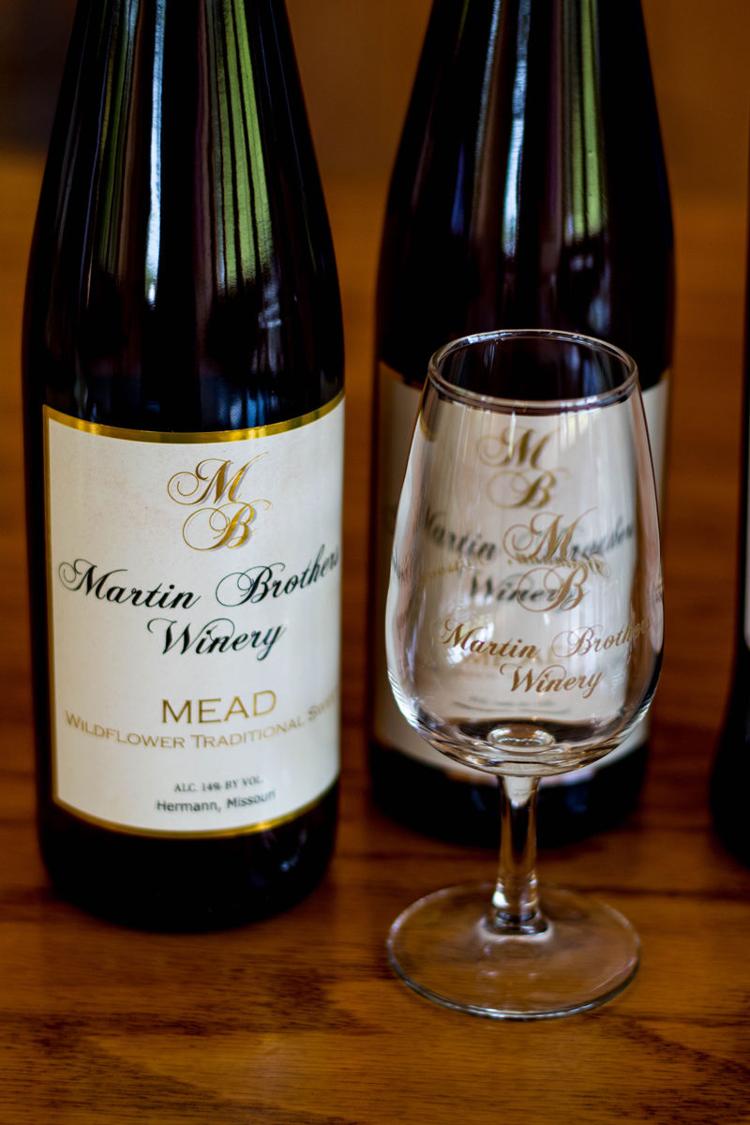 "We taste the honey and desperately try to sort through the sweetness to pick up what types of flavor notes are buried in there," says winemaker Patrick Martin. "Then we carefully choose a specific yeast for the fermentation to remove some of the sweetness to reveal the flavor of the honey itself before we pick out an appropriate oaking strategy to really lock in the flavor profile."
The family behind bringing this historical beverage to the table is just as inquisitive. With culinary-school experience and degrees in chemistry, biology and mechanical engineering, there was plenty of science to add to the art of making mead in the Martin family. At the beginning, their intention was to maintain a vineyard along with producing mead, but Patrick Martin says their obsessive attention to detail lead to focusing entirely on mead.
Wildflower honey – which is whichever flower the bees are pollinating and gathering nectar from – is the type the winery is most familiar using, but it also seeks to source monofloral honey, where bees gather from a single floral source, such as orange blossoms. The Martin Brothers team hopes to expand by adding blueberry blossom to their mead lineup in 2018 as well as plan to get back to more research and development of varietal meads.
"Another unique thing about mead is how diverse the category is," Martin says. "There are meads similar to hard ciders, beer, fruit blends and, of course, our specialty traditional meads. When you say you've had a mead – even though you've had one – you haven't had them all. Try a different brand or a different style. It's also the most historic beverage, so no wonder it's so diverse."
With the current mead offerings continuously selling out, there's no slowing down in sight. The simple and serene atmosphere in the Hermann winery's tasting room welcomes visitors to bring charcuterie and cheese to pair with a bottle of mead.
Martin Brothers Winery, 1623 Old Iron Road, Hermann, Missouri, 573.486.0236, martinbrotherswinery.com