Thanks to Wingtips Lounge, your vacation starts at the airport instead of the destination.
Airport lounges have been commonplace for decades; frequent fliers of major airlines with their special credit cards and fancy first-class tickets get to enjoy exclusive areas of the airport, walled off from other travelers. So what about everyone else?
Wingtips Lounge is accessible to anyone willing to pay for a subscription or single-visit pass at St. Louis Lambert International Airport. That's right: You don't have to be a part of a special club or a particular airline – Wingtips is a common-use lounge with no carrier loyalty.
Instead, it caters specifically to travelers looking for a little extra in their airport experience. With complimentary food and drinks along with private restrooms, the lounge was designed to be an escape from the hustle and bustle of airport terminals.
Common-use lounges like Wingtips aren't a new concept. They've been around for decades; however, they've commonly only been found around foreign carriers for international travelers. What sets Wingtips apart is its local flair and ease of access. Travelers can access Wingtips with three different methods – a single-visit pass, a Wingtips membership or corporate packages purchased by businesses.
Currently, there are two locations, one in John F. Kennedy International Airport and the new one that opened earlier this year in Terminal 2 at St. Louis Lambert International Airport. The team behind St. Louis-based Airport Terminal Services, developers and operators of Wingtips, wanted to bring something special to their hometown. They partnered with Avenue chef-owner Bryan Carr to develop a locally inspired menu.
"I was surprised by the variety and sensibility of the menu," says Ingrid Braeuninger, Wingtips vice president of sales and business development. Carr focused on creating a menu that spoke to the local food scene without having to go with the obvious St. Louis staples like t-ravs and gooey butter cake. "The menu is satisfying without being the same old same old," Braeuninger says.
Wingtips also partnered with local Llywelyn's Catering, which creates and delivers the essentials while the lounge staff completes each dish and brings it all to life. This partnership enables the lounge to serve fresh, high-quality food from talented, local chefs.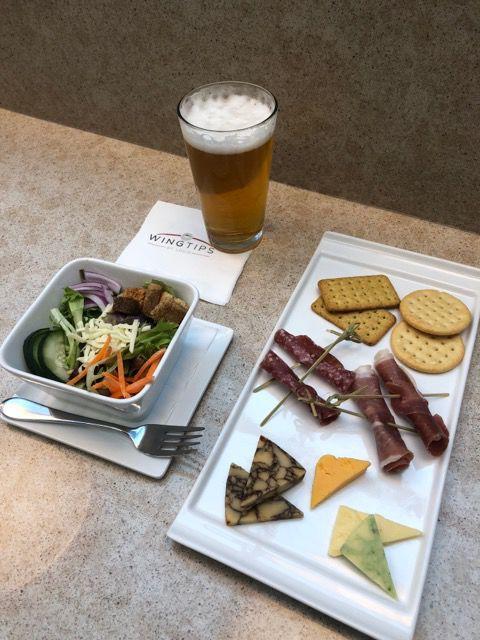 Standout dishes from the introductory menu include shepherd's pie, creamy tomato soup and breakfast soufflés. Lately, travelers have been noshing on the charcuterie board featuring locally cured meats and imported cheeses. Don't sleep on the housemade hummus, another favorite that's light enough for a preflight nosh.
Beyond the food, premium well drinks are complimentary and include beer, wine and hard liquor for guests 21 and over. There are top-shelf items, as well, for a slight upcharge, and Wingtips bartenders have the expertise to make your favorite drink exactly to your liking.
Braeuninger calls special attention to the creative work behind its mocktails. As alcoholic beverages aren't an option for all travelers, the bartenders came up with a handful of crafted mocktails for those looking to drink something exciting and delicious and enjoy the lounge as much as those imbibing. Additionally, Wingtips partnered with Kaldi's Coffee Roasting Co. to serve a high-quality cup of coffee.
Airport Terminal Services has future plans to continue expanding the Wingtips concept in airports across the world. There are discussions for locations at airports in San Diego, Palm Beach, Florida; and Providence, Rhode Island, among others. Although the JFK location doesn't have the same local emphasis as the St. Louis spot, Braeuninger says future Wingtips will adopt the local concept so that all locations have a unique vibe.
"We want Wingtips to be recognized and create a concept for [each] city," Braeuninger says. "We want to create a local flair, something that appeals to each local market."
With more locations planned, members get a local experience in each city without leaving the airport. This is particularly helpful when travelers have a long layover and leaving the airport only to come back through security is more hassle than it's worth. This dedication to the local scene, combined with ease of access for all travelers, make Wingtips a game changer for common-use lounges.
Wingtips single-visit passes ($38) are good for four hours. Both single-visit and membership passes can be purchased online or at the lounge.
Wingtips Lounge, St. Louis Lambert International Airport, 10701 Lambert International Blvd., St. Louis, Missouri, Terminal 2, Concourse E, 314.300.0689, wingtipslounge.com/stl