Deliciously Healthy is sponsored by Kenrick's Meats & Catering in St. Louis, Missouri.
You might take one look at this dish and think that it's complicated, but I promise that the hardest part of making these flavorful stuffed chicken breasts is pounding the chicken so it's thin enough to roll.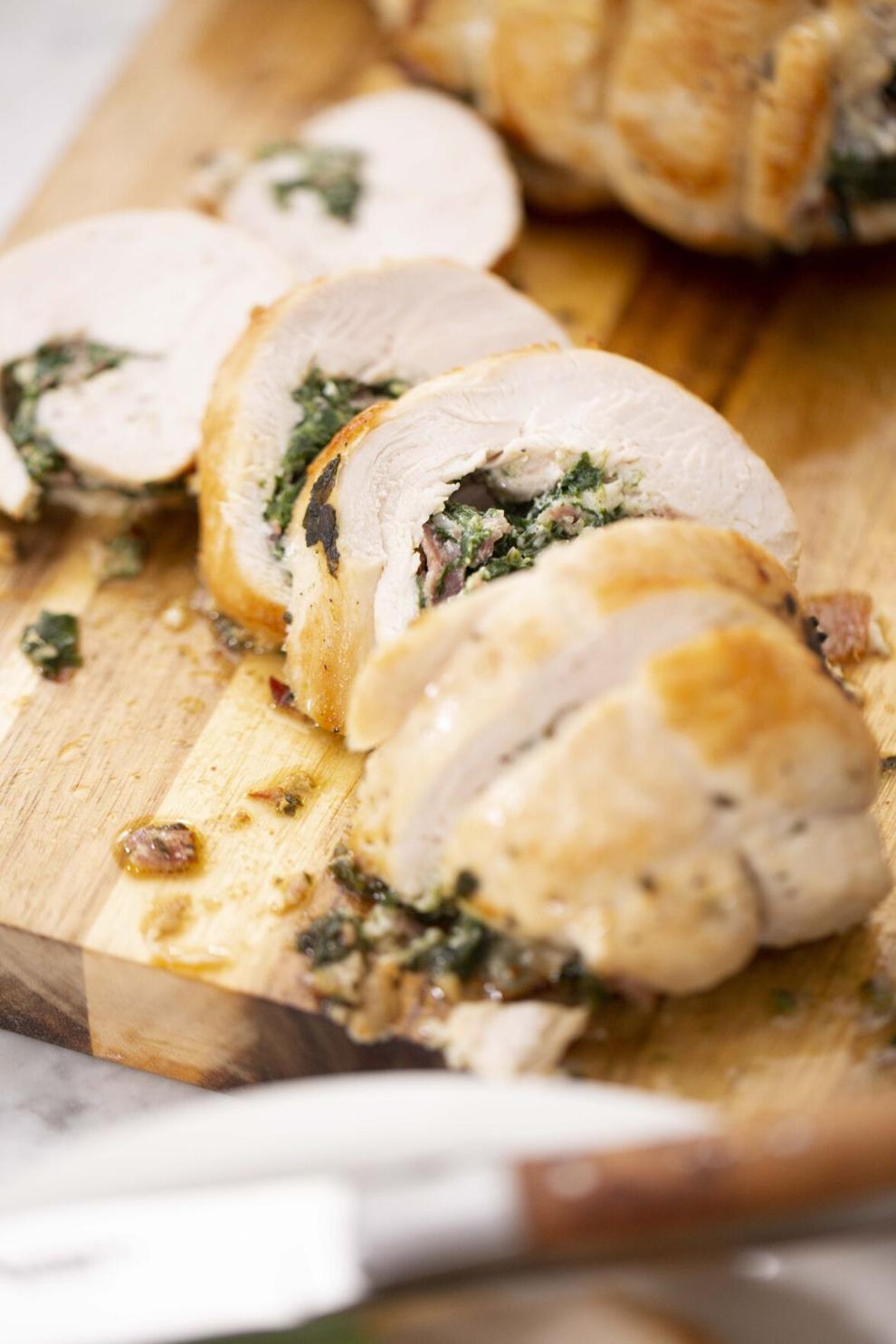 The dish starts with lean chicken and ends with a flavor-packed pan sauce, with lots of good-for-you ingredients like spinach, lemon and garlic mixed with creamy mascarpone and garlicky Volpi Genoa salami hidden inside each roulade. Just two ounces of the salami add a deep, savory aspect to the filling without adding tons of calories, which is key when trying to cook healthy dishes that don't skimp on flavor.
To successfully pound your chicken breasts to the necessary thinness, just place the breast, smooth side up, between two pieces of parchment paper and pound the heck out of it with something heavy, somewhat long and cylindrical, like a rolling pin or a wine bottle. You can also go the traditional route and use a square meat mallet, but I find that they offer a somewhat uneven result.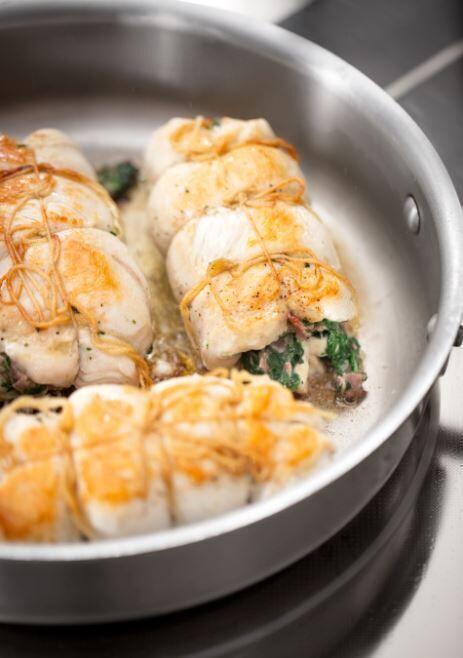 To fill your flattened breasts, just press the creamy spinach-salami mix onto the surface of the chicken and roll it up – nothing complicated here beyond making sure you don't overfill the breasts. Once your chicken is log-shaped, just use kitchen twine to tie the breast into a bundle that won't fall apart when cooking.
The filling in this dish ensures that your chicken doesn't get dry in the oven, so the pan sauce isn't critical, but just trust me that it's worth the extra few minutes, while the chicken rests once it's out of the oven, to deglaze the pan with some white wine, chicken stock and lemon juice. Just scrape the flavorful bits off the bottom of the pan and swirl, allowing the sauce to get a bit syrupy before spooning it over the sliced roulades.
In the video, I serve the chicken on a generous mound of fresh spinach, but you could also serve it sliced and fanned over brown rice or farro or even mashed potatoes, which would really make the most of the delicious pan sauce.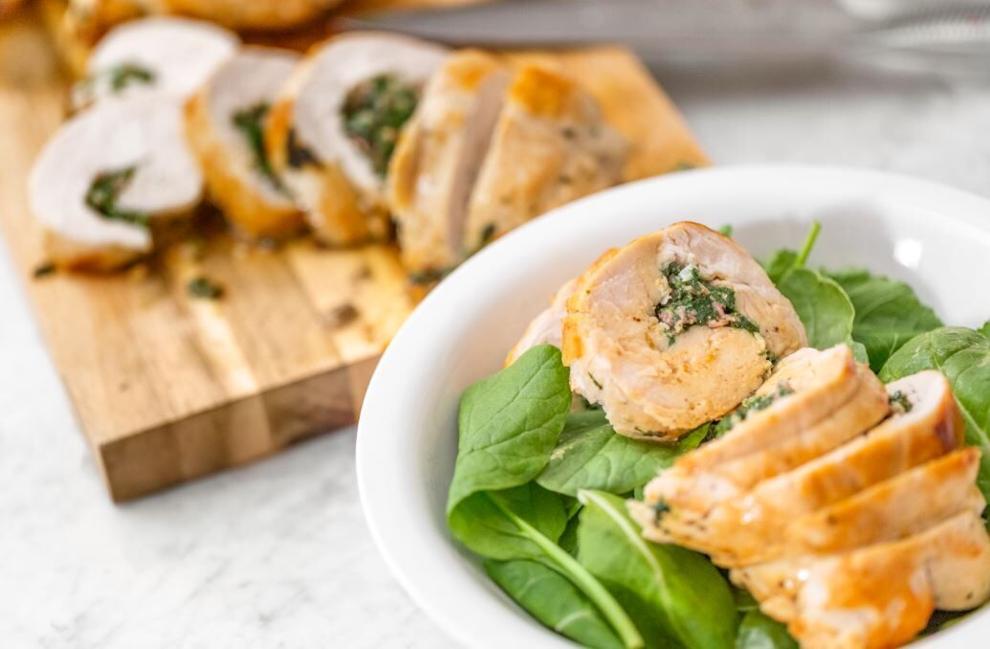 Emmy-winning host Cat Neville is the publisher of Feast Magazine and the producer of tasteMAKERS, which airs nationally on PBS. She has been in food media for about 20 years and when she's not on the road, she can usually be found playing around with new flavors in her St. Louis kitchen.
Garlicky Spinach-and Salami Stuffed-Chicken Breasts
Recipe by Catherine Neville
Yield: 4 servings
5 cups spinach leaves
4 boneless, skinless chicken breasts
Salt and freshly ground pepper to taste
2-oz Volpi Genoa Salami
1 lemon
3 garlic cloves, minced
¼ cup mascarpone cheese, or more depending on texture
Olive oil
1 cup dry white wine
½ cup chicken broth
| Preparation | Preheat your oven to 375 degrees.
Sauté spinach in a small skillet until wilted. Squeeze out the moisture and chop spinach then add to a medium bowl. Season with salt and pepper and allow to cool. Finely chop Volpi Genoa Salami and add to spinach. Zest lemon and add zest to mixture, reserving the lemon itself. Stir in the minced garlic. The cheese is next. You're looking for the texture to be a creamy paste, so add the first ¼ cup of the mascarpone cheese and then add more, if necessary, to achieve a thick, creamy texture, stirring to evenly distribute the ingredients.
Using a rolling pin, empty wine bottle or another heavy, cylindrical object, pound chicken breasts between two sheets of wax paper until about ⅛-inch thick.
Place pounded breast smooth-side down and season with salt and pepper. Evenly spread spinach-salami mixture over the breasts and then roll them up, starting with the narrow end. Tie the breasts with kitchen twine at 1-inch intervals (you'll probably tie them 3 or 4 times) and again length-wise to ensure the filling stays inside and the breasts don't open during cooking. Season outside of breasts with salt and pepper.
Heat a skillet over medium-high and add olive or grapeseed oil, swirling to coat the pan. Add chicken to the pan and brown on all sides. Transfer skillet to oven and allow chicken to cook for about 10 minutes, until they reach 160 degrees.
Pull skillet from the oven and transfer stuffed breasts to a platter. Deglaze the pan with white wine and allow wine to reduce by half, then add juice of ½ lemon and chicken broth. Allow to simmer and reduce a bit, then taste and adjust seasoning.
Remove twine from the breasts and slice to reveal the swirl of filling. Serve chicken with pan sauce spooned over top.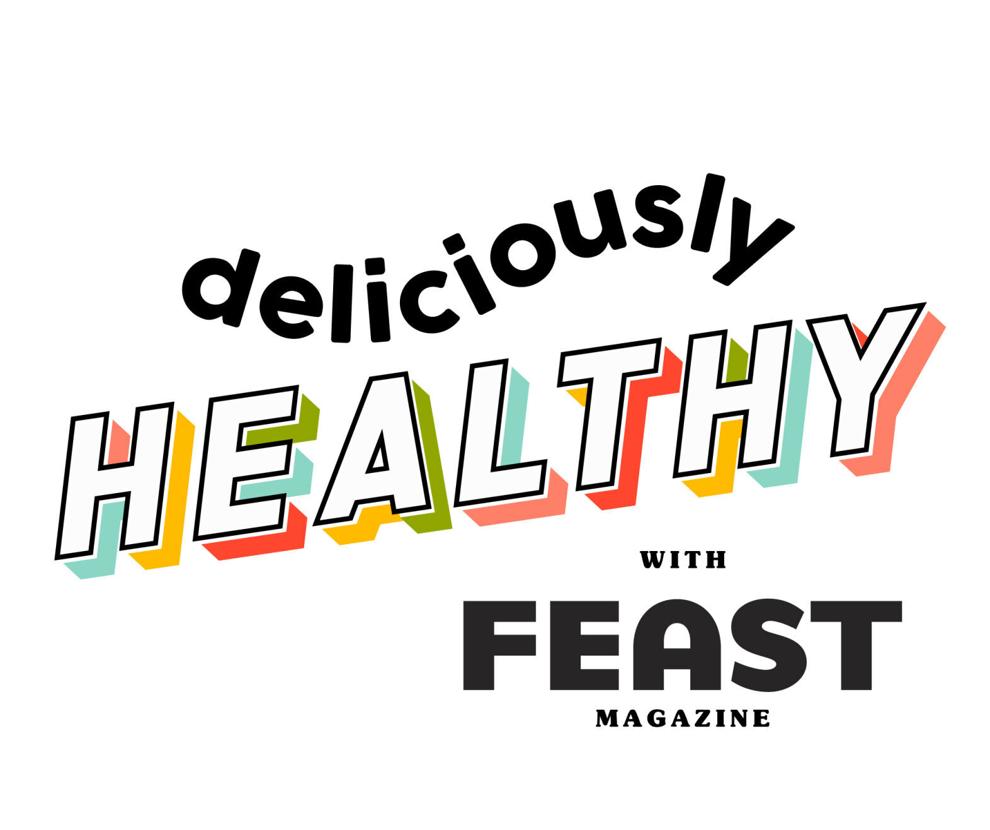 This content was produced by Brand Ave. Studios in collaboration with the sponsor. The news and editorial departments had no role in its creation or display. For more information about Brand Ave. Studios, contact tgriffin@brandavestudios.com.