The Muddled Pig Gastropub landed in Maplewood, Missouri, in February 2016 with a mission to pay tribute to Missouri pig farmers through an innovative, pork-driven menu created by co-chefs and co-owners Austin Hamblin and Michelle Allender, along with a top-notch bar.
"We wanted a place that could be considered a neighborhood restaurant but also take comfort favorites and rejuvenate them with a fresh look and fun attitude while still paying homage to the classics," Hamblin says. "We think this is where St. Louis diners' hearts are, so to us, it's just a good fit."
Observing the line cooks while working as a dishwasher at Twister's Bar & Grill in Weldon Spring, Missouri, is where chef-owner Hamblin's passion for cooking began.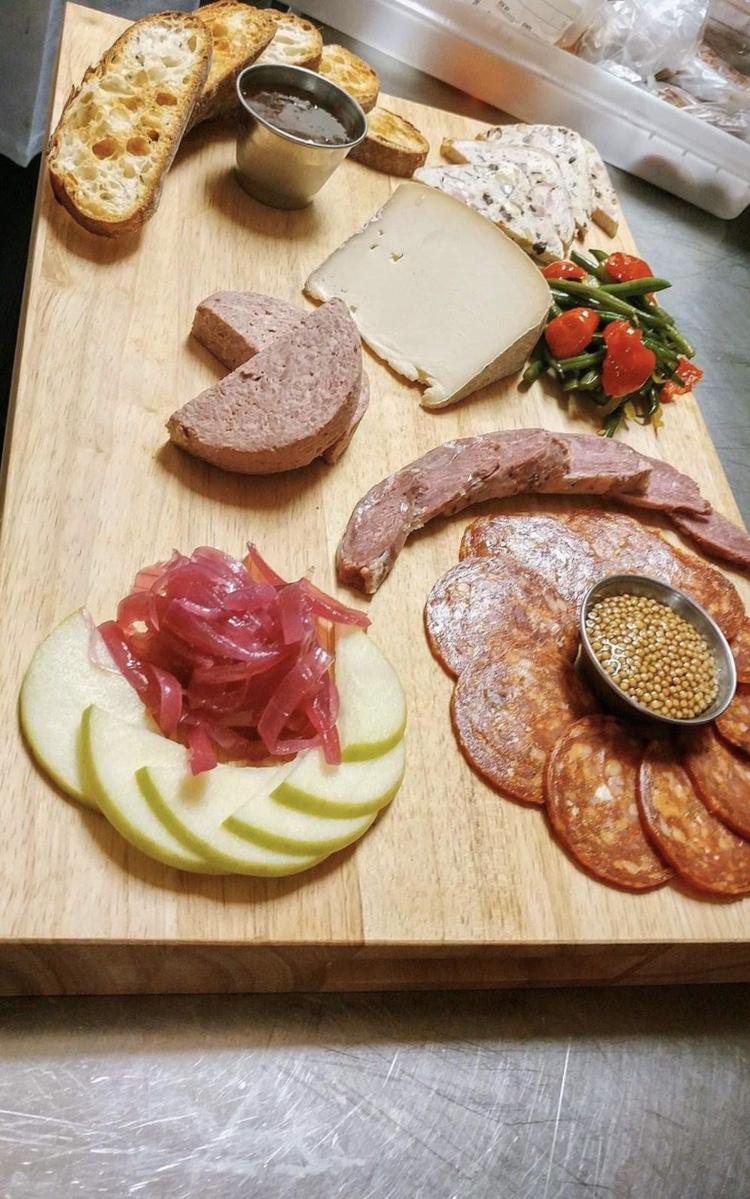 "It was beautiful to me," he recalls of busy Friday nights at the bar owned by former St. Louis Blues player Tony Twist. "You have to organize 20 tables' worth of orders in your head – every move and every thought has to be calculated two moves before to be efficient and organized to get the food out as quickly as possible. I knew then that's what I wanted to do for the rest of my life."
Hamblin and Allender went to St. Louis Community College-Forest Park for culinary school before establishing themselves in the St. Louis food scene, which they've now immersed themselves in.
"The chefs and restaurateurs I get to meet are inviting and more than willing to share their knowledge to help someone out," Hamblin says. "Everyone is so driven, and I can't wait to see what else the food scene in St. Louis will have in store for us."
When it comes to the swine-filled menu inspiration, Hamblin says pork became the subject of the restaurant for two main reasons: the blessing of pig farmers around Missouri and the market stability that allows for a more affordable dining experience.
Hamblin's current menu favorite is the pork chop, which is basted with a red-curry barbecue sauce and sits on a bed of cheesy grits and coconut milk-braised collard greens. When he's not cooking pork, Hamblin loves making great charcuterie, which is featured on a butcher's board that includes a smörgåsbord of Spanish chorizo, braunschweiger, bacon-wrapped chicken terrine, pork-cheek confit and more.
The food isn't the only reason to make a trip to The Muddled Pig: The bar is stocked with an impressive lineup of local craft beer, regional microbreweries, wine and handcrafted cocktails. The expansive selection of bourbon and whiskey on the menu can be attributed to the personal tastes of Hamblin and Allender.
The Muddled Pig maintains popular specials like a Tuesday $10 burger-bourbon-beer special and prime steak night on Thursdays. Something to look forward to in November is the restaurant's newest Thanksgiving catering offering: There will be three package options that feed either two to four, five to eight or 10 to 16 people. Each package includes turkey, sides, gravy and dessert, plus heating and serving instructions so that Thanksgiving will be easier and less stressful for families. 
"The thing I'm most excited about for Thanksgiving is that we are using heritage-breed Black turkeys, which are so much more flavorful and said to be closer to the type of turkey that the pilgrims ate for their Thanksgiving," Hamblin says.
The Muddled Pig Gastropub, 2733 Sutton Blvd., Maplewood, Missouri, 314.781.4607, themuddledpig.com