Following closely at the heels of the craft-beer industry's utter dismantling and reconstruction of the beer market, microdistilleries – same idea, with a higher alcohol content per volume – have seen a staggeringly impressive exponential takeoff in the past decade. Just over 10 years ago, Fortune magazine estimated roughly 50 microdistilleries in existence in the country; today, that number is well into the thousands.
The first of its kind in the Columbia, Missouri, market, DogMaster Distillery is a family-owned craft distillery with a laid-back, rockabilly vibe that reflects the persona of its founders, Columbia natives and self-described Renaissance couple Van Hawxby –resident "DogMaster" – and Lisa Driskel Hawxby, "DogMistress."
The distillery opened in 2014, but its origin goes a little further back, after Van wrapped up his master's degree in business administration and the couple found themselves living and working in Portland, Oregon. "The craft distilling industry is really vibrant up there," Van says. "I got exposed to this industry, and I thought – this is perfect."
The couple moved back to Columbia, where Lisa got a job at the University of Missouri as a program director, and Van set to work on his business plan. The couple pulled in Dan and Stephanie Batliner to the ownership team – Stephanie, incidentally, has been Lisa's best friend since the pair's kindergarten days, and Dan, a chemical engineer, is at the helm of DogMaster's distilling operations.
"We source all grains locally – the corn, oats and wheat – the only grain we import is our malted barley," Van says. "Barley is a colder climate crop; it doesn't grow well in Missouri. We also source our barrels locally from a small cooperage in Higbee, Missouri. We get as much from here in central Missouri as possible."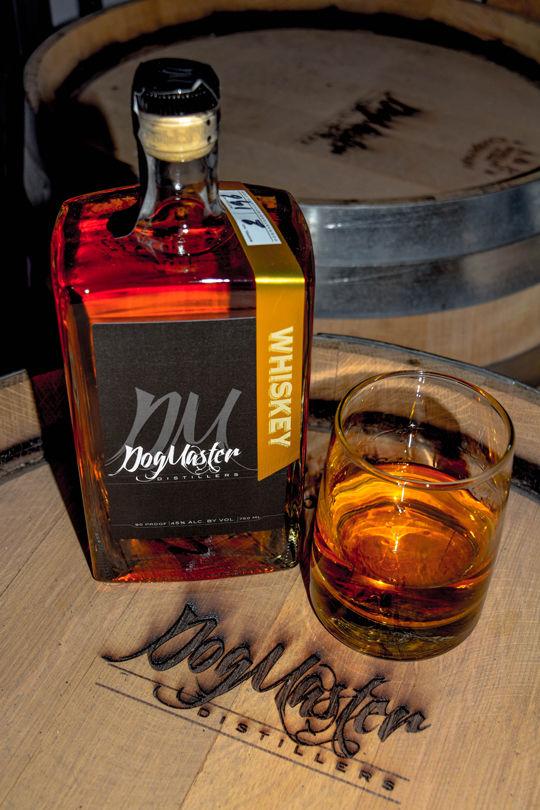 The DogMaster lineup includes whiskey, white whiskey, vodka, rum, white rum and a four-grain bourbon whiskey that Van describes as "smooth with a bit of a bite, a little spice and a little pepperiness from the barrels we use." Van also plans to roll out a DogMaster gin in the near future.
The name of the distillery is a wink to Van's college buddies, who would playfully label any individual of the group going against the grain as the "DogMaster."
"The way we look at DogMaster, it's the person who steps out beyond the crowd, tries something new, something different," Van says. "This is a new industry; people are used to small-batch, artisan wineries and craft breweries, but craft distilling is still a relatively new industry. What we're here to show you, from a small-batch basis, that we can put out a product on par with – if not more interesting than – what people have settled for in the past. This is the "Show-Me" state, and people want us to prove it – try my products; I guarantee you will not be disappointed." DogMaster products have performed well in national conferences, medaling in every competition entered thus far.
The distillery has a tasting room where Van is able to combine his background in marketing and promotions with his bartending experience, mixing DogMaster products into a wide variety of classic cocktails as well as a rotating menu of seasonal sips. The idea is to give visitors an idea of how to put DogMaster spirits to work once they're home. The tasting room has taken on a life of its own, evoking the feeling of a favorite neighborhood bar – a precious commodity in a town full of college bars.
As for the future of the distillery, Van emphasizes collaboration, not competition, between locally owned microdistilleries to be the key to the growth of the industry. DogMaster recently joined other award-winning local distilleries to form the Missouri Craft Distillers' Guild, presumably to mobilize congressional lobbyists in much in the way that craft breweries did at their inception, in an effort to lift the heavy excise taxes craft distillers have to pay that prevent their industry from being overwhelmingly profitable.
"The craft beer industry is about 15 percent of the beer industry across the U.S. Craft spirits are only 2 percent of the entire market – there's a lot of room for the small guys to move and grow that market," Van says.
DogMaster Distillery, 210 St. James St., Suite D, Columbia, Missouri, 573.777.6768, dogmasterdistillery.com