Missouri Craft Distillers Guild
Edited by Bethany Christo
The Missouri Craft Distillers Guild was created to bring together our state's craft distilleries and speak with a unified voice to spread the message that quality and local can go hand in hand. From the northern border to the Bootheel, there are incredible craft distilleries to be found and explored, each with its own unique character and flavors. Scroll down to read more about each of the members!
missouricraftdistillersguild.com
Explore Craft Spirits of Missouri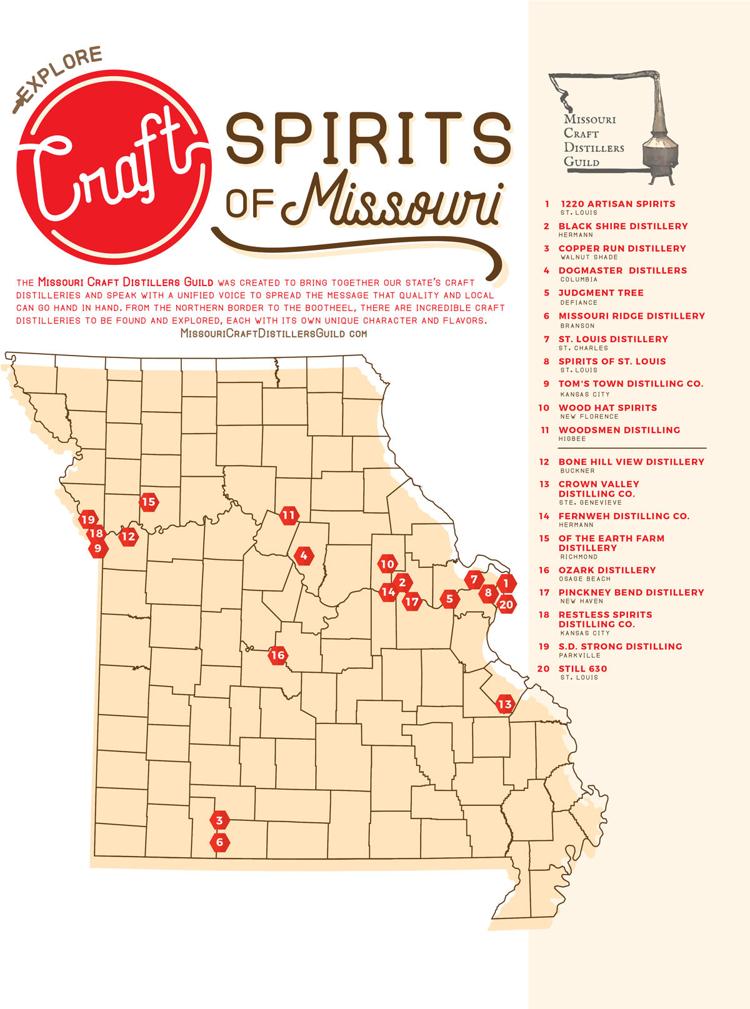 1. 1220 Artisan Spirits

2. Black Shire Distillery

3. Copper Run Distillery

4. DogMaster Distillers

5. Judgment Tree

6. Missouri Ridge Distillery

7. St. Louis Distillery

8. Spirits of St. Louis

9. Tom's Town Distilling Co.

10. Wood Hat Spirits

11. Woodsmen Distilling

12. Bone Hill View Distillery
Bone Hill View Distillery pulls from the adventurous spirit of the town's pioneers in handcrafted products including sweet sorghum-based spirits.
321 S. Hudson St., Buckner, Missouri, 816.650.0655, facebook.com/bonehillviewdistillery
13. Crown Valley Brewing & Distilling Co.
Crown Valley Brewing & Distilling Co. has a state-of-the-art facility for its portfolio of beers and spirits, plus a scenic tasting room in Ste. Genevieve, Missouri.
13326 State Highway F, Ste. Genevieve, Missouri, 573.756.9700, crownvalleybrewery.com
14. Fernweh Distilling Co.
Fernweh Distilling Co. tasting room and distillery showcase small-batch spirits including a rye whiskey, bourbon whiskey and wheat whiskey in historic riverfront Hermann.
4 Schiller St., Hermann, Missouri, 573.486.2970, fernwehdistilling.com
15. Of the Earth Farm Distillery
Of The Earth Farm Distillery creates apple brandy, rye whiskey, grappa, gin and a variety of liqueurs. Spent mash from the still is fed to pastured hogs to produce delicious pork.
17190 Highway 13, Richmond, Missouri, 660.232.1096, oftheearthfarm.com
16. Ozark Distillery
Along with its flagship corn whiskey and bourbon, Ozark Distillery in Osage Beach, Missouri, produces infused moonshine in butterscotch, apple pie, blackberry and more.
1684 Highway KK, Osage Beach, Missouri, 573.348.2449, ozarkdistillery.com
17. Pinckney Bend Distillery
Celebrating the legend of a lost town, Pinckney Bend Distillery creates award-winning premium spirits, including gins, whiskeys and vodka, by focusing on heritage and local ingredients.
1101 Miller St., New Haven, Missouri, 573.237.5559, pinckneybend.com
18. Restless Spirits Distilling Co.
Missouri's Distillery of the Year – Restless Spirits Distilling Co. – distills American spirits in the Irish tradition, including single-malt whiskey, poitín, gin and vodka.
109 E. 18th Ave., Kansas City, Missouri, 816.492.6868, restlessspiritsdistilling.com
19. S.D. Strong Distilling
Located in caves 65 feet underground, S.D. Strong Distilling produces vodka, straight rye whiskey, barrel-rested and original Pillar 136 Gin, and Big Boom Bourbon.
8500 NW River Park Drive #136A, Parkville, Missouri, sdstrongdistilling.com
20. StilL 630
With a mission to create "indomitable spirits," StilL 630's premium, small-batch best-sellers include RallyPoint rye whiskey, Expedition rum and Volstead's Folly gin.
1000 S. Fourth St., St. Louis, Missouri, 314.513.2275, still630.com
Additional Guild Members