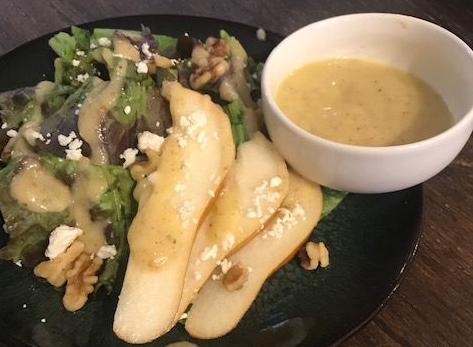 Yields | 8 servings (2 tablespoons per serving)
Ingredients
1.5 medium Bosc pears
1 1/2 tsp lemon juice
1 Tbsp apple cider vinegar
1 tsp Dijon mustard
1/4 tsp salt
1/3 cup olive oil
Freshly ground pepper to taste
Preparation
Wash pears under cold running water and scrub with vegetable brush. Cut pears in half lengthwise. Remove stems. Using a spoon or melon baller, remove core. Slice pears (leave skins on) and toss with lemon juice to avoid browning. Blend pears, apple cider vinegar, Dijon mustard, salt and pepper in a food processor. Slowly add olive oil while blending. The mixture should thicken and appear creamy. 
Nutrition Information (per 2 tablespoons): 106 calories, 9g fat, 74mg sodium, 7g carbohydrate, 2g fiber
Serving suggestion: Green and red leaf lettuce, feta cheese, walnuts and Bosc pear slices.