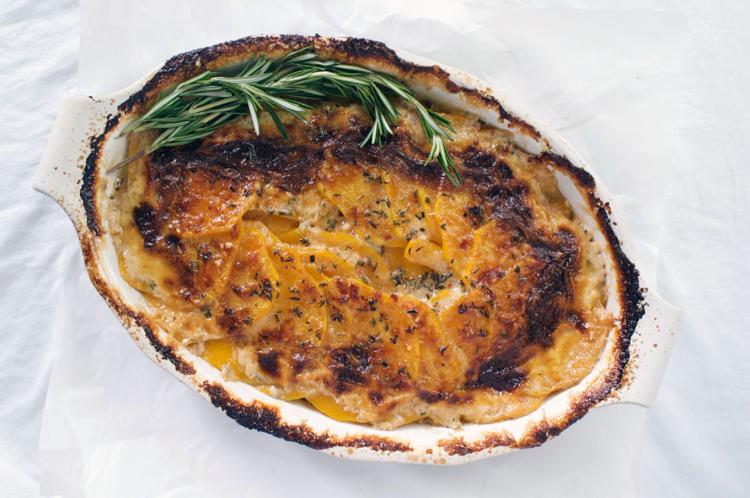 Butternut Squash Gratin
Serves | 6 to 8 |
2 2/3 cup heavy cream
2 tsp granulated sugar
1/2 tsp chile flakes
1/4 tsp fresh grated nutmeg
1/4 tsp ground allspice
1 large butternut squash, 3.5 to 4 lbs, peeled
1 Tbsp fresh rosemary leaves, finely chopped
1 Tbsp fresh thyme leaves
1/2 tsp kosher salt
1/4 tsp fresh ground black pepper
2/3 cup Parmesan-Reggiano cheese, grated
Equipment
Mandoline
2 to 2 1/2-quart shallow casserole dish
| Preparation | Preheat oven to 400˚F. Butter bottom and sides of casserole dish. Stir cream, sugar, chile flakes, nutmeg, and allspice together in a large saucepan and set over medium-low heat, stirring occasionally, until heated but not boiling. Meanwhile, slice butternut squash at base of neck and slice seeded bottom in half; scrape out seeds. Use a mandoline to slice squash from tip to tail into 1/8-inch rounds and half-moons; add to a large bowl and toss with rosemary, thyme, salt and pepper, using your hands and working until pieces are coated.
Layer 1/3 of the squash into prepared casserole dish in a single layer, overlapping slices as you go and filling in with smaller pieces where needed. Cover with 1/3 of the hot cream mixture and sprinkle 1/3 of the cheese over top. Repeat twice more, saving the best rounds for the top layer; sprinkle with any leftover herbs from the bowl and season with salt and pepper. Cover with foil and bake for 30 minutes; uncover and let bake for 50 to 60 minutes more uncovered, until dark golden on top. Transfer to wire rack to let cream soak back into vegetables, about 20 minutes.
MORE FROM IN GOOD TASTE:

In Good Taste is brought to you in partnership with Siteman Cancer Center. Watch for more healthy, seasonal cooking ideas each month.