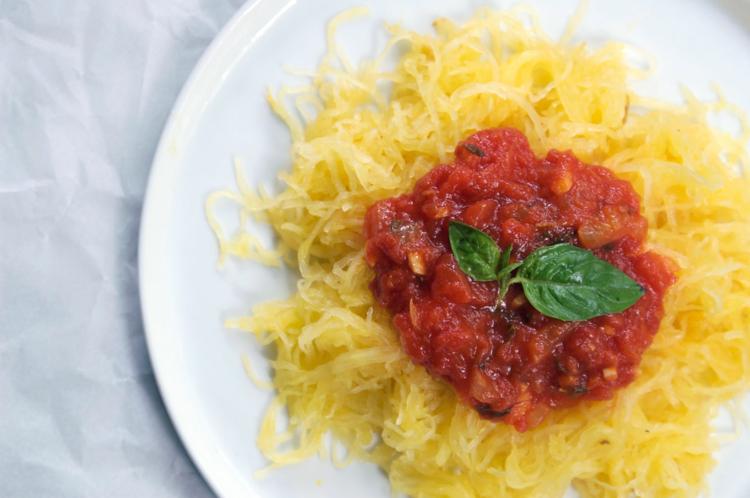 "Spaghetti" Squash with Quick Marinara
Serves | 4 |
1 spaghetti squash, 4 to 5 lbs, halved and seeded
5 Tbsp olive oil, divided
1/2 cup sweet yellow onion, finely diced
4 cloves garlic, minced
1/4 cup dry white wine
1 28 oz can San Marzano whole peeled tomatoes
1/4 cup water
2 to 3 tsp fresh thyme leaves
1/4 tsp chile flakes
1/2 tsp kosher salt
10 fresh basil leaves, divided (6 chiffonade, 4 whole)
kosher salt and fresh ground black pepper
| Preparation | Preheat oven to 400˚F. Brush both halves of squash with 2 Tbsp total olive oil; season generously with salt and pepper. Place cut side down on lipped baking sheet and roast for 40 minutes. Remove, flip over and let cool slightly until able to handle.
While squash is roasting, add remaining 3 Tbsp olive oil to 12-inch skillet set over medium heat. Add onion and cook until tender, 4 minutes. Stir in garlic and cook until fragrant, 30 seconds. Add wine and bring to a bubble; cook for 2 to 3 minutes. Add tomatoes and surrounding juice, mashing with potato masher to incorporate. Fill can with 1/4 cup water and slosh around to gather remaining tomato juice; add to mixture. Stir in thyme leaves, chile flakes and salt and bring to a boil; reduce heat and let simmer for 25 minutes, stirring occasionally, until thickened. Stir in chiffonade basil and simmer for 5 more minutes.
Once squash is cool enough to handle, scrape each half from side to side with a fork to make spaghetti noodles. Transfer to clean kitchen towel, gather up sides and wring squash over sink to release excess moisture. Place in large serving bowl and season to taste, using tongs or your hands to lift and separate "noodles" and fluff. Divide onto plates and serve with Quick Marinara; garnish with remaining basil leaves.
MORE FROM IN GOOD TASTE:

In Good Taste is brought to you in partnership with Siteman Cancer Center. Watch for more healthy, seasonal cooking ideas each month.