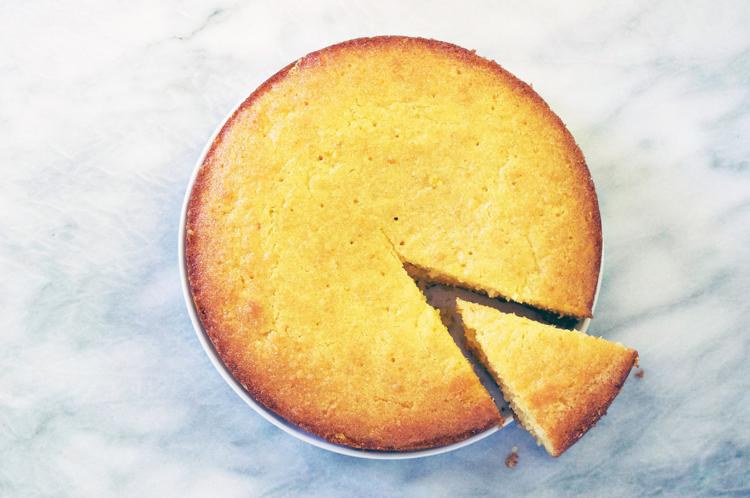 Serves | 8 to 10 |
Syrup
2 cups granulated sugar
1 cup water
juice and zest of 1 lemon
juice of 1 orange
Cake
2 cups semolina
1 tsp baking powder
1/2 tsp baking soda
1/2 cup (1 stick) unsalted butter
2/3 cup granulated sugar
2 large eggs
zest of 2 lemons, peeled in strips and finely chopped
zest of 1 orange, peeled in strips and finely chopped
2/3 cup Greek yogurt or sour cream
| Preparation - Syrup | Stir sugar, water, lemon juice and zest, and orange juice together in a large saucepan set over high heat, stirring until sugar dissolves. Bring to a rapid boil for 5 minutes to reduce, stirring occasionally. Remove from heat, transfer to heatproof container to cool and refrigerate until ready to use.
Preheat oven to 350˚F and butter an 8-inch cake pan. In a large bowl, whisk together semolina, baking powder and baking soda. In the bowl of a stand mixer, beat the butter and sugar together on high until light and fluffy. Scrape down bowl, add eggs and zest and beat until incorporated. Scrape down bowl again and stir in dry ingredients in low until mixture just comes together. Stir in yogurt until just combined and mixture has no streaks. Transfer to prepared pan and bake for 25 to 30 minutes, until toothpick inserted in the center of cake comes out clean or with few crumbs.
Remove from oven and poke all over with a small skewer or toothpick. Pour cooled syrup on hot cake, 1/4 cup at a time, using a pastry brush to spread over top, waiting a minute or two between syrup layers to allow the liquid to soak in. When cake has cooled to lukewarm, run a thin knife around the edge to loosen and transfer to serving plate.
| To Serve | Serve warm or at room temperature.
MORE FROM IN GOOD TASTE:

In Good Taste is brought to you in partnership with Siteman Cancer Center. Watch for more healthy, seasonal cooking ideas each month.