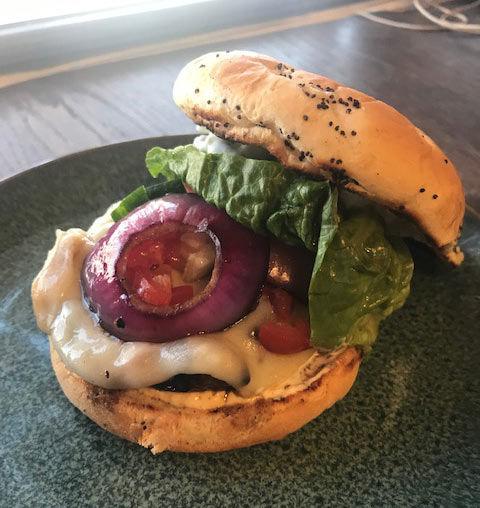 Yield | 4 burgers
Mushroom marinade:
4 portobello mushroom caps
2 sprigs thyme
2 Tbsp canola oil
2 Tbsp balsamic vinegar
½ tsp onion powder
3 cloves garlic, minced
1 tsp Worcestershire sauce
¼ tsp salt
½ tsp ground black pepper
Cucumber-tomato topping:
1 small tomato, diced
¼ cucumber, diced
Garlic aioli:
¼ cup light mayonnaise
½ lemon, juiced
1 clove garlic
¼ tsp ground black pepper
Other:
½ Tbsp canola oil
red onion, sliced about 1-inch thick
4 onion buns
4 slices provolone cheese
lettuce, for topping
| Preparation | Heat grill to medium high. Combine mushroom marinade ingredients in a pie dish (or other container that will allow for full coverage of marinade) and let sit for 15 to 30 minutes. Dice tomatoes and cucumbers and set aside. Combine ingredients for garlic aioli. Stir aioli ingredients until well mixed and refrigerate until ready to use. Remove mushrooms from marinade and place directly on grill, cap-side down, for 5 minutes. Flip and brush mushrooms with marinade and cook for another 5 minutes. Remove mushroom caps from direct to indirect heat, cap-side up, and brush with marinade again. Place onions on grill over indirect heat. Cook onions for 7 minutes on each side, then remove from grill. Lightly brush buns with remaining canola oil. Place buns facedown on grill until toasted (about 5 minutes). Spread aioli on buns. Assemble mushroom burger with cucumber-tomato topping, onion and lettuce. Enjoy!
Nutrition Information (1 burger): 382 calories, 23g fat, 36g carbohydrate, 840mg sodium, 15g protein