Everyone knows how important greens are to good health, but it can be daunting to sit down to — let alone get excited about — a heaping bowl of kale. Microgreens deliver an abundance of nutrition in a fraction of the volume.
If you've ever planted an herb or vegetable garden, technically, you've already grown microgreens: the first shoots of a plant that push out of the ground, typically picked when they're only a couple inches tall. Microgreens cropped up in San Francisco's food scene in the 1990s, and some of today's most popular varieties include beets, cilantro, radishes, mustard greens, arugula and kale. These tiny plants are often used in soups, sandwiches, salads and as garnish, and they taste quite similar to full-grown leafy vegetables.
Though it seems counterintuitive to pick and eat the roots, seeds and shoots of a plant rather than wait for the leaves to reach maturity, it turns out there are plenty of compelling reasons to consume microgreens. For starters, they're low maintenance: They require only minimal space to grow, and they're ready to harvest just a week or two after they're planted. But far more important are their health benefits. The plants are tiny, but the amount nutrients they contain is off the charts, says Dr. Adetunji Toriola, a Washington University assistant professor of surgery and researcher at Siteman Cancer Center. One reason is — unlike conventional vegetables, which are often cooked before they're eaten — microgreens are eaten raw. That means they retain all of the vitamins and nutrients that are sometimes weakened (or even destroyed) by the heating process.
"Notably, the vitamin and antioxidant contents of microgreens are higher than their mature plant counterparts," Dr. Toriola says. "For instance, cilantro seedlings contain three times more beta-carotene than the fully developed cilantro leaves. Likewise, cilantro and red cabbage microgreens contain 11 and 28 times greater lutein than their mature plant counterparts." Broccoli and red cabbage microgreens are excellent sources of calcium, which helps fortify teeth and bones; red mustard, pea tendrils and arugula microgreens are filled with potassium, which helps conductivity within the nerves; and red cabbage and radish microgreens bring vitamin C, great for the skin and blood vessels.
Perhaps most impressive is that microgreens are strong enough to play the role of cleanup hitter. "Our body undergoes changes every day at the cellular level, and we need things to mop up what's been broken down, such as regenerated cells and free radicals," explains Dr. Toriola. "Over the long term these things can accumulate, and it becomes a problem for the body. Antioxidants help clean up a lot of these toxins, and microgreens are full of them."
One last reason to celebrate these wee greens: They are sometimes referred to as "vegetable confetti," and what could be a more healthy or festive way to welcome spring than that?
---
Microgreens: Small But Mighty
Arugula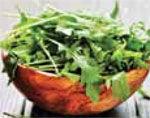 When it's full grown arugula can be identified by its jagged leaves, which offer a clue to the sharp, spicy flavor they lend to pasta and salads. As a microgreen, arugula's emerald leaves are clover shaped. They still convey their trademark spice, but can be grown in just under two weeks. Arugula microgreens are terrific additions to sandwiches, smoothies and salads, and they deliver loads of antioxidants and vitamin C.
Chia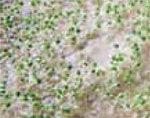 Chia seeds have had quite an evolution. They were a staple for Mayan and Aztec diets; they grew on kitschy clay figurines in the 1980s; and today they enjoy superfood status. (Fun fact: Chia Pet's parent company now sells the seeds for their items and for human consumption as nutritional supplements.) These seeds grow a bit differently from others because they're planted on top of a surface rather than beneath it. Chia microgreens are excellent sources of fiber, magnesium and even calcium — who knew the Chia Turtle could be so versatile?
Pea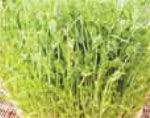 Talk about a ray of sunshine. Pea shoot microgreens taste like summer, yet they can be grown quickly and easily all year round. Though tiny, these leaves are nutritional powerhouses, delivering an astonishing seven times the amount of vitamin C as blueberries while also checking off boxes for folic acid, antioxidants and vitamins A and C. These tender leaves enliven food of all kinds. Try them in green smoothies or stir-fries.
Radish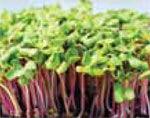 Most microgreens can be harvested about two weeks after they're planted, but radish microgreens are at their peak even sooner than that. Scientists at the University of Maryland studied two dozen kinds of microgreens, and they discovered that green daikon radish had the most vitamin E — a crucial antioxidant — of any other variety. These peppery seedlings are great additions to soups and salads, but they lose their zing soon after they're harvested. Be sure to eat them right away.
Sunflower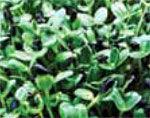 Though sunflower seeds are usually thought of as food in their own right, they can also be used to grow sunflower microgreens: Just stick them under an inch of damp soil, and they'll be ready to eat in about two weeks. These greens impart the characteristic nutty taste of sunflower seeds — not to mention amino and folic acids, and vitamins C, E and B complex — and are great on sandwiches or in salads. Black oil sunflower seeds are the best ones for growing. You can use the common striped kind as long as they're still in the shells, but avoid the ones used in birdseed.
---

In Good Taste is brought to you in partnership with Siteman Cancer Center. Watch for more healthy, seasonal cooking ideas each month.