As part of the Feast on St. Louis: Behind the Apron series, we peek behind the curtain at how hotels and their restaurants are adapting to COVID-19. In our three-part series sponsored by Explore St. Louis, we talk to chefs and hotel managers about their efforts to keep guests and staff safe while providing an oasis for you to get some much needed relaxation. See parts one and three.
The Sheraton at Westport Plaza hotel's first priority is to assure the health and safety of their guests. Practicing social distancing and mask guidelines are helping the Sheraton and Westport Social provide an outlet for guests to get away for a night out or even just a drink.
Restaurants and hotels are no strangers to sanitization and safety needs. Now, they are upping the ante with active protocols to sanitize throughout the day, focusing on high-touch areas.
"Our first priority is to ensure the safety and health of all our guests that go to our hotels," says Todd Hotaling, the vice president of marketing at Lodging Hospitality Management, which includes the Sheraton and Westport Social.
The Sheraton's two towers at Westport Plaza offer a variety of amenities and room options. Some rooms overlook the lake and pool, while others feature breathtaking sunsets. There are also several bars, restaurants and entertainment venues at the Plaza, as well as a new gym.
For those who've never been to Westport Plaza, it feels like an all-inclusive village. More than 12 dining and entertainment experiences can be reached in a few blocks radius, all connected by easily walkable pedestrian streets. For anyone wanting a one-stop destination getaway, look no further.
The staple of the Plaza is Westport Social. It has long been a happy hour favorite thanks to its impressive bar program, assortment of games and delicious bites. The large space it is known for is now helping guests to feel safe when they visit since they can easily spread out and comfortably distance from other groups while still enjoying the view of sports games on large format screens. The patio also offers even more room to space out and a large gas fire pit and heaters to enjoy.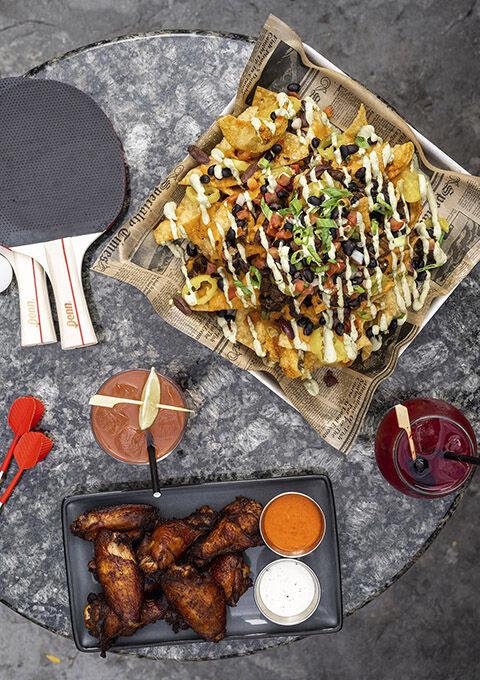 "We have a big venue with lots of square footage, so it's perfect for you to come and be able to socially distance with your friends right now," says Jessica Huston, bar manager at Westport Social.
In addition to their constantly rotating craft cocktail list, Westport Social's menu features bar food with an upscale, all in-house made twist. The pizza is wood-fired, the nachos are comprised of house-made wonton chips smothered in brisket and the wings are smoked overnight. Each familiar comfort food item is still deliciously satisfying while giving guests a quality culinary experience they might not expect.
Guests are required to wear masks when they visit unless seated at a table and the capacity is limited, per St. Louis County guidelines. The staff are all required to have their temperature taken and answer a 10-question health questionnaire before beginning their shift.
If you're looking for a place to be able to get out of the house and relax without concerns, Westport Social has everything you need.