As part of the Feast on St. Louis: Behind the Apron series, we peek behind the curtain at how hotels and their restaurants are adapting to COVID-19. In our three-part series sponsored by Explore St. Louis, we talk to chefs and hotel managers about their efforts to keep guests and staff safe while providing an oasis for you to get some much needed relaxation. See parts two and three.
The Four Seasons hotel in downtown St. Louis and its restaurant Cinder House are taking every precaution when it comes to providing a stress-free environment for guests to enjoy a meal or staycation. They have partnered with Johns Hopkins Medical Center to come up with a strategic plan to prioritize safety in their hotel and restaurant.
It starts the moment guests come through the door, where not only are they required to wear masks to enter the lobby, but the concierge will also take their temperature upon greeting them. Once it is confirmed guests do not have a fever, they are given a bracelet and then permitted in the key-card locked elevator in order to proceed to the restaurant, their hotel room or the rooftop bar. From there, hand sanitizer is distributed throughout the hotel, including in each room, and social distancing is encouraged.
Many Americans have spent the bulk of the last year experiencing higher levels of stress than normal ­– whether they are concerned about high-risk family members, their child's education or the economy – there is plenty of worry to go around. That's why finding a safe environment to relax in is more important than ever. And that's exactly what Four Seasons and Cinder House are working to provide.
"These are difficult times for all of us," says Alper Oztok, general manager of the Four Seasons hotel. "People are looking for ways to get out and still be safe… but at the same time have experiences."
Cinder House sits atop the Four Seasons and features the creations of James Beard award-winning chef Gerard Craft. The modern South American restaurant is heavily influenced by Brazilian cuisine, a tribute to Craft's childhood nanny. The signature dish to try is Feijoada – a bowl of pork belly, ham hocks, black beans, rice and kale glazed with chimichurri. More reserved eaters can also feel at home with a grilled ribeye or filet mignon.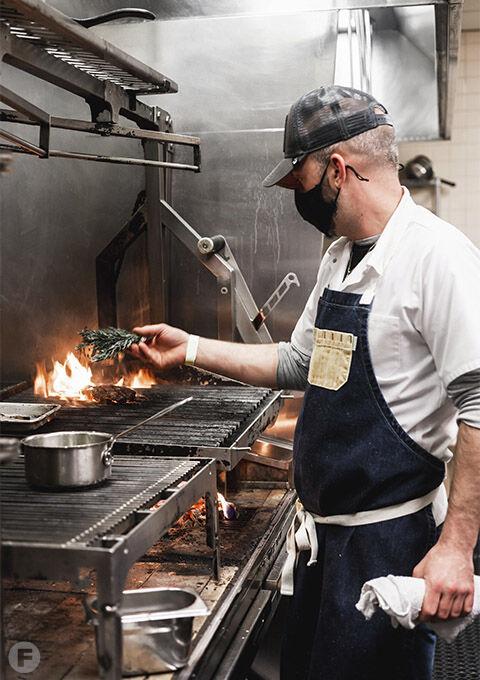 The restaurant, much like the rest of the hotel, is taking precautions when it comes to providing a delicious dining experience. Employees must wear masks at all times and their temperatures are taken daily. All tables are more than six feet apart in the dining room and on the patio. Guests can also opt to have food delivered to their room, if they prefer.
"It's such an oasis in the middle of this craziness. I hope [coming here] gives people a chance to just get away and be calm and be at peace in our space," says Craft.
The patio of Cinder House provides a striking view of the arch grounds – a perfect St. Louis experience for out-of-town visitors or for natives to enjoy the wonder of their own city. While many remain stuck at home, treating yourself to a dine-in meal by an award-winning chef, a day at the on-site spa or a night pampered in a hotel room overlooking the Mississippi River could be the perfect way to unwind. At the Four Seasons you can find all three.