Green Truck Bakery is the family business for Carl and Carmen Schick and one of their sons, Ryan. Up until this year, the preservative-free bakery has vended at the farmers' markets in Warrensburg, Missouri, and Sedalia, and offered a subscription service to customers. This summer, the Schicks celebrated the opening of Green Truck's first brick-and-mortar bakery in Warrensburg.
Green Truck began as a hobby for Carl, and eventually grew into a family business: Before he retired, Carl traveled a lot for work. Not one to watch TV in hotel rooms, he found a favorite pastime in each new locale: Visiting local bread bakeries. After retiring, he bought a copy of The Bread Builders by Alan Scott and Daniel Wing and eventually built a wood-fired oven in his backyard. Five years ago, a friend encouraged Carl to try selling his bread at the farmers' market; he brought around 20 loaves that first weekend and sold out within about 20 minutes.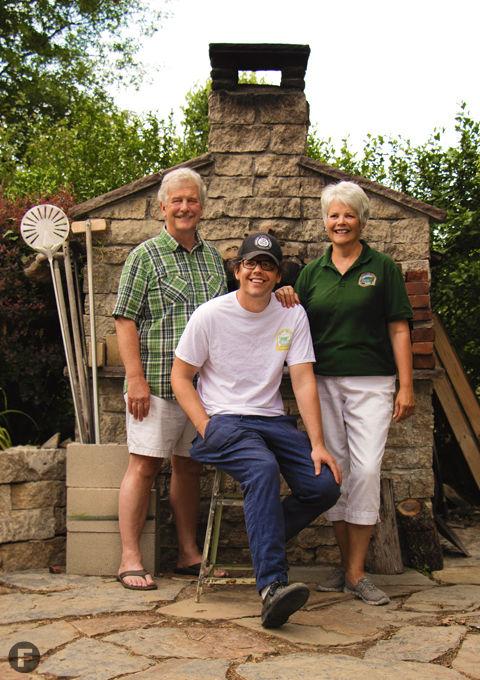 Today, Ryan is the head baker, working closely his father. Green Truck now offers a rotating menu of 15 to 18 breads. One of the Schicks' missions is to encourage their customers to try new and different breads, fostering an even deeper commitment to support the local food artisan community.
Tell us about your breads. Our best-selling bread is a multi-grain called four-seed multi-grain bread. It has roasted sesame, sunflower, pumpkin and flax seeds in it, as well as multi-grain whole wheat, whole rye, and we just add some sea salt. Then we also have a very popular Garden Bread, with carrots, onions, hazelnuts, coriander, a little honey, a little olive oil, bread flour and a little sea salt. We've got so many flavors: fennel-golden raisin, olive, herb, plain sourdough, cranberry-almond. The list is long. One of the ones that's really popular is the Finnish rye. It's a dark rye; it has organic molasses and cracked wheat and flax, so it has that dark rye flavor. –Carmen Schick
You built a massive wood-fired oven for the new bakery; what was that process like? We did a little traveling, visited other bakeries, did a tremendous amount of reading, and then we employed an engineer who helped certify everything to make sure it was safe. We needed to increase our capacity, and we expect to be able to bake about 45 to 60 loaves at a time, depending on the type of bread, in the new oven. It's also got a door that will accept an automatic loader if we ever decide to use that, but at this point we just use a peel to load the bread and take it out of the oven. The idea is, because I'm a little older, my son realized that he may not have as much help in the future as he's had in the past, so he thought preparing for the future and having the option of using the automatic loader was a smart thing to do. –Carl Schick
You're hoping to have your own grain mill eventually. Why is that important to you? The idea of having fresh flour is a nice thing that we can do for our community. You would have no trouble at all telling the difference if somebody handed you a slice of bread or a piece of toast that was made with fresh flour, and another one made with traditional sources of flour that have been packaged and shipped a long way off. It's like any other ingredient; when I talk to our customers and they ask why we'd be doing that, I just say, "Do you want other products you eat to be six or eight months old?" Most of the flour in the grocery store is at least that old. Compare that to flour that was milled today: It's more flavorful, has a better texture to it. We're really committed to that. –Carl Schick
What's next for the bakery? We're going to be moving into laminated doughs. We have a brand new sheeter, so we'll be able to add croissants, puff pastries. We're still looking at natural grains, whole grains and healthy foods, so we'll be doing primarily savory pastries. Maybe one or two sweet ones – maybe a chocolate and almond [pastry]. Down the road, probably next fall, we're going to be making our bakery solar powered. I don't know that we'll ever move off the grid, but we want to get close to it. –Carl Schick
Green Truck Bakery, 127 W. Pine St., Warrensburg, Missouri, 816.210.5772, greentruckbakery.com