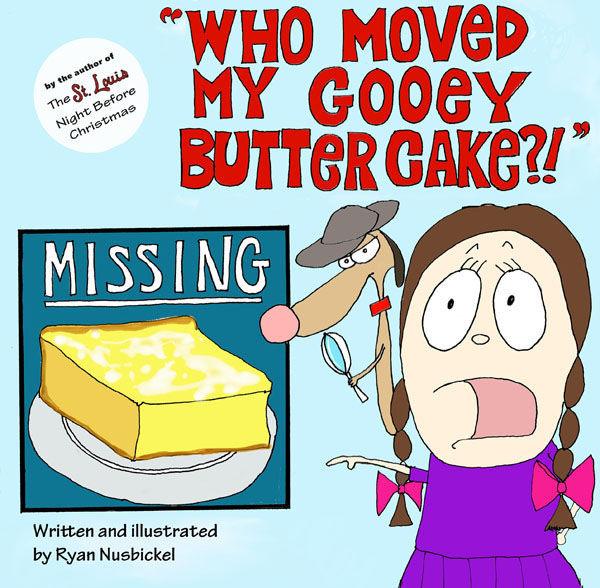 Earlier this year, former award-winning St. Louis television reporter-turned-writer and illustrator Ryan Nusbickel published a follow-up to his 2013 children's book, The St. Louis Night Before Christmas, with the release of "Who Moved My Gooey Butter Cake?!"
The premise of the picture book is simple: A little girl can't find the last piece of her mom's gooey butter cake, and she and her dog set off to find some answers. She interrogates her father, but he's busy chowing down on St. Louis-style pizza, and her brother also has an alibi – he was throwing washers in the backyard. Undaunted, the little girl and her pup hit the streets of St. Louis, making stops at the City Museum, the Gateway Arch, Union Station and Grant's Farm, and visit neighborhoods including Webster Groves, Kirkwood, University City and Lafayette Square.
Although they don't find gooey butter cake in any of those spots, they do snack on T-ravs on The Hill and sip milkshakes at Crown Candy Kitchen in Old North. We won't ruin the ending – but let's just say it doesn't end without the little girl finding some concrete evidence. Nusbickel's writing is fun and full of St. Louis personality, and his whimsical, playful illustration style would surely delight any youngster as a gift or stocking stuffer this holiday season.
"Who Moved My Gooey Butter Cake?!", written and illustrated by Ryan Nusbickel, gooeybuttercakebook.com
---
MORE FEAST!
Hungry for more Midwest food-scene news? Follow us on:
Click here to subscribe and each month you'll receive a delicious serving of Feast delivered directly to your home, hot off the presses!
Subscribe to our weekly enewsletter here!