A hearty salad full of veggies, protein, crunch and flavor is something we can all get behind. No one wants to order a salad for lunch or dinner, only to find themselves hungry again an hour or two later. These five satisfying salads offer plenty of your five a day while keeping you full and fueled.
Winter Salad at Living Room Coffee & Kitchen
Living Room Coffee & Kitchen is best known for its inventive lattes and stellar breakfast sandwiches, but its salad game is strong, too. The seasonal Winter Salad includes mixed greens, Gorgonzola, shredded carrots, dried cranberries and candied pecans with a red wine vinaigrette. Customers can choose to add chicken breast or an egg, or make it vegan by holding the cheese.
Living Room Coffee & Kitchen, 2810 Sutton Blvd., Maplewood, Missouri, 314-899-0173, livingroomstl.com 
Turkish-style Fattoush at Sultan
Sultan in The Grove specializes in Middle Eastern and Turkish cooking, with plenty of salads and vegetable-forward options. The Turkish-style Fattoush includes grilled eggplant, tomato and cucumber served on top of pita chips with a garlic yogurt sauce and parsley. The eggplant adds body to the salad, while the pita chips bring that all-important crunch. Split the salad and the falafel plate with a friend for a filling vegetarian lunch.
Sultan, 4200 Manchester Ave., The Grove, St. Louis, Missouri, 314-390-2020, sultan-stl.com
The Scratch Salad at Chicken Scratch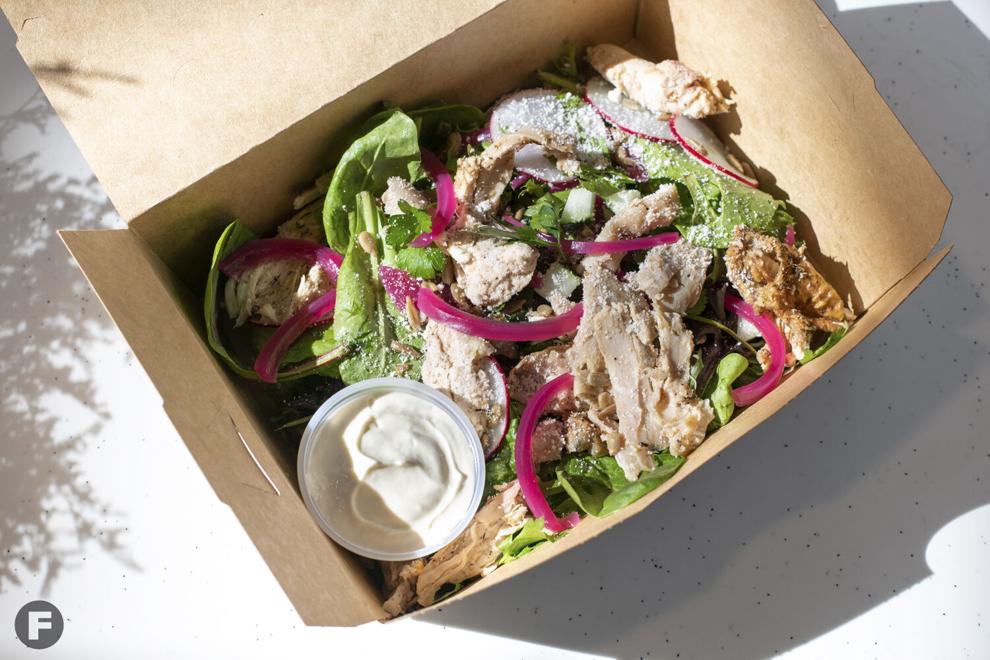 Chicken Scratch knows how to make excellent rotisserie chicken, so it's no surprise that is uses that chicken for one if its signature salads. The Scratch Salad includes chicken, mixed greens, feta, red peppers, chickpeas, cucumber, pickled red onions, crispy shallots, sunflower seeds and red wine vinaigrette. The chicken and chickpeas offer double protein, while the feta adds creaminess and a wonderfully salty bite. If you're a ranch fan, swap out the vinaigrette for an herb buttermilk dressing. 
Chicken Scratch, 3730 Foundry Way, Midtown, St. Louis, Missouri, chxscratchstl.com (inside City Foundry STL)
The West Coast BLT at Revel Kitchen
Revel Kitchen focuses on fresh food that's affordable and caters to any dietary restriction. The West Coast BLT transforms your favorite sandwich into a delicious, hearty salad. Enjoy organic greens, kale, grape tomatoes, avocado, cucumber, bacon, salmon and creamy honey Dijon dressing. If you're vegetarian, swap out the salmon and bacon for spiced tofu. Guests can add a soft boiled egg or goat cheese to any salad for an additional charge.
Tempeh Caesar at Seedz Cafe
Seedz is well-known for its creative, plant-based takes on classic dishes. A prime example is the Tempeh Caesar: chopped lettuce and kale, tomatoes, sprouted grain croutons, tempeh and Rawmesan (a vegan version of Parmesan), all tossed in a housemade Caesar dressing. Order it to-go online for an easy, quick lunch that will keep you full until dinner.
Seedz Cafe, 6344 S. Rosebury Ave., DeMun, St. Louis, Missouri, 314-725-7333, seedzcafe.com