When the Charleville Brewery moved out of the space next to Hamilton's Urban Steakhouse and Bourbon Bar in February 2022, it gave the owners of Hamilton Hospitality Group the chance to open up their own concept, Winnie's Wine Bar, in the summer of 2022. Winnie's is co-owned by Jason Arnold, Paul Hamilton and Paul's wife, Wendy Hamilton, for whom the wine bar is named: "Winnie" was Wendy's childhood nickname.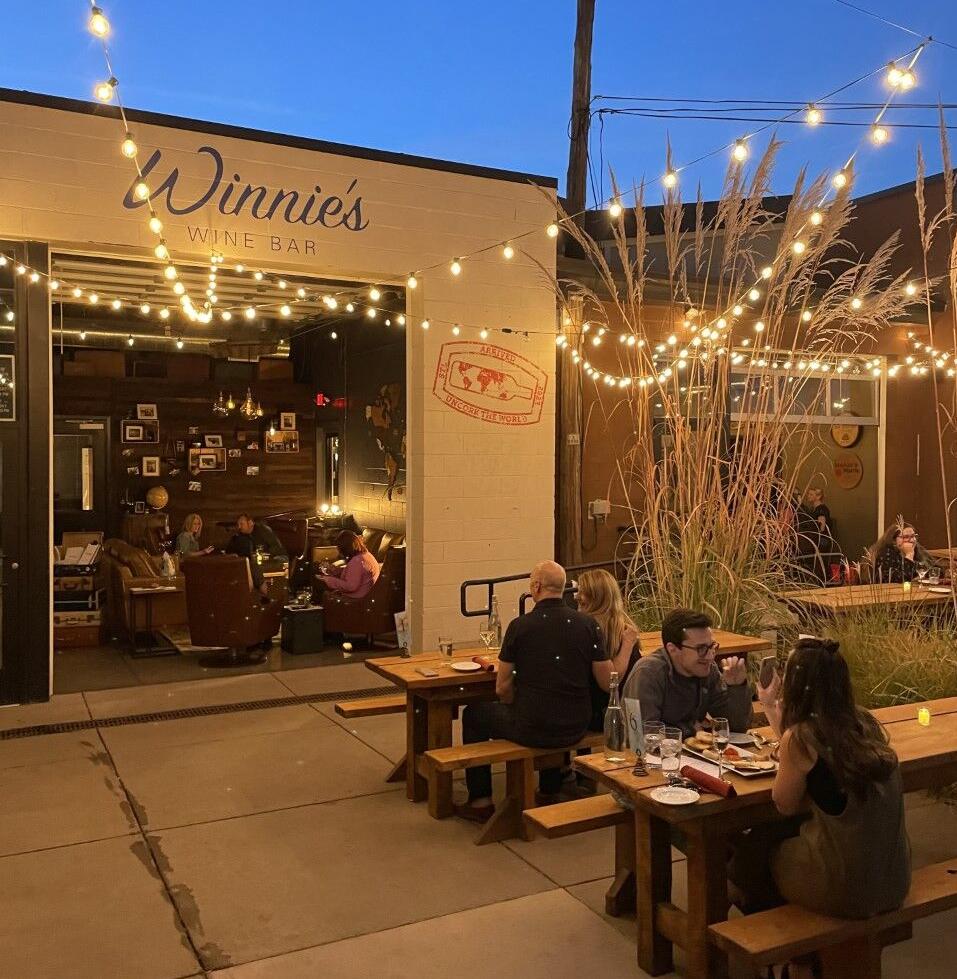 "It's that kind of place you go to for happy hour after work," Paul Hamilton says. "The price point is good and there's a lot of variety for people. It also attracts people not wanting to wait in traffic."
The 3,500-square-foot wine bar has a roomy feel with a capacity for 80 guests, including barstool seating. The décor makes good use of the ample space, with a mix of well-appointed sofas and chairs to sink into among the high tables perfect for sipping cocktails. An eclectic mix of maps, cameras and clocks keep the eye moving across the restaurant, which feels inviting and lived-in. The 625-square-foot patio offers an additional 24 seats during warmer months, and a private dining room can be rented out for parties of 24 people.
Arnold and the Hamiltons have a background in the cruise industry, which has influenced the dark wood and rich leather aesthetic of the space. "It kind of reminds you of a VIP lounge you would sit in right before you take off on your trip," Hamilton says. "There's big easy chairs. There's as much lounge seating as table seating."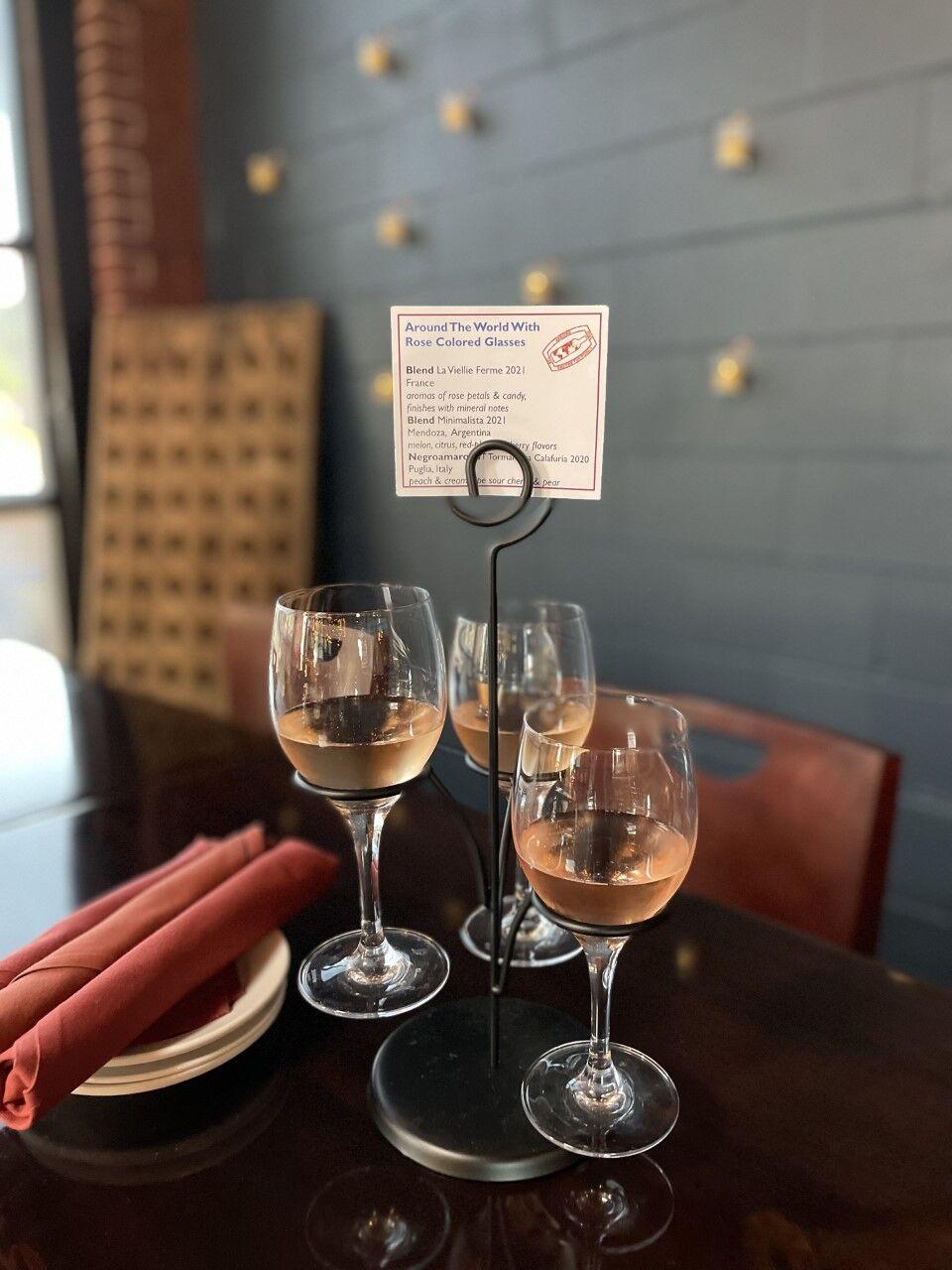 What sets Winnie's apart from other wine bars are its Coravin offerings and wine tasting flights. Many bars limit flights and single pours to less expensive offerings; by utilizing a Coravin – a wine preservation system that keeps oxygen from coming into contact with the wine – Winnie's can open and serve even higher-end bottles with no waste. Winne's tasting flights are three-ounce pours of three different wines; options include a selection of whites, reds, a rose and a sparkling wine to choose from. The wines are curated, with the owners' personal favorites intermingled with the rest. For instance, Arnold is from the Finger Lakes wine region of New York, and has brought in a Dr. Konstanin Frank 2021 dry Riesling from that area with lime zest, granny smith apple and mineral notes. Missouri wines from Augusta are also offered.
"We recognize local brands," Hamilton says. "We just have to be able to sell them. Some people are more apt to buy them than others. If we put a Missouri wine in a flight, guests are more apt to try it. If they get a flight and taste the wine from Augusta, they will say, 'Oh that's good' and then we can open their minds."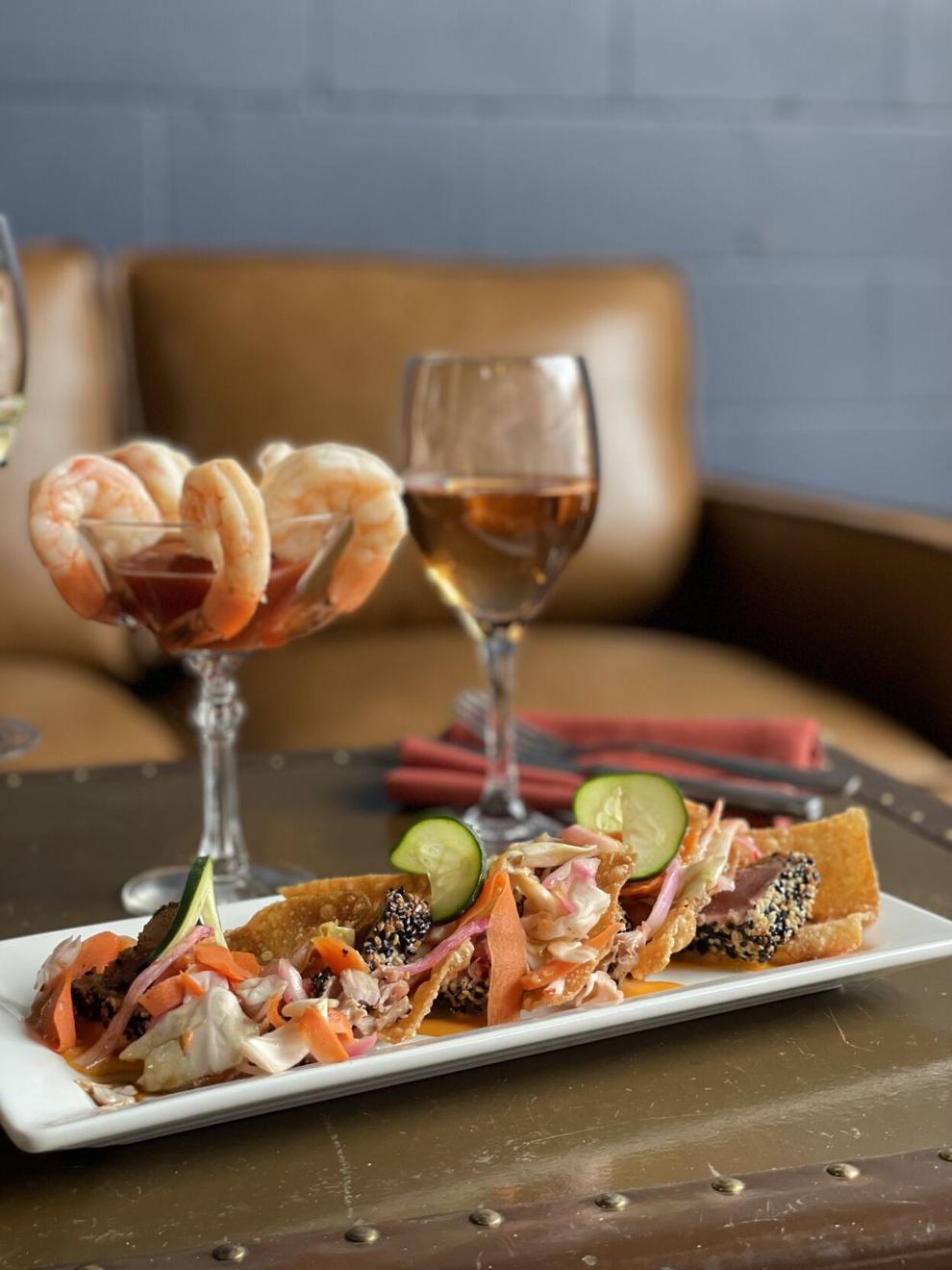 Hamilton's two favorite reds are the Villa Antinori Toscana Rosso blend from Tuscany and the Portlandia from Willamette Valley, Oregon. The Portlandia is a pinot noir that carries notes of cherry, strawberry and mesquite smoke.
If white wine is what you're looking for, Hamilton recommends the 2020 Iris Pinot Grigio from Oregon. Winnie's also offers a unique rosé from Puglia, Italy, made from Negroamaro grapes. It's a Tormaresca Calafruia 2020 IGT wine, which is bright, slightly acidic and well-balanced with notes of peach, pear, cream and ripe sour cherry.
In the summer, Winnie's will serve fruity frozen drinks that rotate weekly. In the past, they have offered the Mile High Margarita made with Milagro tequila in addition to the Whiskey Tango Foxtrot made with bourbon, hickory-smoked syrup and cherry bitters.
Winnie's also has international beers on draft, including the Elvis Juice IPA from a Scotland brewery called BrewDog, a strong ale called Delirium Tremens from a brewery in Belgium called Brouwerij Huyghe and a tripel (strong pale ale) called La Fin Du Monde from Canada's Unibroue Brewery. These unique brews are offered alongside familiar favorites like Stella Artois, Guinness and Modelo.
The food menu features a variety of shareable plates that are produced in the kitchen of the steakhouse but may not be featured on the main steakhouse menu. Popular menu items include bacon-dusted popcorn, bourbon-glazed pork belly and roast beef sliders. Common bar items like nuts, olives, cheese and charcuterie are also a hit, with the entire menu designed to be approachable and to pair well with drink offerings.
Winnie's Wine Bar is open Tuesday through Thursday from 3 to 9 p.m. and Friday through Saturday from 3 to 10 p.m., with happy hour Tuesday through Thursday from 3 to 6 p.m.
Winnie's Wine Bar, 2101B Chouteau Ave., Lafayette Square, St. Louis, Missouri, 314-242-9463, winnieswinebar.com