In 2021, Sara and Chris Mullen turned a casual coffee date into a brainstorming session for a new restaurant. That auspicious evening marked the beginnings of WaffleNerds, the duo's food truck and catering business.
The Mullens soon set up a spot at the Lake St. Louis Farmers Market, hoping their idea would take off. "The first week early in 2021 was a little nerve-wracking," Sara says. "We were just a family standing out in the rainy cold under a pop-up tent griddling waffles."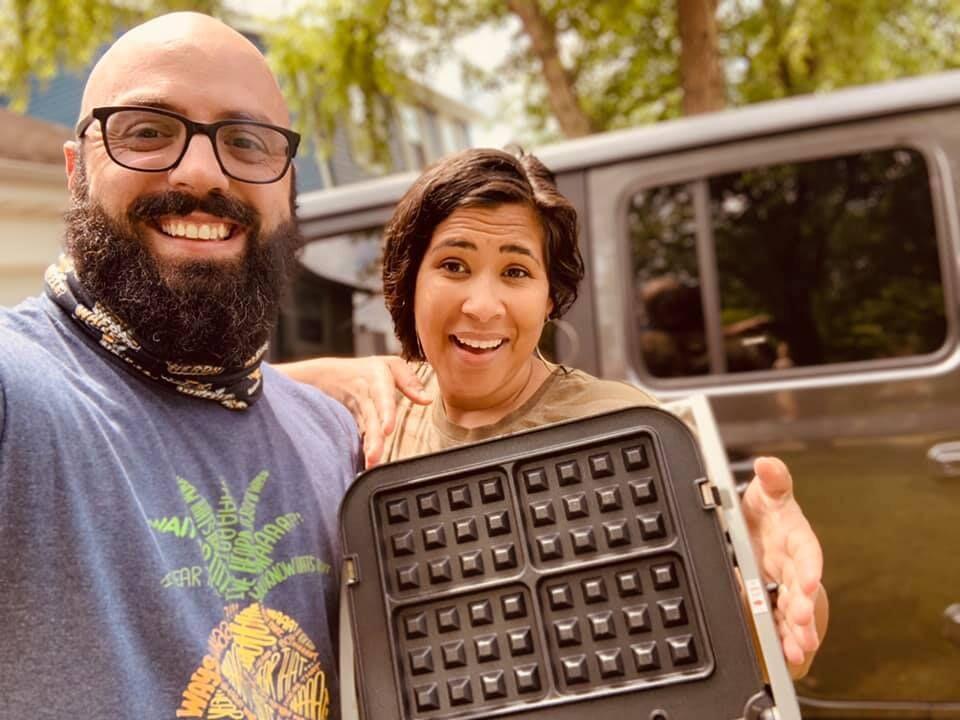 Word spread about the new concept quickly. Sara and Chris began to hear whispers of customers waking up early on Saturdays, just to snag a waffle. People were bringing their own containers to take waffles home to a sleeping partner or friend.
To capitalize on this momentum, the duo purchased a food truck – the Waffle Wagon. And they had something special up their sleeves: Liège-style waffles. Chris had discovered them at a conference in Las Vegas – he works another full-time job – and Sara had perfected the recipe, sharing the waffles with neighbors and baking with special French pastry flour. "When we were discussing what type of food we'd want to smell like for the next several years, waffles is what we went with," Chris says.
There are two styles of Belgian waffles, one being the traditional, airy, Brussels-style waffle most Americans are familiar with. The second variety is a Liège waffle – named after the city in Belgium – which resembles crispy, griddled bread dough.
The Liège waffles get their crunchy exterior from the batter's sugar pearls, which caramelize when they hit the heat. "Think of sugar pearls as sugar cubes with style," the Mullens said in an email to Feast. "They are compressed sugar crystals that don't fully dissolve." The pearls that don't get caramelized then stud the waffle's interior, offering a surprising crunch.
The WaffleNerds brand is as intentional as the work Chris and Sara put into their business. "When naming our menu items, we try to keep everything on brand," Sara says. "We're on the nerdy side, with Chris being vigilantly nerdier." For instance, a special peach-themed waffle became "The Princess," after Mario's number-one love interest. The Mullens pride themselves on always using fresh-cut fruit, all sourced from Anthony's Produce in St. Peters, Missouri.
Back in April, WaffleNerds teamed up with Schneider Farms in Hermann, Missouri, to make "The Swanson," a "Parks and Recreation" reference to Ron Swanson. "Ron Swanson is a simple man who likes breakfast foods," Chris says. The dish included thick-cut bacon from the farm and a homemade caramel bourbon sauce.
Sara and Chris hope to use the winter off-season to strategize expanding the business. They'd like to take the truck to more St. Louis events, and stock the city's shelves with their signature waffles. Keep up with WaffleNerds' Instagram to find out where you can grab its waffles next.