Before I sit down for a phone interview with Jerek Theo Lovey, co-founder and CEO of Take Two, I pour myself a glass of the brand's chocolate Barleymilk. I take a hesitant sip, but when the plant-based milk hits my tongue, I'm immediately reminded of the flavor of the milk from a bowl of Cocoa Puffs – one of my go-to cereals as a kid. I take a gulp, and I become more aware of the complex flavor profile: subtle nuttiness, toasty notes and a touch of sweetness.
When I call Lovey and confess that I've already chugged the entire glass, he understands. "It's crazy good," he says. "It's even better because it's so healthy, and you don't feel bad drinking it."
Barleymilk is the first plant-based milk to utilize an upcycled ingredient: spent grain. Every year, more than 8 billion pounds of spent grain from the beer-brewing process go to waste, and by turning it into a delicious value-added product, Take Two is contributing to global efforts to tackle food waste, reduce emissions and minimize dependence on animals for food.
"During the beer-production process, brewers use all of the starch and sugar from the barley, and all of the fiber and protein is leftover," explains Lovey. "Approximately 95 percent of the leftover grain goes into a landfill or goes to feed livestock because there's nothing else that brewers can do with it. When [Matthew Olsofsky, co-founder and COO of Take Two, and I] thought about that on a global scale and thought about all of that plant-based protein going to waste, we knew we had to do something about it."
Olsofsky was working at Anheuser-Busch InBev and Lovey was working at ZX Ventures, the disruptive innovation wing of Anheuser-Busch InBev, when they started working on this project. Today, EverGrain, a St. Louis-based sustainable ingredient company backed by Anheuser-Busch InBev, supplies the barley for Take Two Barleymilk. "EverGrain has really been driving the ingredient side of the business, while we've been focusing on the application side of the business, figuring out how to transform the spent grain and bring commercial products to market," says Lovey.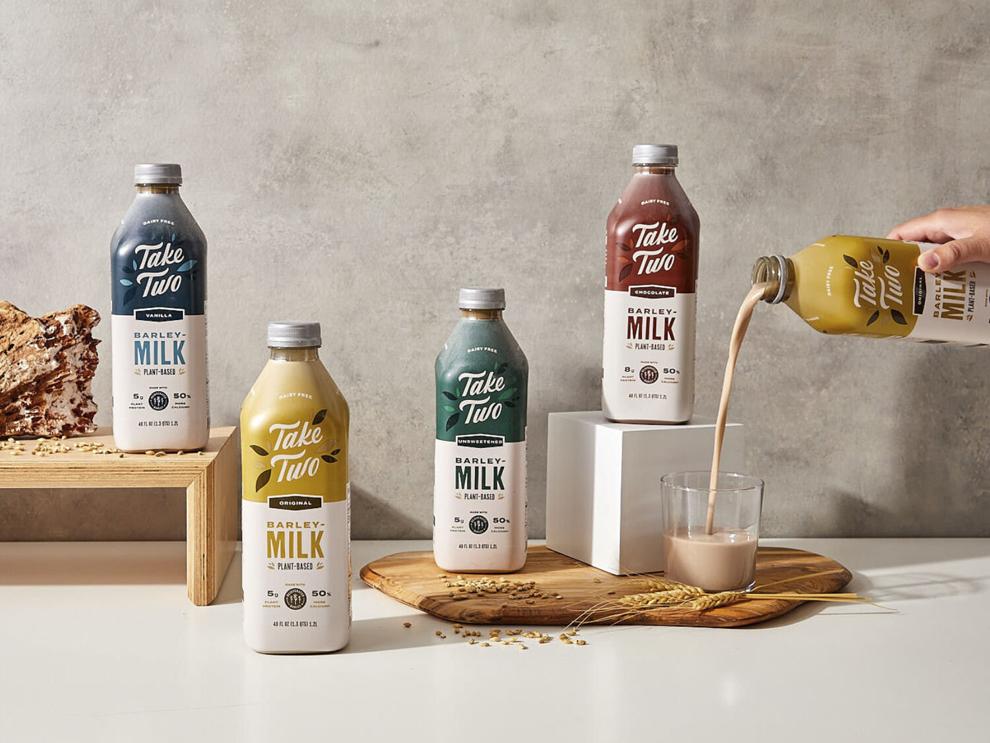 Available in Hy-Vee and Schnucks supermarkets throughout Missouri, Barleymilk is their first product on the market. Flavors include unsweetened, original, chocolate and vanilla, all of which are extremely approachable. Since my first sip, I've tried all four flavors, and I can't choose a favorite. By doubling down on flavor, nutrition and sustainability, Take Two has raised the bar for what consumers should expect from plant-based milk.
From almond to hemp to oat, plant-based milks have different flavor profiles based on their core ingredients. Barley is special, though. The grain itself is very mild and balanced, which produces a smooth and creamy milk that can be enjoyed in myriad ways. Use it as a one-for-one replacement for traditional dairy milk: Pour it over cereal, blend it into smoothies, bake it into muffins or cook it into mac 'n' cheese. Lovey says he drinks a Barleymilk latte every morning, or you can simply enjoy it by the glass like me.
There's still more that makes this plant-based milk stand out, though. "One of the biggest differentiators between Barleymilk and, say, almond milk, is that most almond milks have a maximum of 2 grams of protein, but because we use concentrated, rejuvenated barley to craft our milk, our products have between 5 and 8 grams of protein per cup," says Lovey. "From a nutrition perspective, it's pretty remarkable what we're able to offer utilizing spent grain."
More than a name, Take Two is a purpose. With its Barleymilk, it's creating a second chance for our health and the health of the planet. At the end of the day, its ultimate goal is to help create a truly sustainable food system and livable future for all.
In partnership with EverGrain, the company is on track to upcycle 500,000 pounds of spent grain this year alone. "That's just scratching the surface of what's possible," says Lovey. "When you also consider the amount of land, water and energy conserved, it's pretty amazing. We're not growing this ingredient and transporting this ingredient; we're using an ingredient that's already been grown and used to a certain extent, so when people buy Barleymilk, they're conserving a tremendous amount of resources."