Sauce on the Side co-owner Ryan Mangialardo dreams of opening calzone eateries in neighborhoods and towns throughout the St. Louis metro area – Des Peres, St. Louis' South City, Kirkwood and Maplewood, to name a few. So, when a prime location popped up in one of his prospective locations – Creve Coeur – he jumped on the opportunity.
Sauce on the Side's 10th location is slated to open in Creve Coeur in August, which coincidentally is the same month as its 10th anniversary. 
"It does depend on real estate a lot," Mangialardo says. "In my personal opinion, I don't want to force anything. It's about the right locations coming up." 
The "right location" ended up being situated near the corner of Olive Boulevard and New Ballas Road. The restaurant has plenty of visibility, curbside space and parking, as well as a decent-sized patio, which was a must-have for Mangialardo due to his experiences in business during the COVID-19 pandemic. 
The interior sticks to Sauce on the Side's established industrial design elements, or "hip fast-casual," as Mangialardo describes it. Think exposed ceilings, concrete floors, wooden tables and interesting art hanging on the walls with a few live plants dotting the counters. Phil Jarvis is also creating a mural design for the new location. Each Sauce on the Side location has a mural completed by Jarvis, who designs them entirely independently. "Every single one is different," Mangialardo says.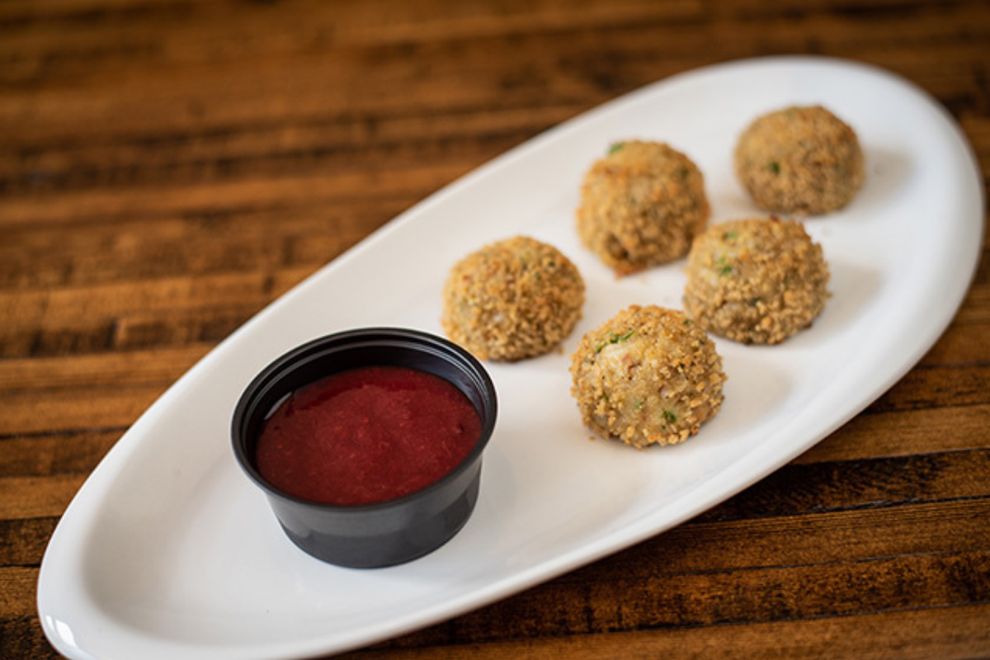 The menu, on the other hand, will mainly stay the same: 16 calzones, six salads, three desserts and several varieties of bite-sized appetizers. One possible update is the addition of a gluten-free dough option, which Sauce on the Side has been testing out in The Grove. 
"I think I am going to launch Creve Coeur with the gluten-free dough as an option as well," Mangialardo says. "With a new location opening, I feel like it's a good opportunity to put it into a different market and different demographic of people and see how it goes."
The new Creve Coeur location is slated to open sometime in August. To stay updated, follow Sauce on the Side on social media. 
Sauce on the Side Creve Coeur, 701 N. New Ballas Road, Creve Coeur, Missouri, sauceontheside.com