On South Grand, Salve Osteria debuted on May 27 following the closure of Cafe Natasha in April after more than 20 years in business. The new concept fills the space formerly occupied by the beloved fixture of the neighborhood, heralding in a new era of Italian, Spanish and Mediterranean-inspired shareable plates alongside a thoughtful beverage program anchored by renowned resident bar, The Gin Room.
As reported by Feast in May, the concept comes from Cafe Natasha's namesake, Natasha Bahrami, who partners with her husband, Michael Fricker, and chef Matt Wynn – formerly of restaurants including the former Taste and, most recently, Peno – for the endeavor.
"It's been so wonderful to be able to take this new step in our lives after a celebratory farewell, with one door closing and another opening," Bahrami says. "We've had such an embrace, not only from our forevers who really came to support us in this new endeavor, but from new guests that we hope to make our Salve forevers. It's been such a breath of fresh air."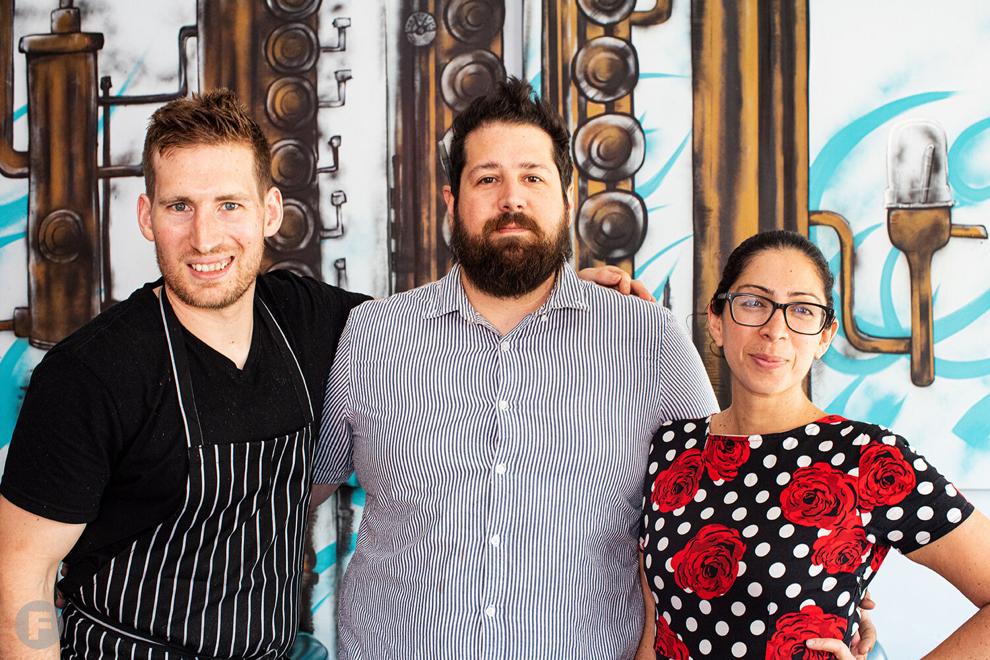 According to Fricker, who also owns neighboring retail shop Grand Spirits Bottle Co., "salve" is an Italian greeting that essentially means "welcome."
"It comes from a Latin phrase commonly used in Rome to say hello and to 'be well,'" he says. "It's our way of saying welcome to new and old friends." 
With Salve, the trio hopes to bring a community dining experience to the neighborhood, featuring "harvest-centric" elevated food offerings influenced by central Italian, southern Spanish and North African cuisine. Updates to the dining areas include a colorful collection of vintage spirits prints on display, new floors and a fresh coat of paint on the walls in two shades of green to invoke the scene scape of Tuscany.
"Natasha and I have always been in love with European drinking and eating culture – going out with a bunch of friends, sitting for awhile and ordering the entire menu with apertivos to start, wine and cocktails throughout the experience and digestivos when you finish," Fricker says. "The entire idea is for the menu to be fully guest-experience driven, so everyone can sit for awhile and have the best time possible."
Wynn's seasonal vegetable-forward menu includes mainstays such as bacon fat carrots with mustard, shallots, bacon and blue cheese crema, as well as the Salve Caesar with grilled Napa cabbage, miso bagna cauda, scallions and Parmesan. Another highlight from the small plates menu is lamb arancini with date agrodolce, yogurt, lamb sausage and herbs.
Handmade pasta options include pappardelle with mushroom ragù and mascarpone, while entrées include roasted harissa-spiced chicken with yogurt, fregola sarda and herbs. Olives, cheese boards and charcuterie are also available, as well as desserts, including olive oil cake with cardamom, orange, strawberry and pistachio crème anglaise.
Apertivo and digestivo carts enable the customization of refreshments tableside, while tables in front of the restaurant, dubbed "Aperol Alley," offer a more casual spot for South Grand-goers to start their evening with an aperitif or spritz. The Gin Room's full beverage menu features a variety of spritzes and cocktails – including Negroni, Martini, gin and tonic options – as well as draft and bottled beer and a robust natural wine list. A separate garden bar on the greenery-enrobed patio offers a variety of colorful herb, fruit and vegetable-focused cocktails.
"One thing we never want to change is how deeply we want to welcome our guests and make them feel comfortable," Bahrami says. "It's almost like a hug from an old friend – familiar, yet entirely new."
Salve Osteria is open Thursday through Sunday from 3 to 10pm.
Salve Osteria, 3200 S. Grand Blvd., Tower Grove East, St. Louis, Missouri, 314.771.3411, salveosteria.com