In western St. Louis County, between Wildwood and Eureka, an unassuming limestone quarry is a beacon for local rock climbers.
The crag in Rockwoods Reservation is one of the closest sites to St. Louis for outdoor climbing. A day climbing here, paired with a meal at The Wolf Cafe, is a ideal way for outdoors enthusiasts and environmentally conscious diners to spend a weekend.
Rockwoods Reservation is the first – and only – crag managed by the Missouri Department of Conversation. In partnership with local nonprofit BETA Fund, the site opened to the public in November. This crag is ideal for beginning climbers or those new to climbing outside; it has 15 routes, all at a novice or intermediate level of difficulty.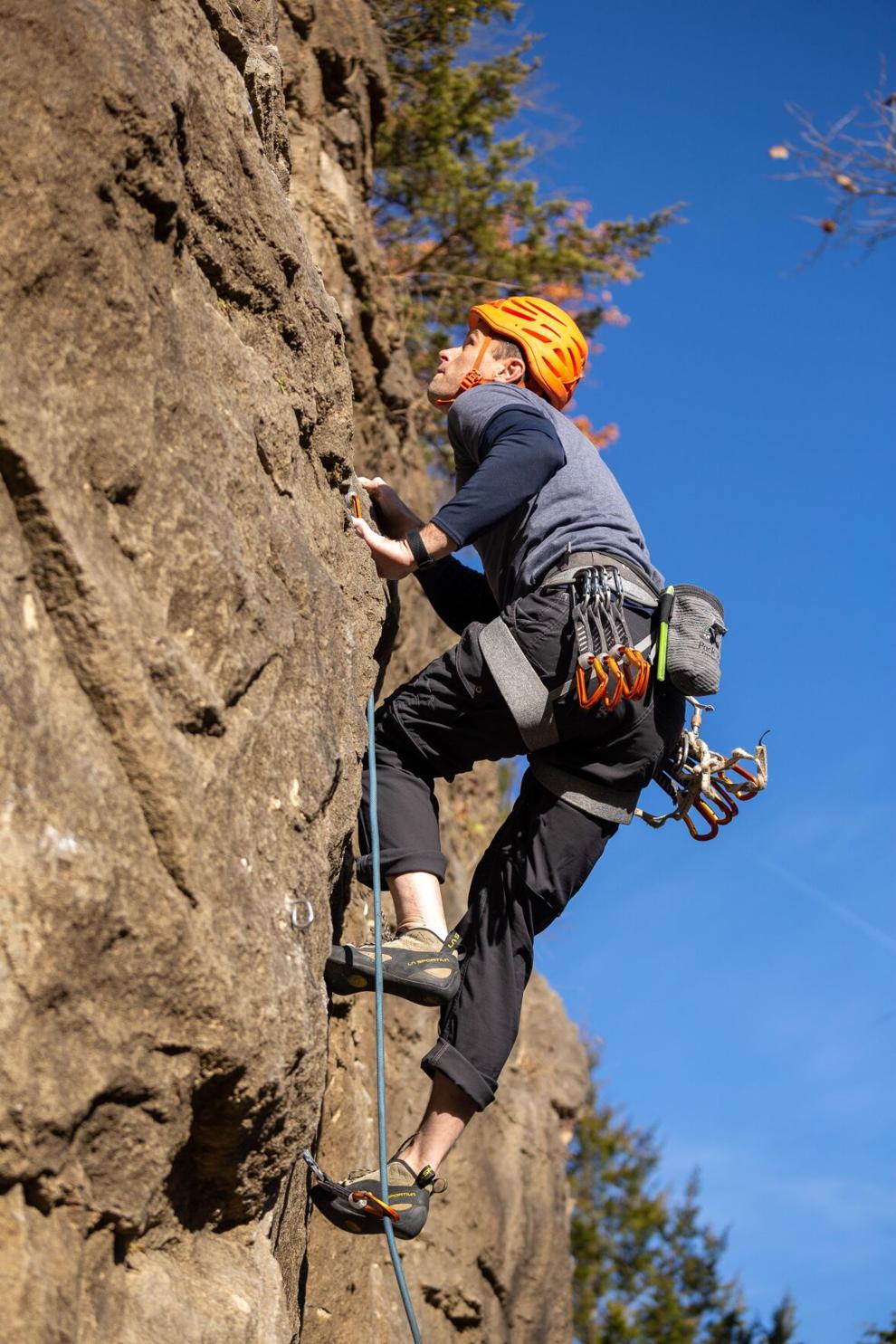 "It provides easy access for people who have never gone outdoors and are less likely to drive the hour-and-a-half minimum to go rope climbing otherwise," says local climber Josh Farmer.
If hiking is more your speed, the reserve also offers 13 miles of scenic trails.
After an active day outside, climbers and hikers can head to the nearby The Wolf Cafe to refuel. This restaurant offers a variety of health-conscious but hearty sandwiches and salads with ingredients sourced from local farms and producers. Sustainability is at the heart of the café, which is a certified Green Dining Alliance member.
"By taking responsibility of the customer and restaurant waste, we are able to control it," owners Bob and Denise Biribin agree. "Everyone that works at The Wolf is trained and taught the importance, and they want to do it."
The ethics of the café also fit in well with the rock-climbing ethos. America's leading climbing organization, the American Alpine Club, works to protect and preserve public lands and combat climate change. As outdoors enthusiasts seek to respect and appreciate the land through recreation, they can do the same through their diet at The Wolf Cafe.
The cafe's menu is diverse enough to please a wide variety of groups. Open from 7am to 8pm, stop in for pre-climb coffee and buckwheat pancakes, or drop by after a long day outside for a salmon BLT or housemade black bean burger. Vegan, vegetarian and gluten-free diners will also be pleased with the variety of menu options available; the avocado salad with mixed greens, smashed avocado, pepitas, chili-roasted chickpeas, pickled peppers, Feta cheese and honey-lime dressing is a flavor-packed and filling vegetarian dish. For those looking for a sweet treat, Wolf Cafe's extensive dessert menu that includes brownies, apple pie bars and coconut cake won't disappoint.
As climbing continues to grow in popularity in the area – the St. Louis Climbers Facebook group now has over 1,100 members – restaurants and bars near crags such as Rockwoods Reservation will likely see new clientele. Establishments like The Wolf Cafe make it easy for those passionate about the environment to feel good about the food they consume.  
The Wolf Cafe, 15480 Clayton Road, Ballwin, Missouri, 363.527.7027, thewolfstl.com