Historians and aficionados may debate the origins of the hamburger, but there is no arguing that this sandwich – the humble combination of meat, ground and formed into a patty and then nestled between halves of bread – is one of, if not the quintessential American dish. While the pairing of patty and bread has been the foundation of the hamburger for more than 100 years, dozens of regional variations and styles of preparation have evolved and intermingled to create a delicious tapestry, reflecting the geographic and ethnic diversity of the land it calls home. At the same time, the reach of the hamburger is global; its visage that of a culinary ambassador to the rest of the world, the harbinger for all that is right and wrong with American cuisine.
The hamburger is utilitarian – a meal by, of and for a people whose destiny manifested itself into a state of constant movement. The hamburger is also democratic, capable of bringing together people from all walks of life and means – if only for a moment – as strangers and friends perch alongside one another on counter stools and in worn booths, partaking in the solemn act of communing with a greasy, messy and soul-satisfying burger.
Given the hamburger's revered place in our collective culture – both culinary and popular – when it comes to a consensus on the idea of a "best burger," debate rages with the fury of a Midwestern thunderstorm ripping across the landscape. Passion will tend to do that. We know we've said it after polishing off a fantastic burger. The reality is that the idea of finding the "best" of anything is so wrapped in finality that the act threatens to extinguish what makes finding "the best" a worthwhile endeavor, namely the journey and the search.
With this in mind, Feast set out to find 10 burgers – served up in pairs of two and grouped into five distinct styles – in and around St. Louis. The result is a list of hamburgers that were not only worth seeking out and reveling in, but that also reaffirm our belief that the hamburger is one of the finest dishes to be found in all the land.
The "Home" Burger
The "home" burger is just that, the burger you obssesively make at home. However, chances are the burger you make at home is at least, in part, a nod to a particular burger you've had while dining out and aspired to recreate for friends and family. Home burgers can come in any style; however, they tend to excel at combining the basic elements and techniques that make for a great burger; yet sometimes challenge the home cook: a burger grind approaching 80:20 protein to fat ratio: an agressive use of salt; a brown, flavorful crust - or grill marks from searing over heat - and spot-on temping.
Homemade
Any style
Well Salted
Seared
Brown Flavorful Crust
Deaver's Restaurant
Curious cooks should head to Deaver's Restaurant in North County, where the kitchen is turning out near-perfect burgers on a nightly basis. No-nonsense half-pound patties are seasoned with salt and pepper, charbroiled to temperature, and then customized with toppings. Options abound from this neighborhood gem; however, until the day we finally master Deaver's burger moves in our own kitchen, we'll have a hard time passing up its classic burger, topped with earthy, funky mushrooms resting upon a bed of Swiss cheese.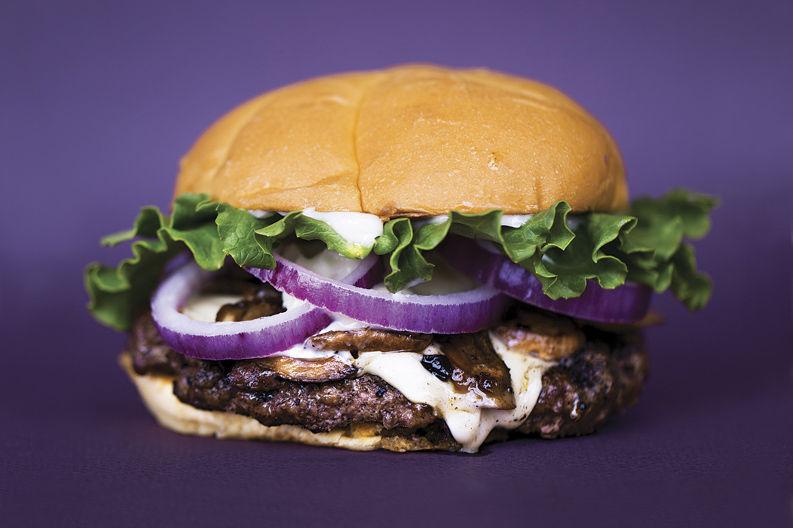 Sugarfire Smoke House
Sugarfire Smoke House is so good at turning out killer barbecue, you may have missed the fact that the restaurant also excels at making top-shelf burgers. In fact, Sugarfire's burgers remind us a bit (in spirit) of the burgers found at Midwestern roadside barbecues, where patties are grilled and then dredged through a pool of sweet and sticky barbecue sauce before serving – only much, much better. What should home chefs take note of before digging in? Thin, deftly grilled patties that are stacked tall upon request, topped with adornments, speared so they don't fall over and served up on trays covered with butcher's paper. And yes, bring on the barbecue sauce for this bad boy, as we think we've finally found a burger worthy of its application.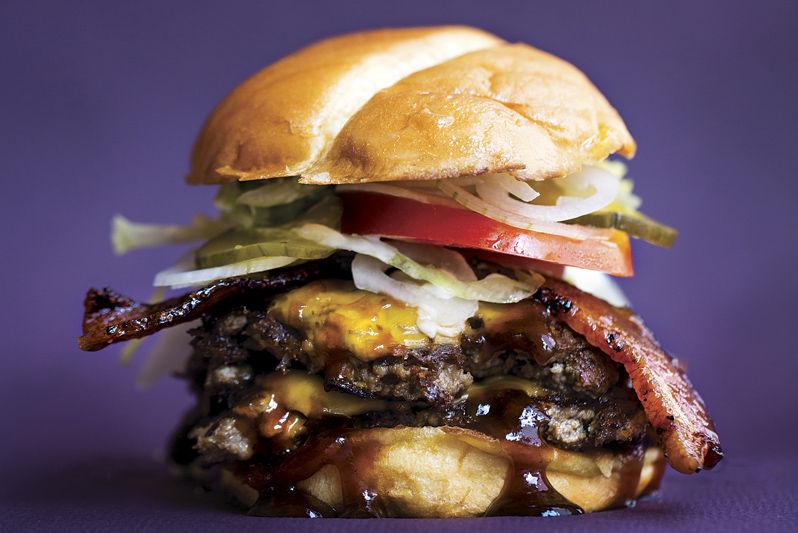 ---
The Fast-Casual Burger
Burger-concept restaurants can be misunderstood, perhaps guilty by association with the ubiquity of corporate concepts that punctuate the landscape. The reality is that these places have nothing to do with the corporate homogeneity of fast-food and fast-casual concepts. Instead, they harken back to the golden age of hamburger culture, when beloved burger joints served up well-crafted hamburgers made with high-quality ingredients, cooked up with a keen attention to detail and served to the public at reasonable prices.
The Most Misunderstood of the Burgers
Cooked with a Keen Attention to Detail
Well-Crafted
Reasonably Priced
5 Star Burgers
Make no mistake, Steve Gontram knew what he was doing when he opened 5 Star Burgers in Clayton (and now in Kirkwood, too) – and it shows. Gontram keeps the focus on patties of Midwest-raised beef, temped to perfection each and every time one is pulled from the grill. A menu of well-edited toppings shines, yet the toppings never steal the show from the burger they travel upon. Perhaps the most harmonious burger on the menu is the Breakfast of Champions – creamy hollandaise, a slow-cooked jam of roasted tomato and bacon, sliced American cheese and a sunny-side-up egg just waiting to run all over the whole package. This burger proves, once again, why breakfast is the most important meal of the day, no matter what time you eat it.
8125 Maryland Ave., Clayton, 314.720.4350, 312 S. Kirkwood Road, Kirkwood, 314.394.2250, 5starburgersstl.com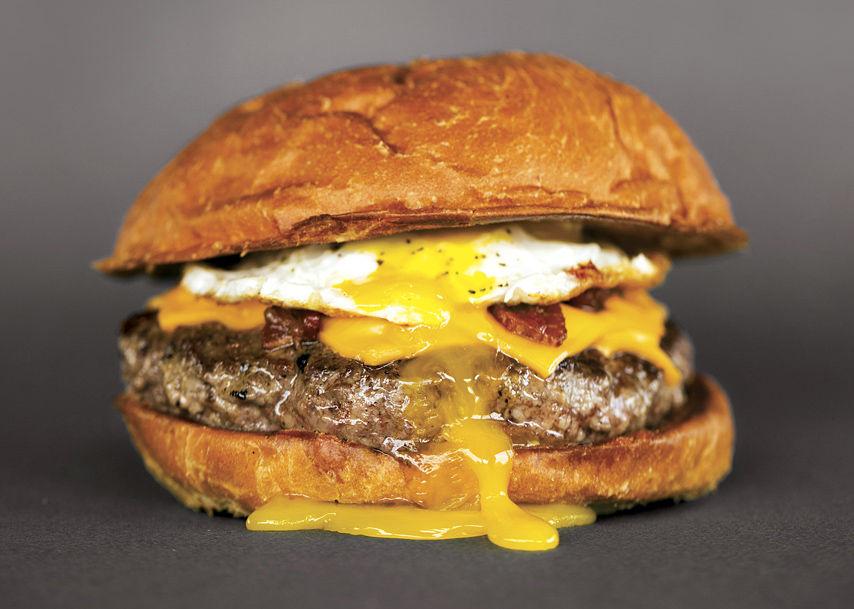 The Tattooed Dog
Fans of the Burger Ink food truck celebrated the opening of The Tattooed Dog in Wentzville earlier this year, and for good reason: It captures the cool calm of a classic burger joint and delivers on the goods, especially when it comes to its Jalapener burger. The burger rocks a potent combination of spice from jalapeño jelly, pepper Jack cheese and a savory roasted garlic aïoli, each of which may contrast and compete for your attention at first, but quickly mingle together to form one of the finest sauces we've seen added to a hamburger in a long time.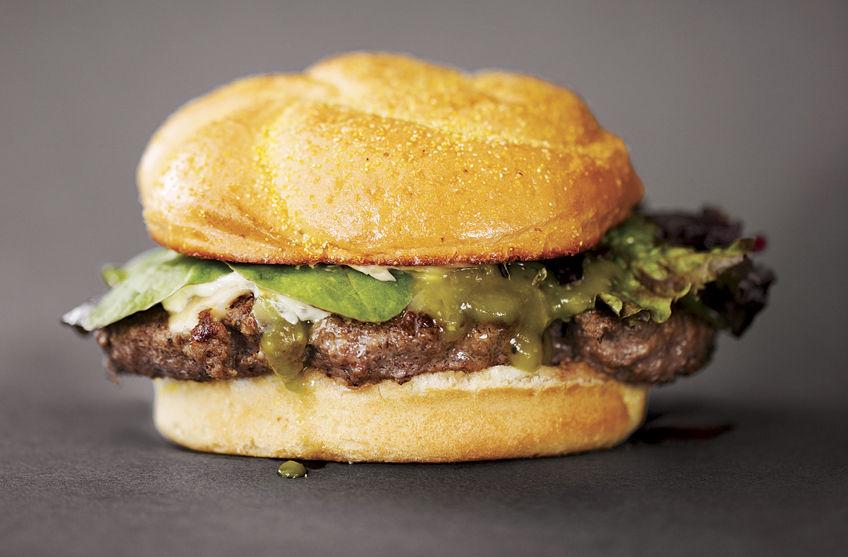 ---
The Smashed Burger 
Smashed burgers - also known as thin or diner-style, depending on where you are in the country - are creatures unto themselves, the product of a counterintuitive process to making a hamburger; balls of meat are tossed onto a rocket-hot griddle and then unceremoniously pressed flat until a crisp latticework of crust forms and a deep, almost candy-like flavor develops. It's a combination that plays decidedly well with a sweet condiment, namely, a hearty squeeze of tomato ketchup.  
Thin
Pressed on a Rocket-Hot Griddle
Crisp Latticework Crust
Candy-Like Flavor
Usually Served with Ketchup
Carl's Drive In 
The best seat (if you can get it) at Carl's Drive In in Brentwood is right next to the flattop griddle, where burgers are smashed, then assembled – while still cooking, mind you – before being served up to waiting guests who are busy sipping from frosted mugs of homemade root beer. A single patty works well for first timers and kids, but in-the-know diners tend to order doubles or triples to ensure every bite is full of crispy, caramelized, smashed-burger goodness.
9033 Manchester Road, Brentwood, 314.961.9652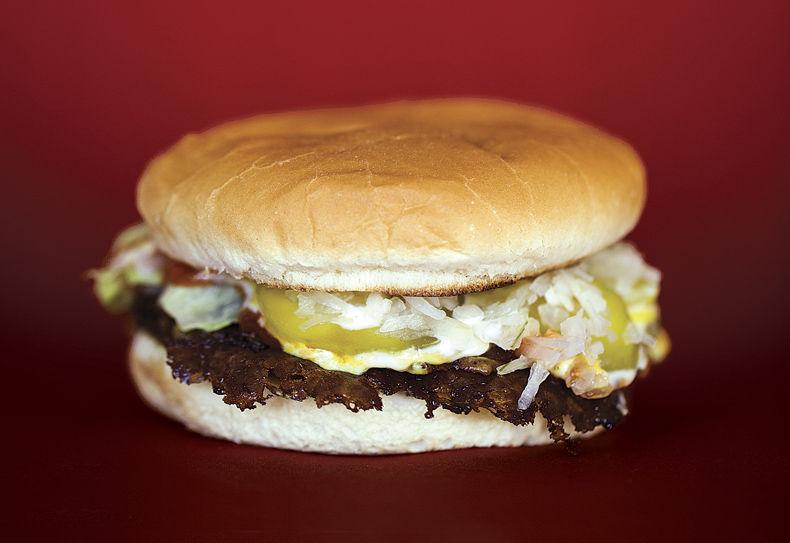 Gordon's Stoplight Drive-In
If stacking patties upon patties is your thing, then a trip down Interstate 55 to Crystal City is required to partake of the Quadzilla from Gordon's Stoplight Drive-In. Burgers at Gordon's are smashed to a quarter-inch thickness and then, upon request, laid over a bed of cooking onions that release a heady, sweet perfume into the burger as it finishes searing. The process creates a noticeable doming effect in the patties as they cook, that lasts until they are stacked one, two, three and, finally, four high and topped with the most classic of drive-in burger combinations: sliced American cheese, sour pickles, crisp lettuce and a generous helping of ketchup and mayonnaise.
500 Bailey Road, Crystal City, 636.937.9678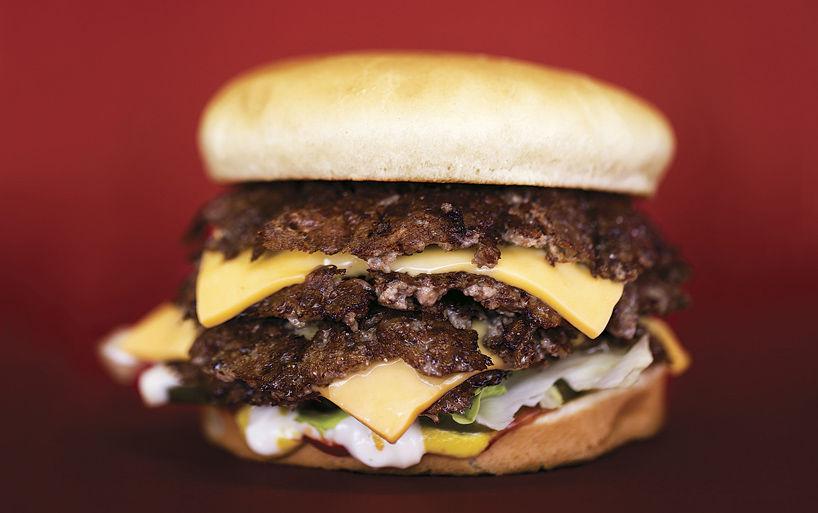 ---
The Fancy Burger
Fancy burgers may be the overachievers of the burger world, but dining out would be a bit less interesting if they didn't exist. The hallmarks of these gourmet hamburgers are custom-blended patties of house-ground prime cuts of beef and toppings that range from the classic to the downright exotic. And the kicker? The elements that make up a fancy burger are usually painstakingly, lovingly made in-house – more than justifying their sometimes lofty price tags.
Made In-House
Custom-Blended Patties
Prime Cuts of Beef
Exotic Toppings
Well Justified Lofty Price Tags
Annie Gunn's
It is best to arrive at Annie Gunn's in Chesterfield around 11am when the restaurant opens, and grab a seat at the bar before the dining room fills up with a well-heeled lunchtime crowd. The kitchen offers up a roster of high-end burgers, but diners should feel confident opting for the appropriately named Classic: a thick patty of prime steak – ground cuts of strip, rib, tenderloin and brisket – mixed with sugar-cured pork belly that is expertly grilled to temperature, and then sandwiched between halves of tender brioche.
16806 Chesterfield Airport Road, Chesterfield, 636.532.7684 anniegunns.com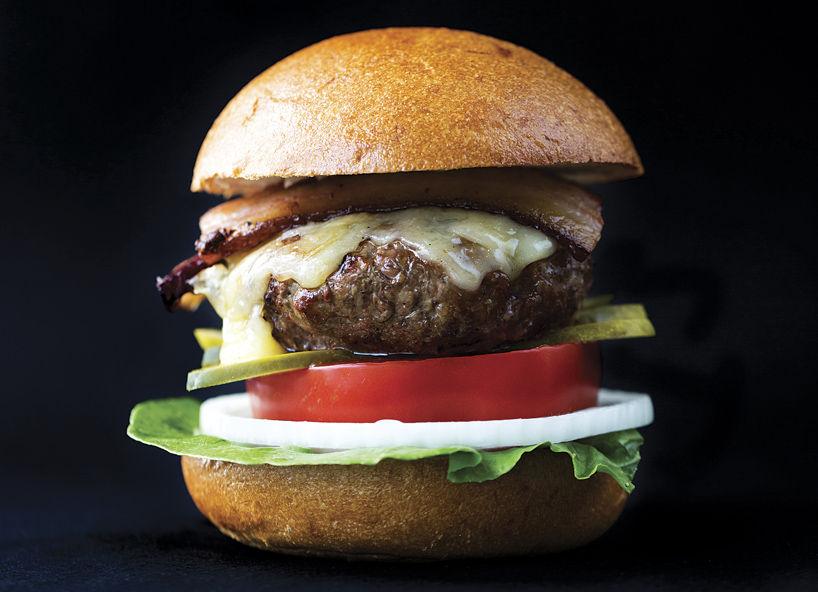 Truffles
The hamburger at Truffles in Ladue is delivered tableside on a cutting board rimmed with a reservoir that was designed for catching drippings of carved meat, or perhaps for foreshadowing just how much juice and fat this gourmet hamburger of prime beef throws off as it is eaten. The end result is a burger that you blissfully chomp away at in a rapid succession of bites, a manner that may seem a bit undignified for such a refined setting. That is until you look up and notice your server nodding in knowing agreement, assuring you that you are, indeed, doing it right.
---
The Pub Burger
Pub burgers are the stuff of weekday nights, when time is better spent digging into a hamburger that is short on pretense and big on flavor than dedicated to the preparation of a post-work meal. For many, great pub burgers are the dominion of a favorite neighborhood joint, an association of familiarity, akin to donning a favorite cozy sweatshirt. However, if you eat enough of them, you'll agree that pub burgers are far from being created equal.
Short on Pretense
Big on Flavor
Familiar
Served at Your Favorite Neighborhood Hangout
O'Connell's Pub
The long-revered pub burger at O'Connell's Pub in Shaw is not only an institution, it is a thing of beauty; this thick patty of "chopped sirloin," liberally salted and grilled to a crusty perfection, carries the scent of the thousands upon thousands of burgers that graced the flames of the Gaslight Square throwback before it. This is a burger-lover's hamburger, served up on a shamrocked and monogrammed paper plate, and at its best when adorned sparingly with a schmear of mayonnaise, thick slices of raw onion and tangy Cheddar cheese.
4652 Shaw Ave., Shaw, 314.773.6600
Quincy Street Bistro
In stark contrast to – but not in the shadow of – the burger from O'Connell's is the unabashedly gratuitous barnyard of a hamburger known affectingly as the Hog Burger from Quincy Street Bistro in Princeton Heights. A mix of beef, pork and chef Rick Lewis' housemade bacon are ground daily and formed into a potent delivery device for a nest of sweet, caramelized onion and a slathering of pimento cheese, which oozes out the sides and onto your hands with each bite. Extra napkins are a must.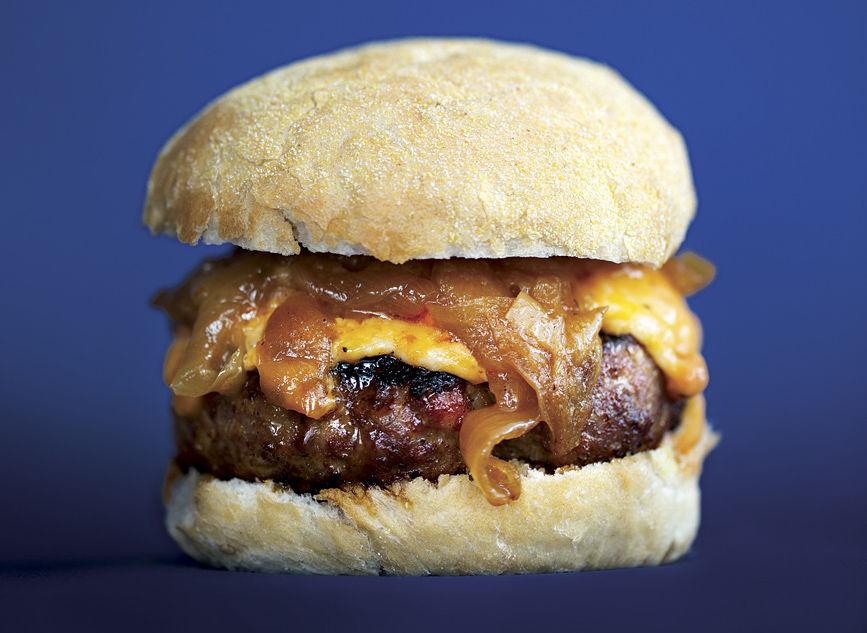 ---
THE ANATOMY OF A GREAT BURGER
Traditionally, the patty is ground beef, ground from trimmings – when burgers are really good, the patty is a custom blend of prime cuts – and grilled or seared over high heat. The best hamburgers approach (or exceed) a ratio of 80:20 percent meat to fat, and are seasoned aggressively with salt right before cooking.
Often overlooked, the bun has the important job of holding things together from the first bite to the last. The classic is a roll of enriched white bread, but German kaiser and French brioche, well-toasted, are perfect burger bun options, too.
Lettuce, onion, pickles and tomato are standards, but the options for topping a burger are only limited by the imagination. A general guideline is that a topping is not the star of the burger (that is the patty), but should add to the whole by playing along with all the parts, hitting notes of sweet, sour, savory and spicy.