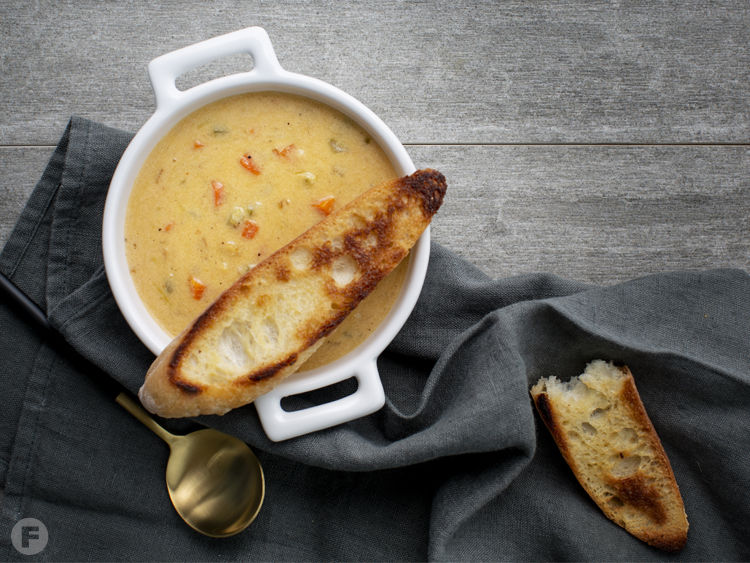 This month, kick off soup season with an Oktoberfest essential: beer. Added at the very end of your cooking time, lager-style beer adds a crisp, clean flavor to the soup. The smoked paprika, meanwhile, adds a touch of smoke and depth of flavor, while the jalapeño lends a hint of spice. Two freshly grated sharp Cheddars – yellow and white – give this soup its bold and cheesy flavor, but don't skimp on the cream cheese, as it ensures a rich and creamy texture.
TASTE TEST. After adding beer and freshly ground black pepper to soup, be sure to taste it before adding additional salt, as the cheese will contribute saltiness as well. Depending on the capsaicin level of your jalapeño, you might get a little heat on the back end; if you don't care for heat, simply omit it. 
Smoky Beer and Sharp Cheddar Soup
Serves | 6 |
4 Tbsp unsalted butter
1 shallot, minced
2 leeks, white to light green parts only, cleaned, small dice
2 carrots, small dice
2 ribs celery, small dice
1 jalapeño, seeded and minced
kosher salt
4 cloves garlic, minced
¼ cup all-purpose flour
½ tsp ground mustard powder
½ tsp smoked paprika
3 cups unsalted chicken stock
¼ tsp Worcestershire sauce
1 cup whole milk
4 oz room-temperature cream cheese
2 cups grated sharp yellow Cheddar
2 cups grated sharp white Cheddar
6 oz lager-style beer
½ tsp freshly ground black pepper
toasted baguette, sliced into 6 pieces (to serve)
| Preparation | In a large stockpot over medium heat, melt butter; when butter begins to foam, add shallot, leeks, carrot, celery and jalapeño. Season with salt and cook until translucent but not browned. Add garlic and cook 1 minute more, or until garlic releases its fragrance.
Stir in flour, mustard powder and smoked paprika. Let flour mixture cook for 1 to 2 minutes or until completely absorbed. Increase heat to medium-high and slowly add chicken stock, stirring continuously until a smooth roux has formed. Add Worcestershire sauce; slowly add milk, stirring constantly to ensure no lumps form.
Reduce heat to medium-low and add cream cheese and both Cheddar cheeses; stir occasionally, until cheeses melt and soup develops a smooth consistency. Add beer and pepper; taste soup and adjust seasoning as desired. Divide warm soup between 6 serving bowls and serve with slices of toasted baguette.
GET HANDS-ON! Join Feast Magazine and Schnucks Cooks Cooking School at 6pm on Wed., Oct. 24, at the Des Peres, Missouri, location to make the dishes in this month's menu. Tickets are just $45 for a night of cooking, dining and wine. RSVP at nourish.schnucks.com/schnucks-cooking-school or call 314.909.1704.
MAKE THE MEAL:
Smoky Beer and Sharp Cheddar Soup
Midwest Pork Tenderloin Sandwich
Oven-Fried Spicy Chicken Wings
From-Scratch Applesauce
Garlic-Rubbed Toasted Baguettes
Raw Apple Cake With Brûléed Oat Topping
LEARN MORE: In this class, you'll learn how to brûlée oats to top a simple and seasonal raw apple cake. You'll also learn how to perfectly cook crispy and tender spicy chicken wings in the oven.