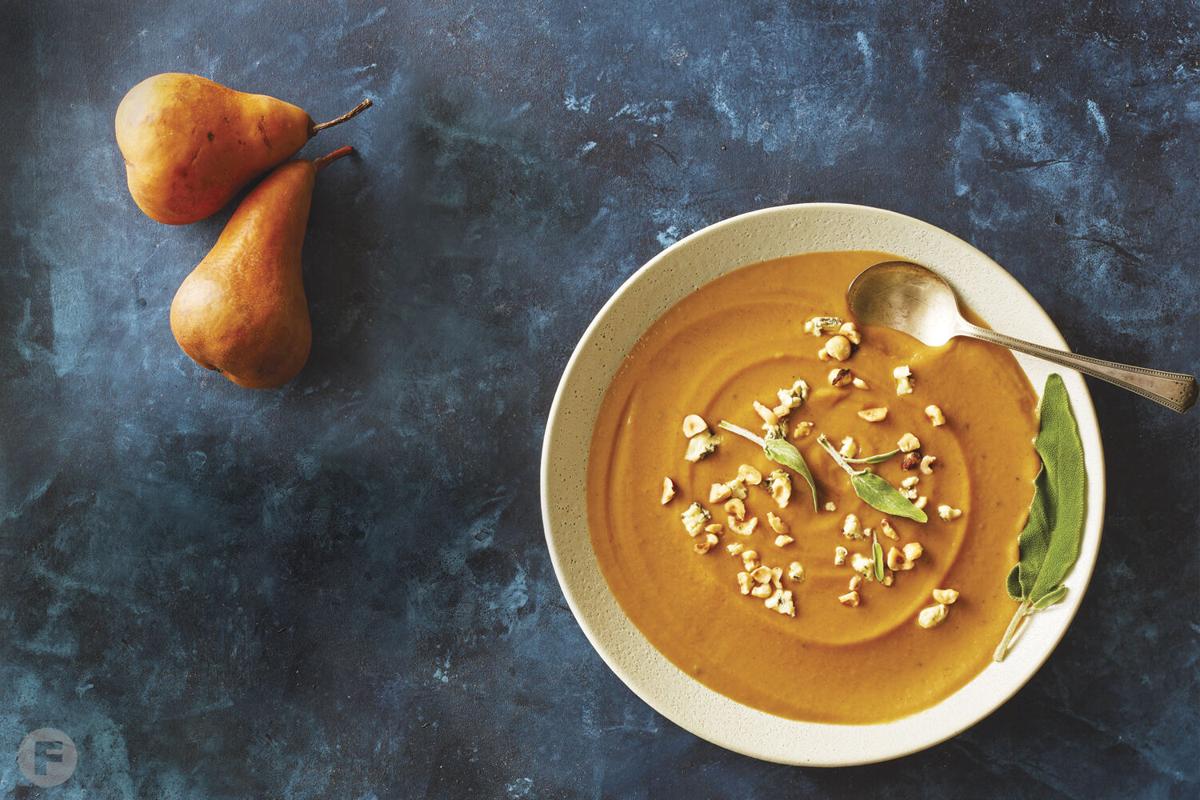 It's pear season! Can you tell? They're the best-looking fruit at the market right now, so grab an armful of ripe Bartlett or Bosc for this savory soup. You know a Bosc pear is ripe when it's nearly the color of pumpkin. Bosc have great flavor and hold their shape, while Bartlett pears are exceptionally juicy. Pro tip: The cardamom in the recipe adds depth to the overall flavor, coaxing out hints of mint and lemon; increase the amount as your taste dictates.
STOCK UP. A good chicken stock is important to this recipe as it adds the most volume and underlying flavor to the soup. A homemade chicken stock would bring your soup up a notch.
SOAK YOUR SPUDS. Place peeled and diced potato cubes in water to prevent browning before use. Discard water before adding to pot.
Ginger-Pear Soup
Serves | 4 |
3 Tbsp unsalted butter
4 shallots, finely chopped
1 russet potato, peeled and diced into 1-inch cubes
1 Tbsp minced ginger
6 ripe, sweet pears (Bartlett or Bosc), peeled and diced
1 tsp chopped fresh sage
1 tsp fresh thyme leaves
½ tsp ground cardamom
3 Tbsp maple syrup
32 oz chicken stock
½ cup heavy cream
kosher salt and freshly ground black pepper, to taste
Gorgonzola Dolce, crumbled (for garnish)
hazelnuts, toasted and chopped (for garnish)
| Preparation | Melt butter in a large pot over medium-low heat. Add shallots and cook until soft and translucent, 5 minutes. If the shallots begin to brown, lower heat. Add potato and cook undisturbed for another 5 to 10 minutes. Add ginger and cook for another minute. Add pear, sage, thyme, cardamom and maple syrup and cook for 5 minutes, stirring occasionally. Add chicken stock and bring to a simmer; simmer for 15 minutes, or until potatoes and pears are very soft. Remove from heat.
Add soup to a blender 1½ cups at a time and purée until smooth. Liquid will still be very hot so do not add more than a third the capacity of the blender at a time. Once the entire mixture has been puréed, return to pot and add cream; reheat over medium-low heat. Season with salt and pepper to taste; add more maple syrup as needed. Serve topped with Gorgonzola Dolce and hazelnuts.