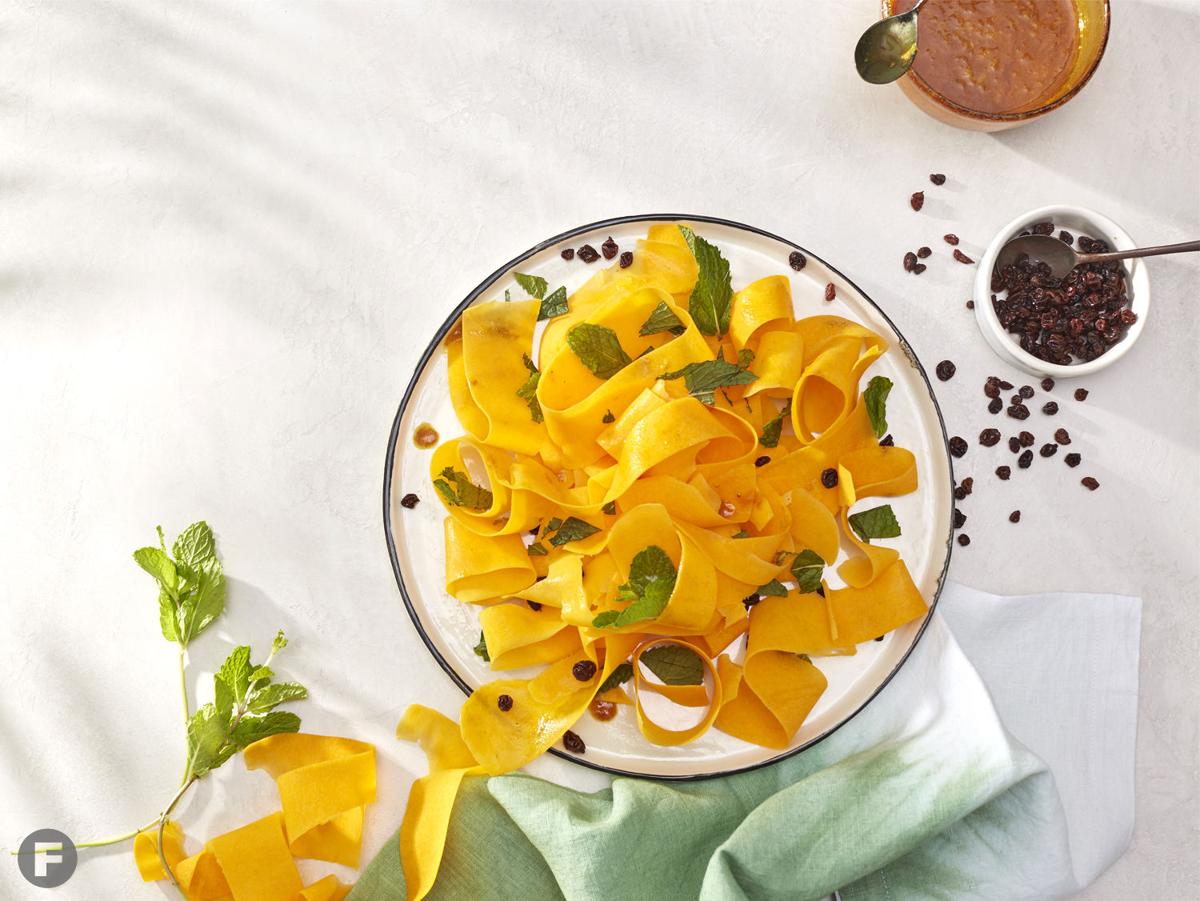 Full of flavor thanks to the Moroccan-inspired spice blend, this recipe earns even more accolades because the butternut squash won't oxidize and thwart your effort to bring color to your Thanksgiving table. Pro tip: If you've ever heard that you can have a particularly nasty reaction from touching the skin of butternut squash, heed the warning: It happens, and the resulting irritation lives up to the hype. Save yourself the trouble by having a good pair of kitchen gloves on hand or, if you're like me and forget to grab some, use a thick kitchen towel to protect your hand as you peel and thoroughly rinse the squash before you begin your ribbons.
Moroccan-Spiced Butternut Ribbons
Serves | 8 to 10 |
Dressing
2 Tbsp rice vinegar
2 Tbsp white wine vinegar
2 cloves garlic, minced
1½ tsp grated fresh ginger
2 Tbsp olive oil
1½ Tbsp honey
½ tsp ground cinnamon
½ tsp ground cumin
½ tsp ground turmeric
Moroccan-Spiced Butternut Ribbons
1 medium butternut squash (2½ to 3 lbs)
chilled dressing (recipe below)
1 cup, plus 2 Tbsp, loosely packed fresh mint leaves, divided
½ cup dried currants, plumped in hot water, drained
| Preparation - Dressing | In a small bowl, whisk together both vinegars, garlic and ginger. Heat olive oil in a small skillet over medium heat; add honey, cinnamon, cumin and turmeric and stir until fragrant. Remove from heat and pour into vinegar mixture. Cover and chill until cold, at least 2 hours or overnight.
| Preparation – Moroccan-Spiced Butternut Ribbons | Wearing gloves, slice the tip and tail from butternut squash so it sits flat without wobbling. Use knife to peel skin away from squash, top to bottom; use vegetable peeler to clean away any remaining skin from flesh. Rinse peeler and slice butternut flesh from tip to tail in long ribbons. Place ribbons in a large bowl and toss with chilled dressing. Chop mint leaves and add all but 2 Tbsp to butternut ribbons, tossing to distribute. Transfer to platter and top with remaining 2 Tbsp mint leaves and currants; serve cold.