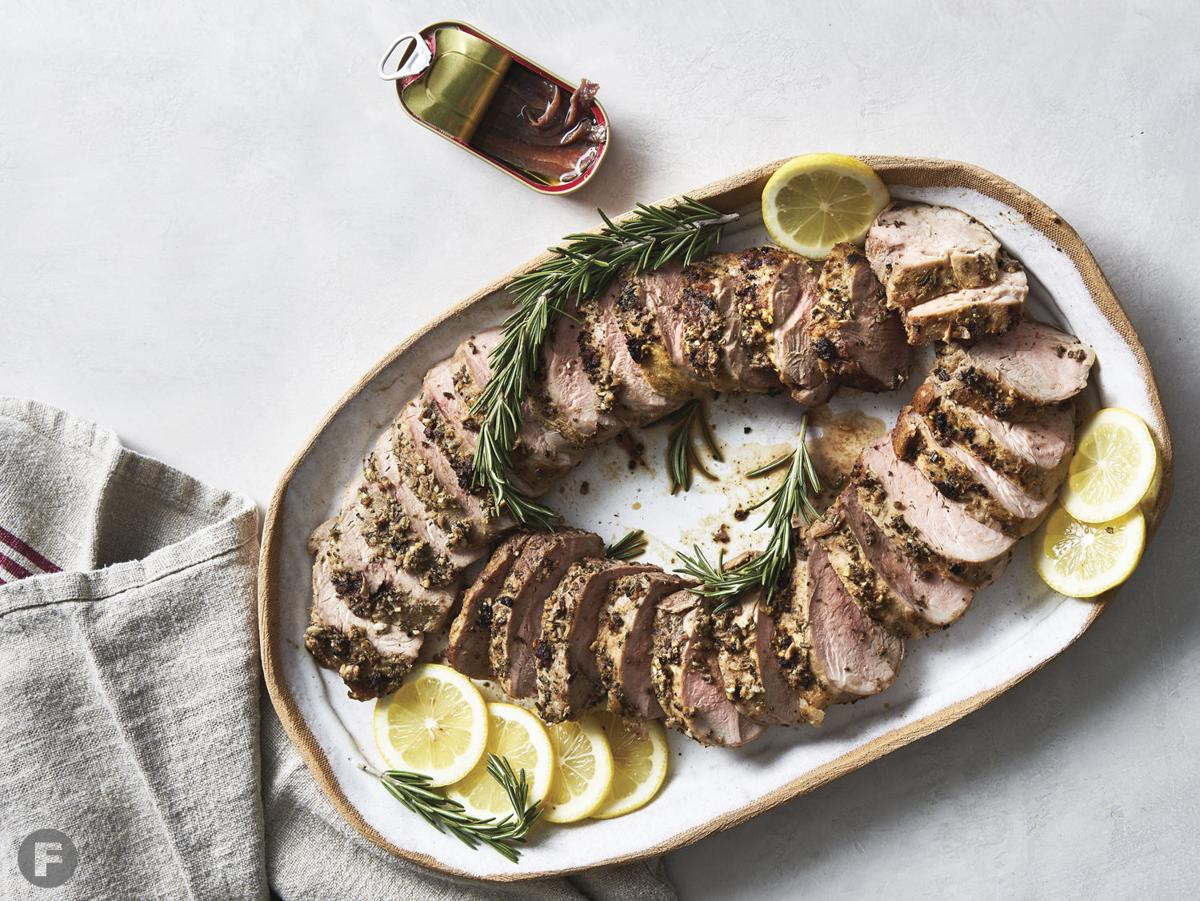 Pork tenderloin is an easy way to serve a crowd: A quick sear in cast iron gets them going, and you can get your side dishes together as they finish in the oven. This recipe calls for an anchovy-based rub, which creates an appetizing crust around the tenderloin. It's a dramatic presentation that looks like you worked way harder than you actually did.
These little fish are often misjudged. 
Anchovy-Rubbed Pork Tenderloin with Anchovy-Lemon Butter
Pork Tenderloin
2 2-oz tins anchovies in oil, drained
5 cloves garlic, smashed
3 Tbsp fresh rosemary leaves, chopped
2 Tbsp Dijon mustard
½ tsp freshly ground black pepper
3 lbs pork tenderloin (about 1½ lbs each), at room temperature
kosher salt, for sprinkling
anchovy-lemon butter, for serving (recipe follows)
Anchovy-Lemon Butter
6 Tbsp unsalted butter
2 Tbsp olive oil
6 tinned anchovy fillets, drained
1 Tbsp lemon zest
pinch chile flakes
juice of 1 lemon
| Preparation – Pork Tenderloin | Preheat oven to 400˚F. Add anchovies, garlic, rosemary, mustard and pepper to the bowl of a food processor; pulse until mixture has broken down and is combined, but not completely smooth. Set a large cast-iron skillet over medium-high heat while preparing meat.
Sprinkle tenderloins with salt; remove anchovy mixture from food processor and rub evenly over both tenderloins. When skillet is hot, sear tenderloins – one at a time – on all sides until deep golden and crusted, 2 minutes per side. Transfer first tenderloin to a dish while searing the second. Place both tenderloins back in cast iron, leaving 1 to 2 inches of space between and transfer to oven. Roast until thermometer registers 140˚F (for medium-rare with a little pink), then remove and tent with foil for 10 minutes.
| Preparation – Anchovy-Lemon Butter | While pork is cooking, melt butter in a small saucepan with oil, stirring occasionally. Add anchovies, lemon zest and chile flakes and simmer, pressing anchovies against bottom to dissolve, 2 to 3 minutes. Once anchovies have dissolved, whisk mixture until smooth. Remove from heat and whisk in lemon juice. Set aside and keep warm until ready to use.
| To Serve | Slice pork tenderloin against the grain and lay on platter; drizzle with anchovy-lemon butter and serve hot.