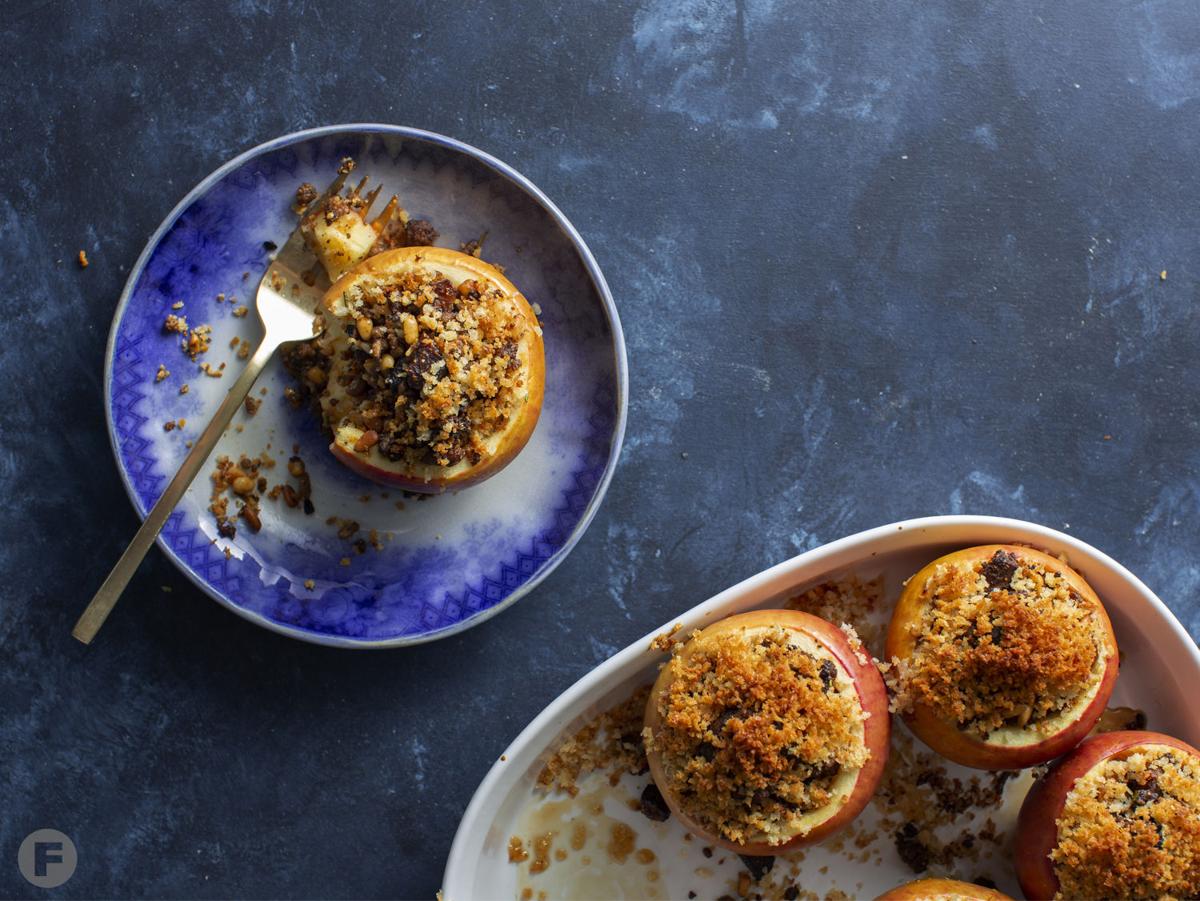 If spice mixes were blankets, this one would be your grandma's coziest afghan.
Savory baked apples are a perfect way to ring in cooler temperatures. These have just the right balance of warm spice to rev up any autumn evening (and they make for a pretty stunning presentation, if you're into that sort of thing.)
Pro tip: Use those lopped-off apple tops in your casserole dish to keep stuffed apples from wobbling.
Lamb-Stuffed Apples
Serves | 6 |
Bahārāt Spice Mix (Yields ¹⁄₃ cup)
1½ Tbsp black peppercorns
1½ Tbsp cumin seeds
1 Tbsp coriander seeds
1 tsp allspice berries
10 whole cloves
¼ tsp cardamom seeds (from 3 to 4 pods)
2 Tbsp sweet paprika
1½ tsp ground cinnamon
1 tsp kosher salt
Lamb-Stuffed Apples
6 large apples (Braeburn, Gala, Fuji or Envy)
2 Tbsp honey
2 Tbsp fresh lemon juice
2 Tbsp olive oil
¾ cup diced yellow onion
2 garlic cloves, minced
1 lb ground lamb
¾ cup dried Mission figs, small dice
½ cup pine nuts, toasted
1½ Tbsp bahārāt (recipe below)
1 Tbsp finely chopped rosemary leaves (from about 4 sprigs)
1 tsp kosher salt
1½ Tbsp unsalted butter
½ cup panko bread crumbs
| Preparation – Bahārāt Spice Mix | In a small pan over medium heat, toast peppercorns, cumin, coriander, allspice, cloves and cardamom until fragrant. Remove from heat and stir in sweet paprika, cinnamon and salt. Pulse mixture in a spice grinder or coffee grinder until finely ground.
Transfer to a Mason jar to cool and store.
| Preparation – Lamb-Stuffed Apples | Preheat oven to 375°F. Use a paring knife to slice tops off of apples, then hollow them into cups using a spoon or melon baller to remove core and flesh, leaving about ½-inch thickness of flesh at the bottom and sides. In a small bowl, whisk honey and lemon juice together and brush apples inside and out; set aside in a casserole dish.
In a medium skillet, heat olive oil; add onion and cook over medium heat until soft, 5 minutes. Add garlic and cook 1 minute more, then add lamb and cook until browned, stirring to break up. Drain fat from pan, stir in figs, pine nuts, bahārāt, rosemary and salt and cook until combined. Fill apples with lamb mixture; if apples are wobbly, use apple tops to steady. In a small saucepan, melt butter; add panko bread crumbs and stir to coat. Divide panko over apples and bake for 30 to 35 minutes or until apples are tender. Remove apples from casserole dish using a spatula and divide onto plates; serve hot.