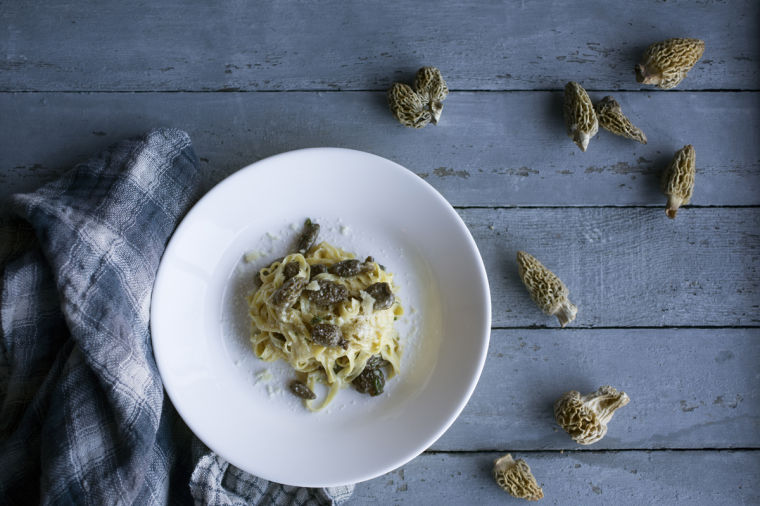 Celebrate Midwestern spring the Italian way with a combination of caramelized morels and made-from-scratch pasta. The 00 flour is extra-fancy durum wheat. You can find this flour at Italian and specialty grocers.
Serves | 4 |
Pasta Dough
3½ cups Antimo Caputo 00 semolina flour
4 extra-large eggs
water, salted
Morel Sauce
3 cups morel mushrooms, rinsed clean
3 Tbsp unsalted butter, plus 2 Tbsp
salt
2 small shallots, diced
10 oz chicken or vegetable stock
Parmigiano-Reggiano
| Preparation – Pasta Dough | In a large bowl, add flour. Make a well in the flour. Crack eggs into well. Mix eggs with a fork. When eggs are mixed well, slowly incorporate small amounts of flour into the egg mixture. Once mixture comes together, knead with your hands until smooth, elastic dough forms. Roll out to desired thickness and cut into thin fettuccine. In a large pot, cook pasta in heavily salted, rigorously boiling water until cooked through.
| Preparation – Morel Sauce | In a large sauté pan over medium-high heat, add morels, 3 Tbsp butter and pinch of salt. Sauté until slightly caramelized, then add shallots. Cook until shallots begin to turn translucent. Add stock and remaining 2 Tbsp butter. Reduce until sauce emulsifies.
| To Serve | Add pasta and Parmigiano-Reggiano to the pan of sauce; mix to combine. Serve immediately.