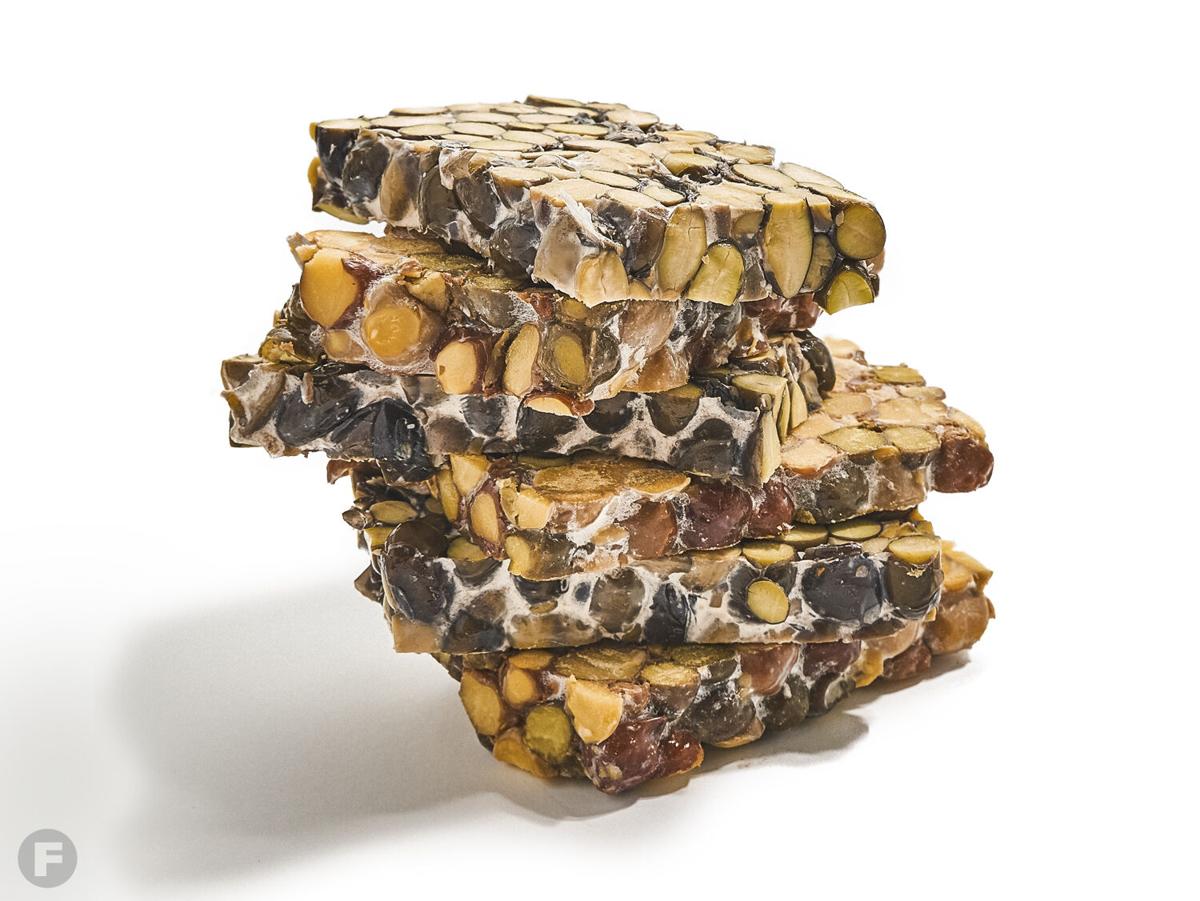 With a family divided into vegetarians and, well, non-vegetarians, I have had to get creative when "hosting" during the pandemic (i.e. inviting my parents – the vegetarians – over for a picnic). Finding a proper meat substitute was important to me in order to have a focus of my dishes, and this month, I hit the jackpot. Developing recipes using Confluence Kombucha tempeh, I was able to support a St. Louis establishment and make everyone happy at mealtime. For me, tempeh, rather than tofu, is where it's at. I love the earthy, nutty flavor and the chewy texture.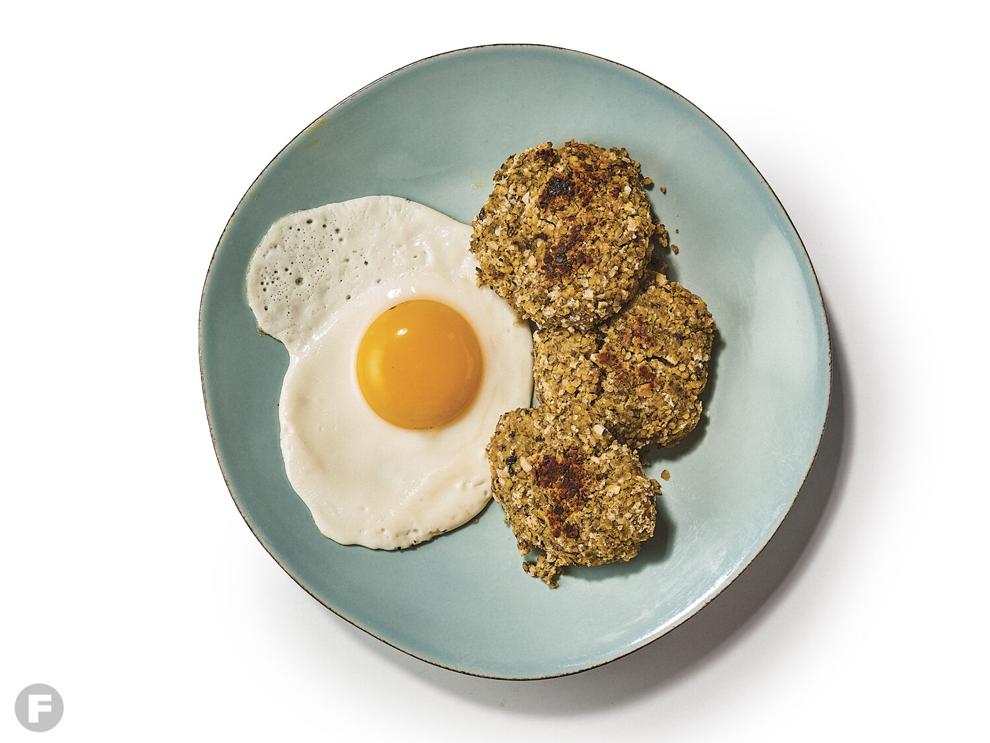 Maple Tempeh Breakfast Sausage
Yields | 6 "sausages" |
6 oz tempeh
1 shallot, diced
1 Tbsp minced garlic
2 Tbsp maple syrup
2 Tbsp olive or coconut oil, divided
⅓ cup panko bread crumbs
1 tsp kosher salt
1 tsp freshly ground black pepper
⅛ tsp ground nutmeg
⅛ tsp ground cinnamon
½ tsp red pepper flakes
| Preparation | Add tempeh to the bowl of a food processor; pulse until small crumbles form. Transfer crumbled tempeh to a medium mixing bowl; add shallot, garlic, maple syrup and 1 tablespoon oil and stir to combine. Set aside.
In a small bowl, combine bread crumbs, salt, pepper, nutmeg, cinnamon and red pepper flakes; add mixture to tempeh mixture. Using your hands, mix and pack both mixtures together. Divide sausage into 6 balls and then smash each between your palms to form patties. In a skillet over medium high heat, add remaining oil. Once oil is hot, carefully slide patties, two at a time (depending on the size of your skillet), into skillet; fry until golden brown, approximately 5 minutes per side. Repeat process with remaining patties. Serve hot alongside eggs – any way you like them.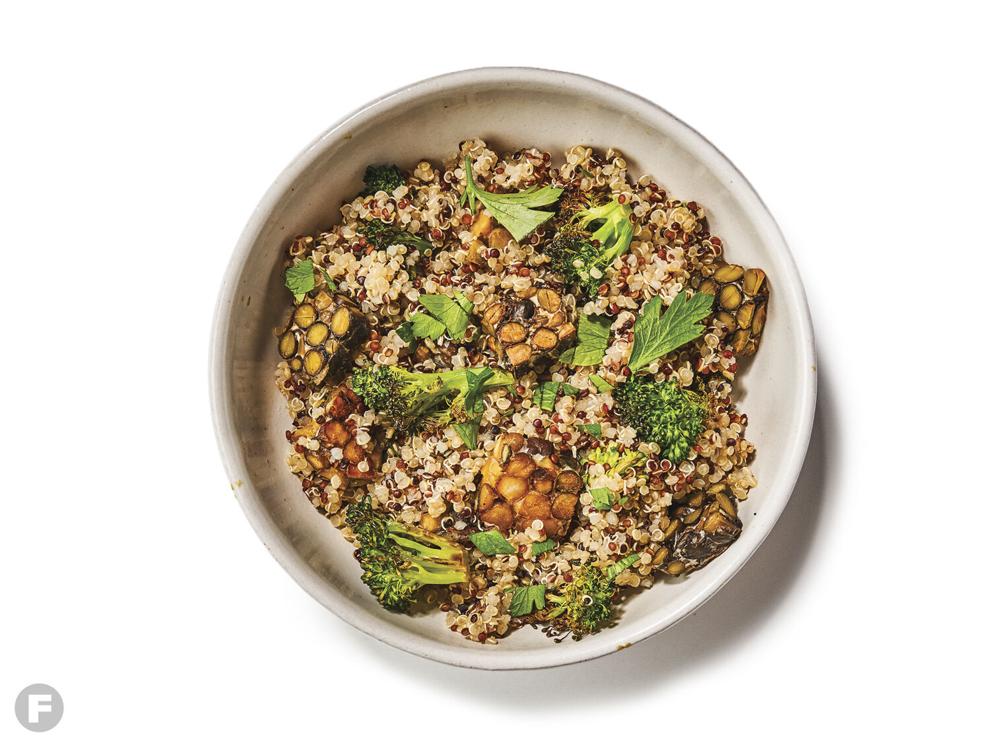 Lemony Roasted Broccoli and Tempeh Quinoa Bowl
Serves | 4 |
4 cups broccoli florets (approximately 1 head broccoli)
1 Tbsp freshly squeezed lemon juice
2 Tbsp olive oil, divided
2 tsp garlic powder, divided
6 oz tempeh, cut into small squares
1 tsp kosher salt
4 cups cooked quinoa
2 Tbsp freshly chopped parsley
| Preparation | Preheat oven to 425ºF and line a baking sheet with parchment paper. In a mixing bowl, add broccoli, lemon juice, 1 tablespoon olive oil and 1 teaspoon garlic powder; toss to combine. Spread out broccoli and tempeh in a single layer on prepared baking sheet. Drizzle with remaining oil; sprinkle with remaining garlic powder and salt. Transfer to oven and roast, approximately 25 minutes, flipping halfway through.
In a large mixing bowl, add quinoa. Remove broccoli and tempeh from oven and add to bowl; toss to incorporate. Spoon mixture into bowls, sprinkle with parsley and serve.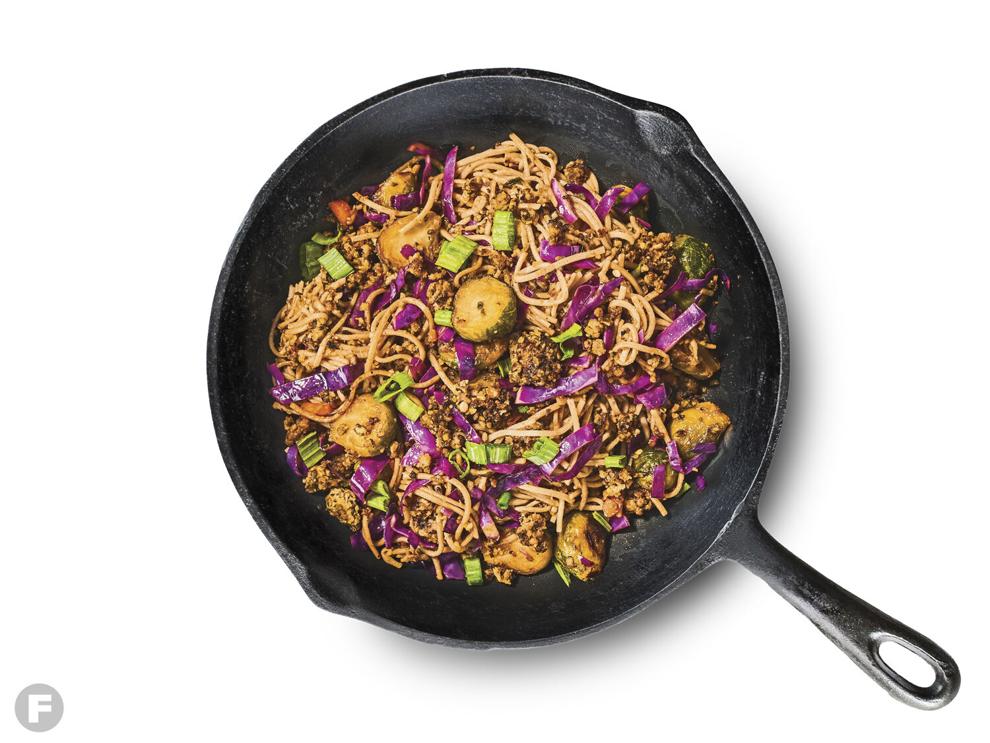 Brussels Sprout, Tempeh and Soba Noodle Skillet
Serves | 4 |
Sauce (Yields approximately ½ cup)
4 Tbsp soy sauce or liquid aminos
2 Tbsp Worcestershire sauce
1 Tbsp rice vinegar
1 Tbsp sesame oil
1 Tbsp ketchup
1 Tbsp honey
1 tsp garlic powder
Brussels Sprout, Tempeh and Soba Noodle Skillet
6 oz tempeh
1 Tbsp vegetable oil
2 tsp freshly minced ginger
1 tsp minced garlic
2 cups Brussels sprouts, ends removed and quartered
1½ cups shredded red cabbage
2 cups diced carrot
1 lb soba noodles, cooked
sauce (recipe follows)
⅓ cup chopped green onion (lighter green parts)
| Preparation – Sauce | In a small bowl, add all ingredients; whisk together. Set aside.
| Preparation – Brussels Sprout, Tempeh and Soba Noodle Skillet| Add tempeh to the bowl of a food processor; pulse until small crumbles form. Set aside.
In a large skillet over medium heat, add oil, ginger and garlic; cook until ginger becomes fragrant, approximately 1 minute. (Do not let garlic burn here.) Add crumbled tempeh; cook, 6 minutes. Add Brussels sprouts, cabbage and carrot; cook, 12 to 15 minutes or until vegetables begin to soften. Add soba noodles and ¾ of the prepared sauce; toss to combine and cook, 2 more minutes. Add more sauce as desired. Garnish with green onion and serve.