Growing up, I thought that the only reason grapefruit existed was to be cut in half and sprinkled with sugar for breakfast. Older and wiser, I now know how versatile it is. Grapefruit is juicy, tart and tangy with an underlying sweetness. Swap it in for other citrus fruits to elevate the flavor profile of myriad dishes.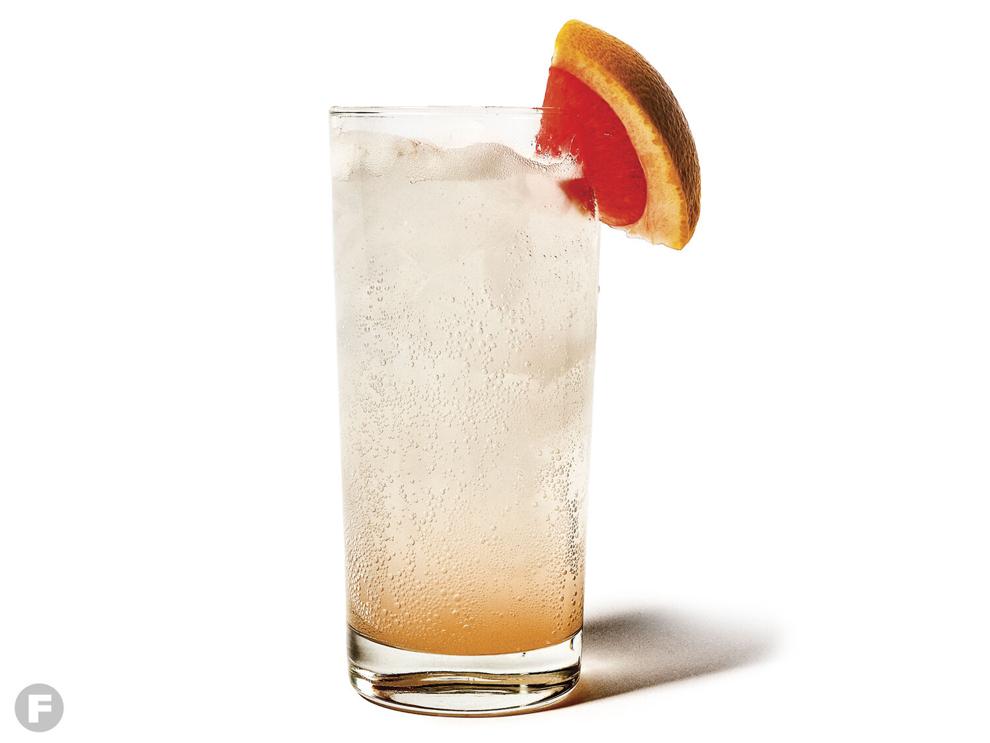 Grapefruit-Cardamom Gin Fizz
Let's start the year with something refreshing. Fresh grapefruit juice gives this Gin Fizz an edge, and the homemade cardamom-infused syrup adds warmth to the drink to combat the cold.
Serves | 1 |
Cardamom-Infused Syrup
8 oz simple syrup
1 Tbsp water
¼ cup whole cardamom
Grapefruit-Cardamom Gin Fizz
2 oz gin
1 oz fresh grapefruit juice
1 oz cardamom-infused syrup (recipe follows)
1 large egg white
1 oz soda water
| Preparation – Cardamom-Infused Syrup | In a small saucepan over low heat, whisk together simple syrup and water; add whole cardamom. Bring mixture to a boil and then remove from heat; allow to cool completely. Transfer to an airtight container and place in refrigerator, 2 days. After the allotted time, remove cardamom. Keep syrup in refrigerator for up to two weeks.
| Preparation – Grapefruit-Cardamom Gin Fizz | Add gin, grapefruit juice, syrup and egg white to a shaker tin; shake vigorously. Add ice; shake again. Strain mixture into a glass; top with soda water.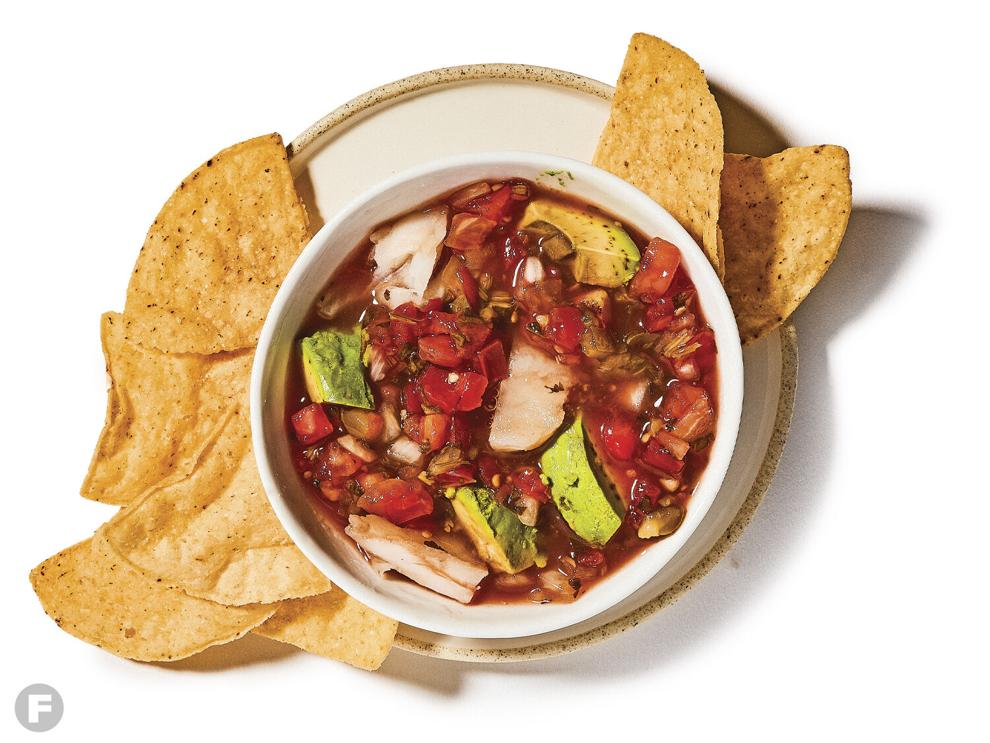 Grapefruit & Trout Ceviche
Ceviche is incredibly easy, it creates virtually no mess and it doesn't make your house smell like fish – what more could you ask for in a meal? The grapefruit and trout add a spin to the classic dish, and I like to scoop everything up with chips.
Serves | 1 |
3 trout fillets
1 red onion, finely chopped
1 avocado, cut into small chunks
1 jalapeño, seeds removed and finely chopped
1 Tbsp freshly chopped cilantro
3 limes, juiced
1 grapefruit, juiced
1 tsp paprika
1 tsp garlic powder
1 tsp red pepper flakes
salt and freshly ground black pepper, to taste
| Preparation | Thoroughly rinse trout and then pat dry; cut into ½-inch squares. Transfer trout to a medium bowl; add red onion, avocado, jalapeño and cilantro. In a small bowl, whisk together juices, paprika, garlic powder and red pepper flakes. Pour mixture over trout; gently fold. Cover bowl with plastic wrap and transfer to refrigerator; chill, approximately 2 hours, folding again after 1 hour. Remove from refrigerator and season with salt and pepper to taste. Eat with a spoon or tortilla chips.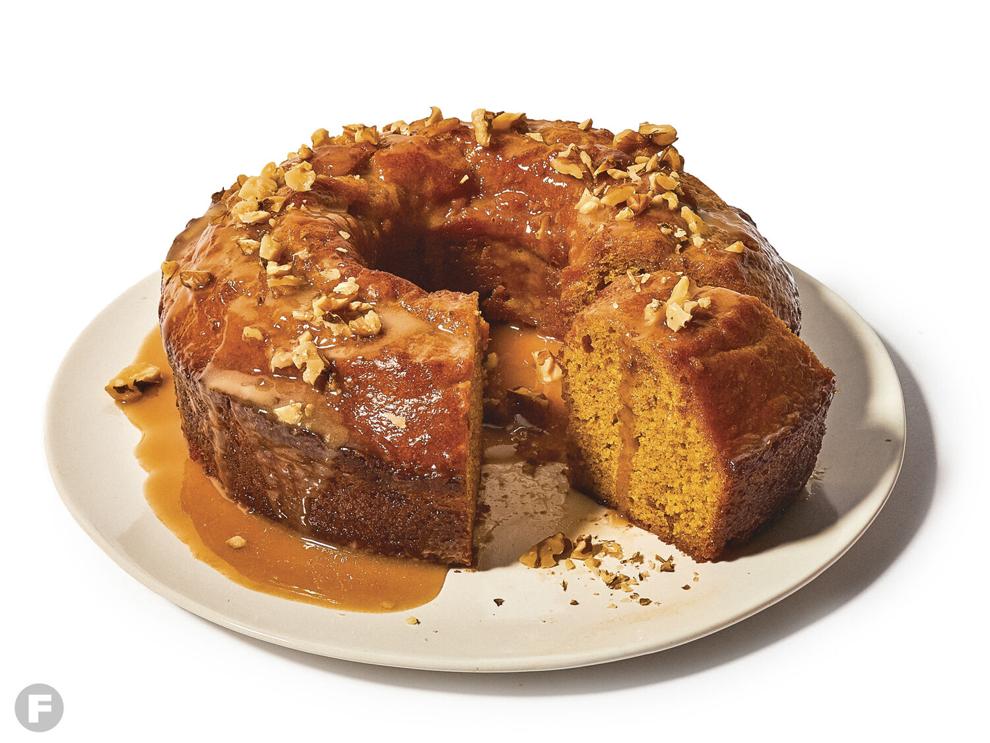 Grapefruit-Olive Oil Cake
This cake can be eaten for breakfast alongside coffee or for dessert alongside tea. The olive oil lends richness to each forkful while the grapefruit adds tang and a subtle bite.
Serves | 4 to 6 |
Grapefruit-Olive Oil Cake
3 cups cake flour
1½ tsp baking powder
1 tsp baking soda
½ tsp ground cinnamon
½ tsp salt
¼ tsp nutmeg
4 eggs
1½ cups olive oil
1 cup granulated sugar
½ cup dark brown sugar
1 tsp vanilla extract
8 oz "crushed" grapefruit (processed in food processor)
½ cup walnuts, processed into small pieces, for garnish
Glaze
1 cup dark brown sugar
½ cup heavy cream
3 Tbsp butter
| Preparation – Grapefruit-Olive Oil Cake | Preheat oven to 350°F. Line a 9-inch springform pan with parchment paper; lightly grease pan and then dust with regular flour. In a large bowl, combine cake flour, baking powder, baking soda, cinnamon, salt and nutmeg; set aside. In a medium bowl, add eggs, olive oil, sugars and vanilla extract; whisk together until well blended. Stir in processed grapefruit. Add wet ingredients to dry ingredients; mix to incorporate. Pour cake batter into prepared pan; bake until a knife inserted into the center comes out clean, 40 to 50 minutes. Remove from oven and allow cake to cool in pan on a wire rack, 1 to 2 hours. Meanwhile, make glaze (recipe follows).
Once cake has cooled, run a knife along the edge of the pan, turn over and slide cake out. Pour glaze on top; spread over the entire surface and let some drip down the sides. Sprinkle with walnuts and serve.
| Preparation – Glaze | In a saucepan over medium high heat, add all ingredients; whisk constantly until sugar has dissolved. Lower heat to medium; continue to cook, whisking often, 5 minutes. Remove from heat; set aside and allow to thicken at room temperature.