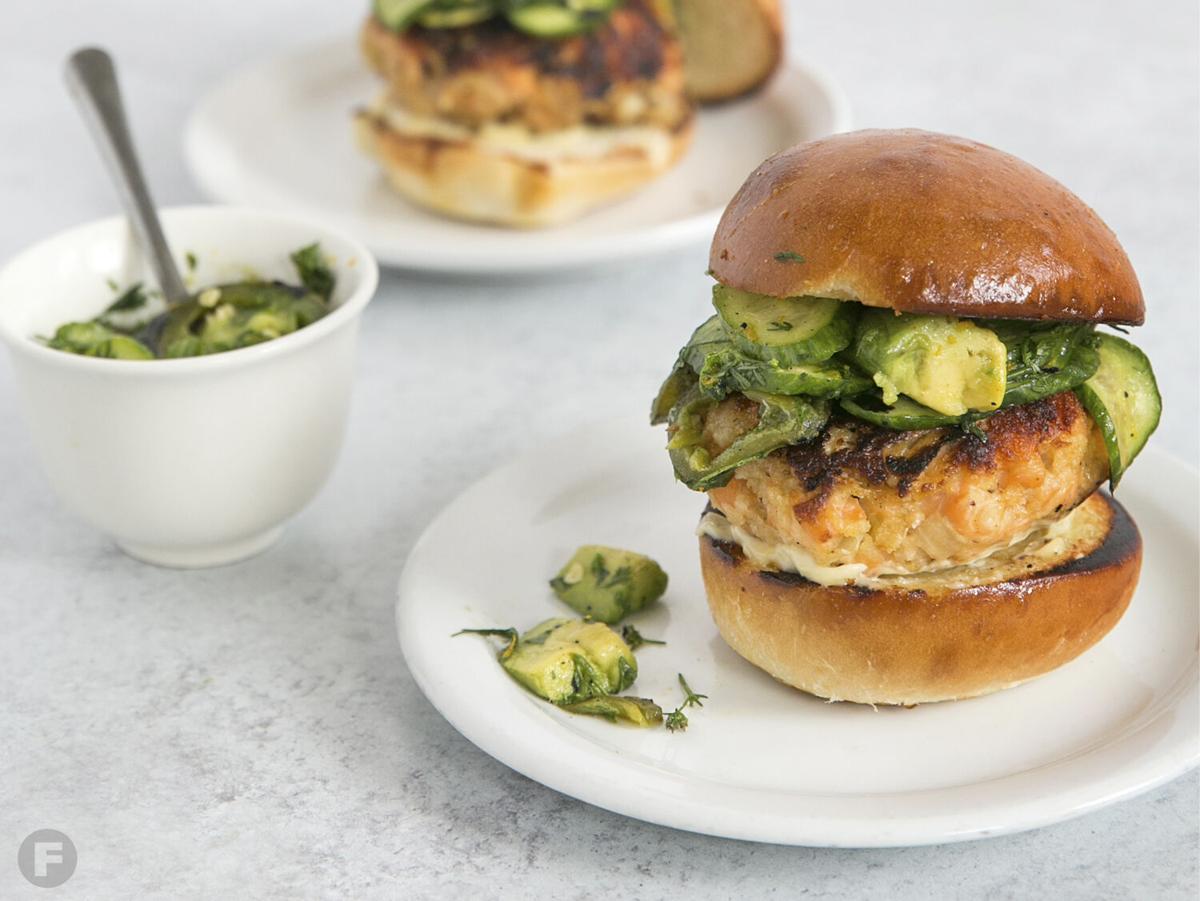 At the height of grilling season, there's nothing better than a burger. Delicate and full of flavor, these salmon burgers are destined to become the star of your summer cookouts. I top them with a drizzle of hot honey and a cucumber-jalapeño salad for extra zing.
Salmon Burgers With Cucumber-Jalapeño Salad
Serves | 5 |
Cucumber-Jalapeño Salad
2 cups Persian cucumbers, cut on the bias
3 jalapeños, charred and cut on the bias
1 avocado, cubed
1 cup cilantro
1 Tbsp sugar
1 Tbsp salt
½ Tbsp freshly ground black pepper
2 Tbsp olive oil
1 orange, zested and juiced
1 lime, zested and juiced
Salmon Burgers
2 Tbsp olive oil
1 onion, small dice
5 cloves garlic, sliced
salt and freshly ground black pepper, to taste
1 lb salmon, finely chopped
1 cup Panko bread crumbs
1 egg
5 Tbsp mayonnaise
5 buns, sliced
5 Tbsp hot honey
| Preparation – Cucumber-Jalapeño Salad | In a medium bowl, add all ingredients; toss to combine. Set aside until ready to use.
| Preparation – Salmon Burgers | Preheat grill. Heat a small saucepan over medium heat; add olive oil. Once oil is shimmering, add onion and garlic; season with salt and pepper. Cook until translucent, approximately 5 minutes, and then transfer to a large heatproof bowl to cool. Add salmon, bread crumbs and egg to cooled onion mixture; using your hands, mix thoroughly. Divide mixture into five even patties; set on plates and place in refrigerator, 15 to 20 minutes. Transfer chilled patties to grill and lightly season with salt and pepper; cook, 5 to 7 minutes per side. Remove from grill and set aside. Spread mayonnaise on both sides of the buns; place cut-side down on grill to toast, 1 to 2 minutes.
| Assembly | Layer each toasted bun with a salmon patty, a drizzle of hot honey and cucumber-jalapeño salad.