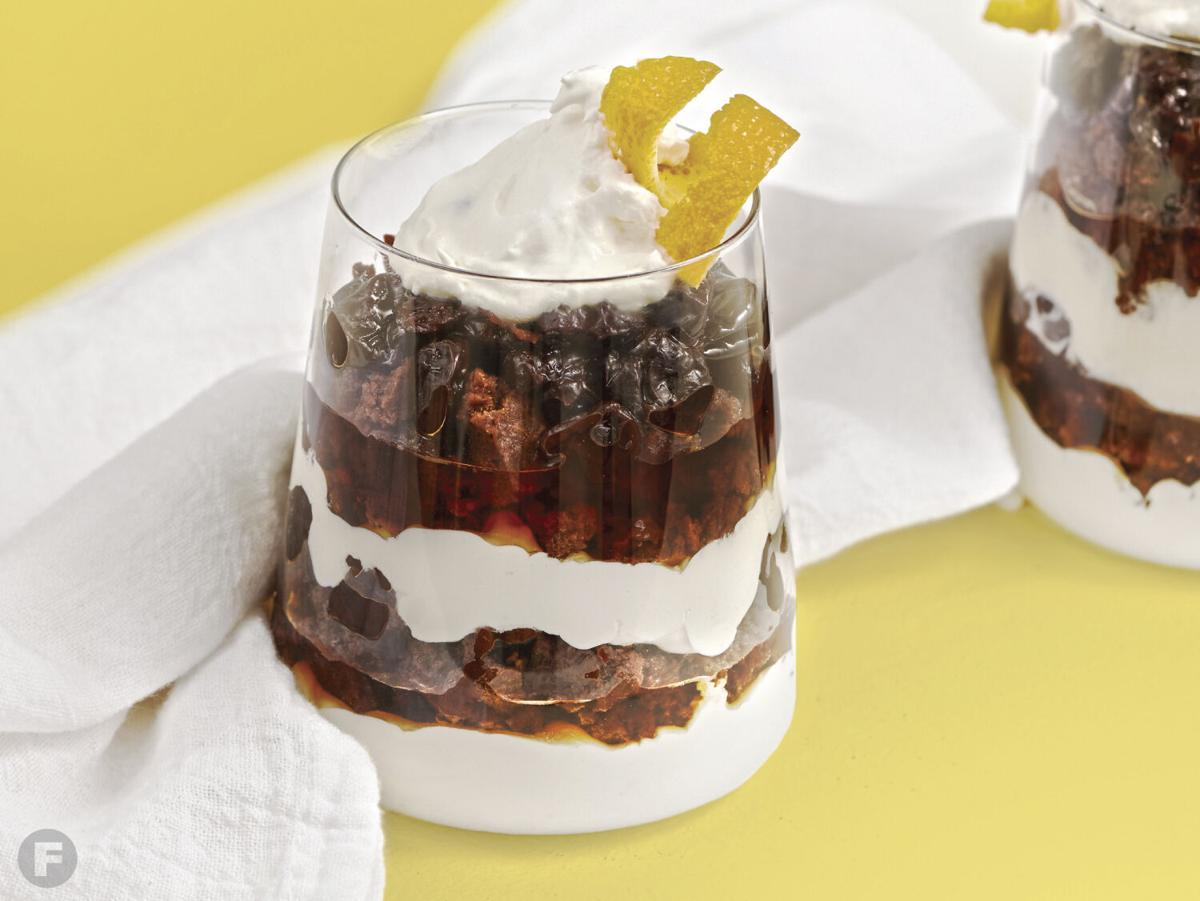 Chocolate and cherries create a transcendent flavor combination, which is why these saucepan brownies are my favorite. Easy to make and quick to clean up, they have a bitterness from the dark chocolate that levels out the complexity of the dried cherries. I'm a proponent of underbaking brownies to maintain the ultimate gooeyness, but you can keep them in the oven until they have the consistency you crave.
Brownies with Dried Cherry Compote
Serves | 6 to 8 |
Brownies
½ cup (1 stick) unsalted butter, cut into pieces, plus more for pan
4 oz dark chocolate, coarsely chopped
1 cup granulated sugar
2 large eggs
¼ tsp salt
1 tsp vanilla extract
¾ cup unbleached all-purpose flour
Dried Cherry Compote
2 cups sugar
2 cups water
1½ tsp vanilla extract
8 oz dried cherries
2 strips orange zest
1 cinnamon stick
juice from ½ orange
juice from 1 small lemon
Whipped Cream
1 cup heavy whipping cream
1 Tbsp confectioners' sugar
| Preparation – Brownies | Preheat oven to 350°F. Grease an 8-by-8-inch baking dish. In a heavy-bottomed saucepan set over low heat, add butter and chocolate; stir until melted and smooth. Remove from heat and stir in remaining ingredients in the order listed (one egg at a time); stir until well combined (do not overmix). Spoon batter into prepared baking dish, spreading it into the corners with the back of the spoon. Bake until just set (the edges will start to dry and the center will still be soft), 20 to 25 minutes. Remove brownies from oven and allow to cool in pan.
| Preparation – Dried Cherry Compote | In a medium saucepan, add sugar, water and vanilla. Set over medium-high heat; bring mixture to a boil, stirring to dissolve sugar. Once sugar has dissolved completely, add dried cherries, orange zest and cinnamon stick; reduce heat and simmer, 10 minutes. Remove from heat and stir in juices. Set aside to cool to room temperature.
| Preparation – Whipped Cream | In a chilled metal mixing bowl, add all ingredients; whisk until soft peaks form, 5 minutes if using an electric mixer, longer if whisking by hand. Refrigerate until ready to use.
| To Serve | Combine brownies, dried cherry compote and whipped cream any way you want: simply in a bowl, as a parfait, etc.