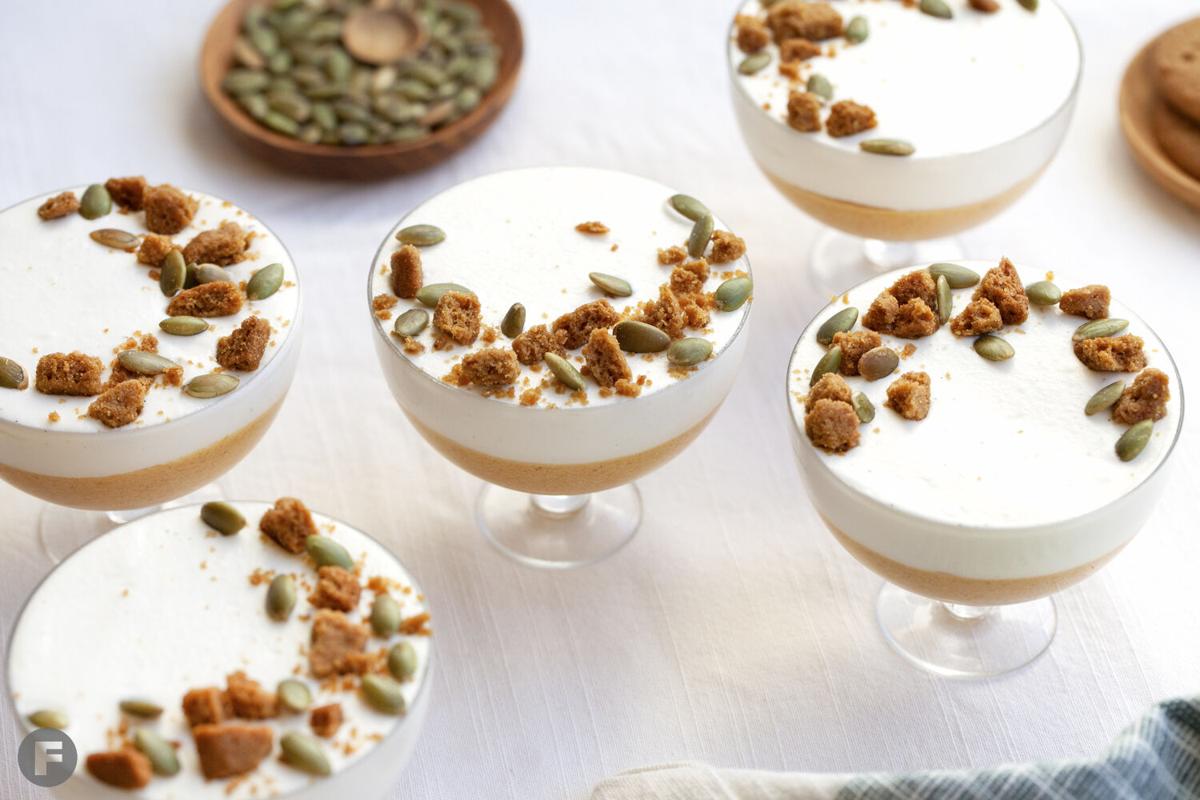 There's more to Thanksgiving dessert than pie. This light and airy spiced pumpkin mousse, for instance, features a layer of vanilla bean whipped cream and a flourish of crushed gingersnaps and salted pepitas. Simultaneously creamy and crunchy, the no-fail sweet makes for a satisfying ending to any holiday feast.
Individual Pumpkin Mousse Parfaits with Gingersnap Crumbles
Yields | 5 parfaits |
Pumpkin Mousse
2 Tbsp cold water
1 tsp powdered gelatin
1 cup pumpkin purée
¼ cup sugar
¼ cup dark brown sugar
1 large egg yolk
¼ tsp ground cinnamon
¼ tsp kosher salt
1 pinch nutmeg
¾ cup heavy cream
½ tsp vanilla extract
Vanilla Bean Whipped Cream
1 cup heavy cream
1 Tbsp sugar
½ vanilla bean, split and seeds scraped
Parfait Toppings
Gingersnaps, crumbled
Roasted and salted pepitas
| Preparation – Pumpkin Mousse | Add water to a small heatproof bowl; sprinkle with gelatin. Lightly mix to completely saturate gelatin. Set aside.
In a medium saucepan, bring 1 inch water to a simmer. In a small heatproof bowl, whisk together pumpkin purée, sugars, egg yolk, cinnamon, salt and nutmeg. Set bowl over saucepan; whisking constantly, cook until mixture reaches 160°F on a digital thermometer. Remove bowl from heat. Strain mixture into a medium bowl. Set aside to cool.
Meanwhile, add cream and vanilla extract to a bowl. Using a hand mixer, whip on high speed until soft peaks form.
Place gelatin in microwave until it's just melted, 3 to 5 seconds. Whisk melted gelatin into warm pumpkin mixture. Add ⅓ whipped cream to pumpkin mixture; lightly whisk until only a few streaks remain. Using a rubber spatula, fold in remaining whipped cream. Using a spoon, evenly distribute pumpkin mousse into five dessert glasses. Cover each glass with plastic wrap and transfer to refrigerator to chill, at least 4 hours or overnight.
| Preparation – Vanilla Bean Whipped Cream | When ready to serve the parfaits, add cream, sugar and vanilla bean seeds to a bowl. Using a hand mixer, whip on high speed until medium-stiff peaks form.
| Assembly | Top each dessert glass of pumpkin mousse with a thick layer of whipped cream. (If filling the glasses to the top, drag an offset spatula across the entire surface to create a smooth top.) Finish with a sprinkle of gingersnap crumbles and pepitas. Serve immediately.