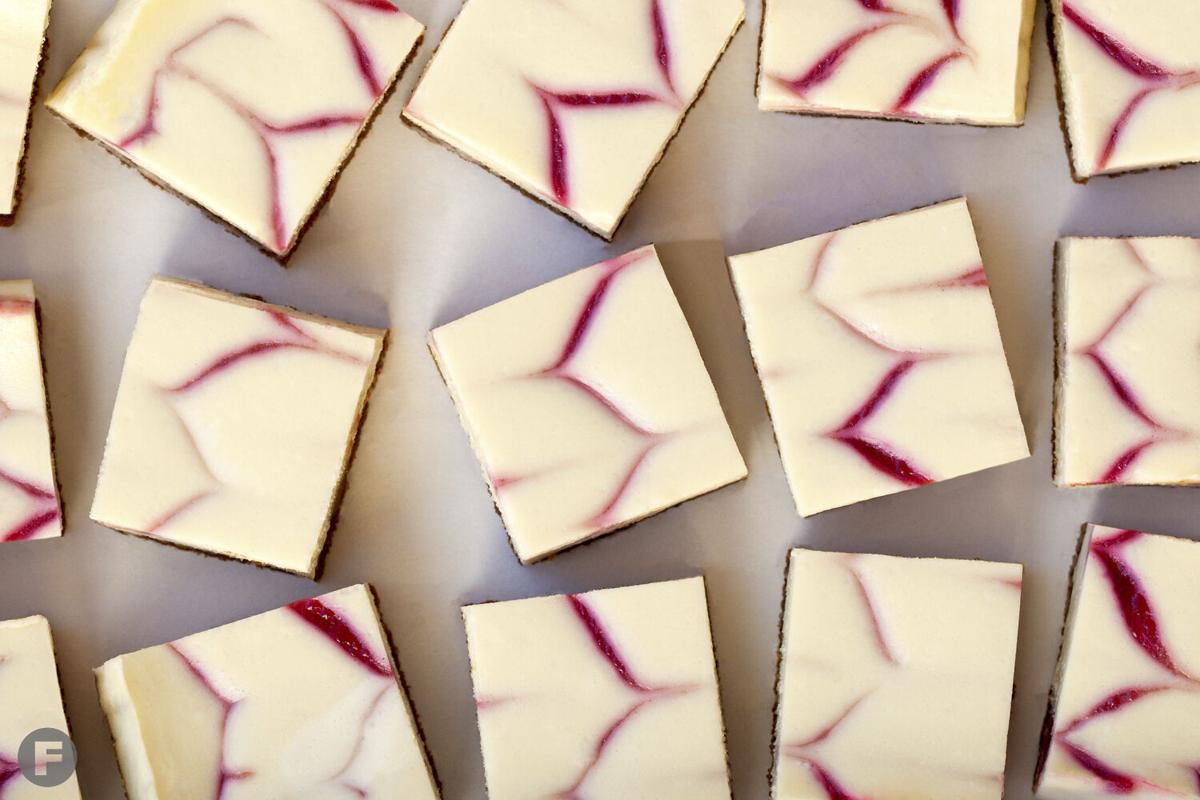 Festive cheesecake bars can sweeten any holiday gathering. These blissfully creamy bars have a swirl of fresh cranberry-orange purée, and they sit atop a spiced cookie crust. The eye-catching dessert is both glamorous and delicious.
Cranberry Swirl Cheesecake Bars
Yields | 16 bars |
Spiced Cookie Crust
1½ cups finely crushed spiced cookies, such as speculoos or gingersnaps
2 Tbsp sugar
⅛ tsp kosher salt
3 Tbsp unsalted butter, melted
Cranberry-Orange Filling
1 cup fresh cranberries
¼ cup sugar
1 tsp finely grated orange zest
¼ cup orange juice
1 tsp Grand Marnier, optional
Cheesecake Bars
16 oz cream cheese, room temperature
¾ cup sugar
3 large eggs
¼ cup heavy cream
¼ cup sour cream
1¼ tsp vanilla extract
| Preparation – Spiced Cookie Crust | Preheat oven to 325°F. Line an 8-by-8-inch baking pan with parchment paper or aluminum foil.
In a bowl, combine all ingredients until the melted butter is fully incorporated. Press mixture into the bottom of the prepared baking pan in an even layer. Bake, 10 minutes. Set on a wire rack to cool as you prepare the fillings (recipes follow).
| Preparation – Cranberry-Orange Filling | In a saucepan, add cranberries, sugar, orange zest and orange juice; bring to a boil. Boil until cranberries burst and mixture thickens, 5 minutes. Remove from heat and stir in Grand Marnier, if using. Set aside to cool for a few minutes.
Transfer mixture to a food processor; purée until smooth, 1 to 2 minutes. Strain into a clean bowl.
| Preparation – Cheesecake Bars | Preheat oven to 325°F. Bring a kettle of water to a boil and then set aside.
In the bowl of a stand mixer fitted with the paddle attachment, beat cream cheese until smooth, 2 minutes. On low, add sugar. Increase speed to medium and beat, 2 minutes. Stop and scrape down the sides and bottom of bowl as needed. On low, add eggs, one at a time, allowing each egg to incorporate before adding the next. Add heavy cream, sour cream and vanilla; mix until combined. Transfer 2 teaspoons cheesecake batter into the bowl with the cranberry-orange filling; stir to combine and thicken filling.
Pour cheesecake batter onto cooled crust. Spoon thick horizontal lines of cranberry-orange filling across the surface of the cheesecake, creating 5 to 6 rows. Using a toothpick or butter knife, drag the tip down vertically through the lines to create a marbled effect. Place cheesecake pan in a large roasting pan or baking dish with high sides. Pour hot water from kettle into the roasting or baking pan until the water reaches halfway up the sides of the cheesecake. Carefully transfer to oven. Bake, 50 to 55 minutes or until cheesecake is just set in the center (it should jiggle slightly when bumped). Turn off oven and open oven door a few inches; allow cheesecake to rest in oven, 30 minutes. Remove from oven and transfer cheesecake pan to a wire rack to cool completely. Once cool, cover loosely and transfer to refrigerator to chill overnight.
| To Serve | Lift cheesecake out of baking pan using the sides of the parchment paper; set on a cutting board. Run the blade of a chef's knife under hot water, wipe dry and cut cheesecake into 2-inch bars. (Warm and dry blade between each cut for clean cuts.) Serve and enjoy. Store any leftover bars in the refrigerator, covered, for up to 3 days.