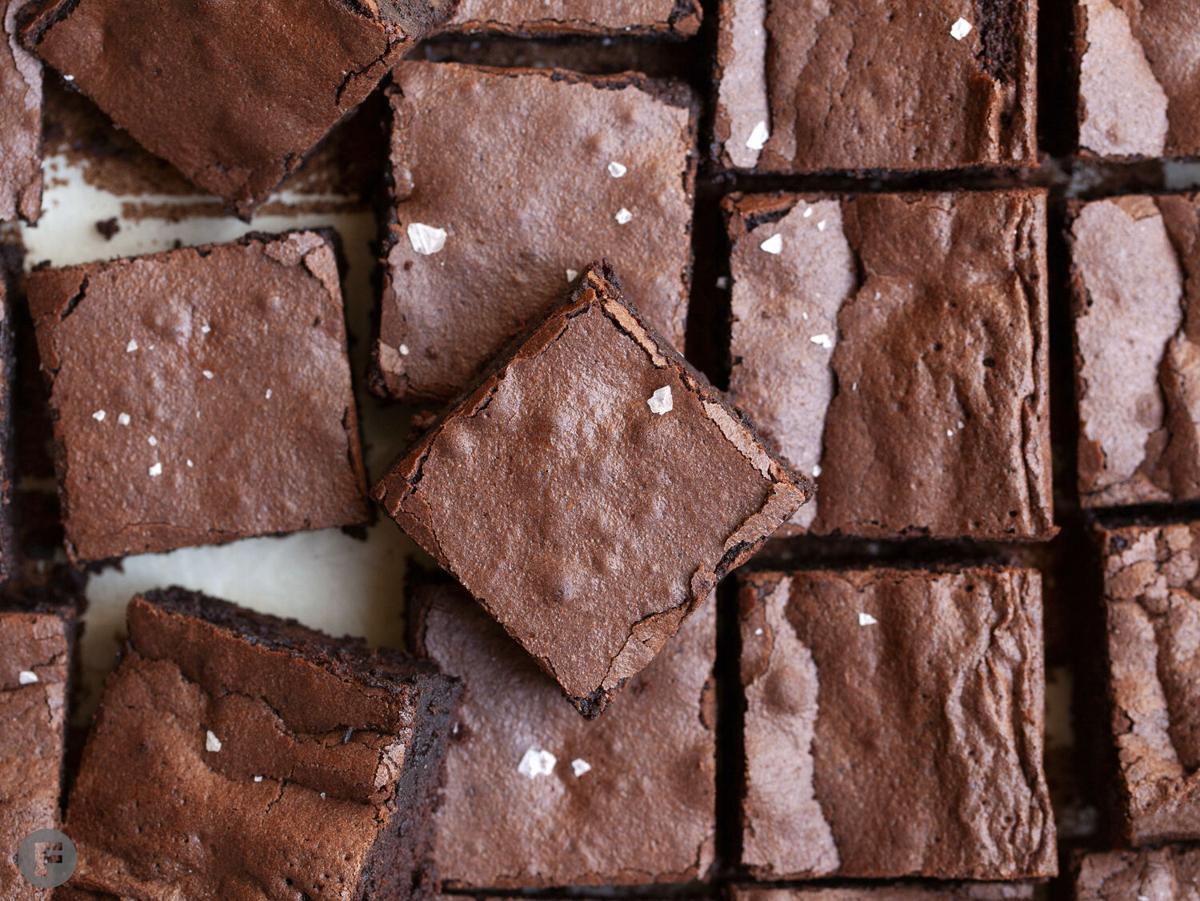 When a brownie craving strikes, only a decadent square with a moist center and crisp edges will satisfy the moment. Made with both rich cocoa powder and bittersweet chocolate, these chewy brownies are velvety smooth with the occasional toothsome crunch from a chunk of chocolate.
NOTE: When baking brownies, it's very important to not overbake them. Overbaking by even a couple minutes can make the final product dry. When testing for doneness, the goal is to see a good amount of moist crumbs (not wet brownie batter) clinging to the toothpick. When in doubt, stick to the recommended baking time for the best results.
Chocolate Chunk Brownies
Yields | 24 brownies |
¾ cup all-purpose flour
1 cup Dutch-processed cocoa powder, such as Valrhona
1 cup (2 sticks) unsalted butter
1¼ cups roughly chopped 60 percent bittersweet chocolate, divided
1½ cups sugar
¼ cup light brown sugar
1 tsp kosher salt
5 large eggs
2 tsp vanilla extract
flaky sea salt for garnish, optional
| Preparation | Preheat oven to 350°F. Line a 9-by-13-inch metal baking pan with aluminum foil or parchment paper; lightly coat with nonstick cooking oil spray.
In a small bowl, sift together flour and cocoa powder. Set aside.
In a saucepan, melt butter over medium-low heat. Remove from heat and stir in ¾ cup chocolate. Set aside.
In the bowl of a stand mixer fitted with the whisk attachment, add sugars, salt, eggs and vanilla extract. Whip on medium-high speed until thick and fluffy, approximately 9 minutes. Decrease speed to low and pour in butter-chocolate mixture; mix until well combined. Add flour-cocoa powder mixture; mix until well combined. Using a spatula, fold in remaining chocolate. Scrape batter into prepared baking pan, spreading in an even layer all the way to the corners.
Bake brownies until the top is shiny and a toothpick inserted in the center comes out with a good number of moist crumbs clinging to it, 26 to 27 minutes (resist the urge to continue baking or the brownies will be overbaked). Remove brownies from oven and sprinkle with flaky sea salt, if using. Set on a wire rack to cool completely. Once cool, transfer brownies to a cutting board and cut into 2-inch squares. Serve and enjoy.